After Barcelona, we went to Aix-en-Provence, which is the center and heart of Provence, France.  I adore the South of France!  We had a guide for the day since I don't know the area well and I had no time before we left to do proper research.  I absolutely love hearing about the history of European towns because it puts everything in context.  This wall was here for this reason.  These two towns were perched on opposite hills facing each other for that reason.  Plus the only way to keep my son interested is if you talk drama – wars, fighting, weapons, who won, who got killed, etc.

More than that, I love seeing how other people live.  Do they drive or walk?  What do they eat for lunch and when?  How much vacation do they get every year?  What's the coffee shop for locals?  I am very, very nosy!   I was so excited to find and experience the local farmer's market in Aix and see what is sold here and how it is different from my market in Manhattan Beach.  It thought I was so lucky to be here on market day, until our guide told me the market is open every day until 1:00.  People in Provence prefer to shop daily for their food so it's really fresh.  Heaven.  It was such beautiful market, where they sold everything from tomatoes, herbs, melons and lettuce, to eggs and the freshest fish, to the most delicious olives ever and lavender sachets with lavender from the fields in Provence.  I could get used to that.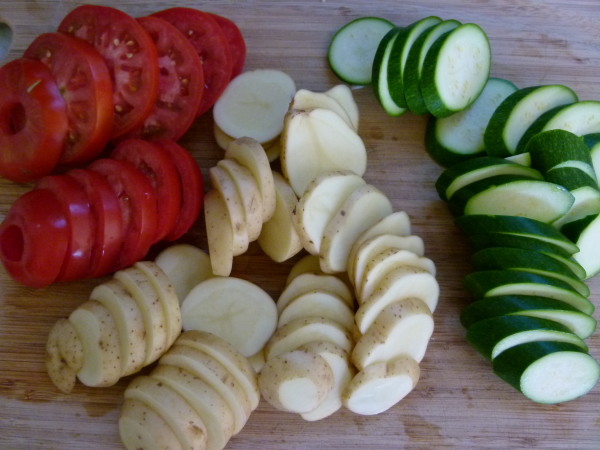 While I was in Provence, I remembered the recipe for this Roasted Summer Vegetable Tian that I taught when I was in France 2 years ago and in my cooking classes in LA last summer.  It's a very simple, easy, seasonal vegetable side dish and of course, it's quite delicious.  Who wouldn't love a casserole with gently cooked onions on the bottom and then a mélange of tomatoes, zucchini and potatoes on top, where the tomato juice kind of infuses everything and mixes with a bit of fresh thyme and some Parmesan cheese?  Yum!  I love it because it goes with anything, whether you are making a piece of grilled fish or some roasted chicken or you want a light vegetarian meal with either a frittata or a simple green salad.  Don't forget a cold glass of rosé, too!

It does take some time to cook, so it's not a last-minute deal.  But you also don't have to time it perfectly with your meal, since I think it actually tastes just as good warm and even room temp.  You know how I love a good do-ahead!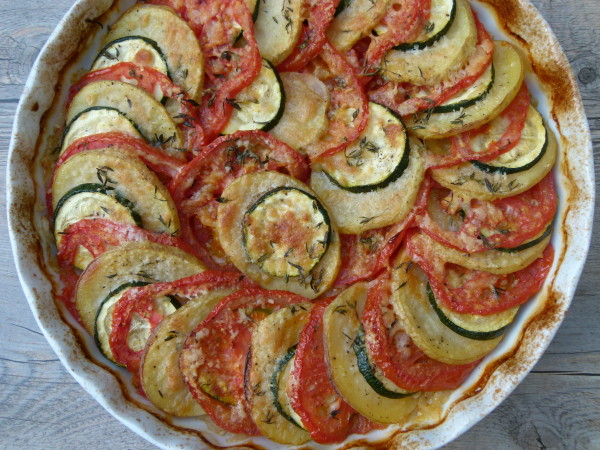 The one thing I miss when I'm on vacation is cooking at home, especially when I see such beautiful ingredients around me.   For now, I'm picking up inspiration everywhere I go.  Next stop – Italy!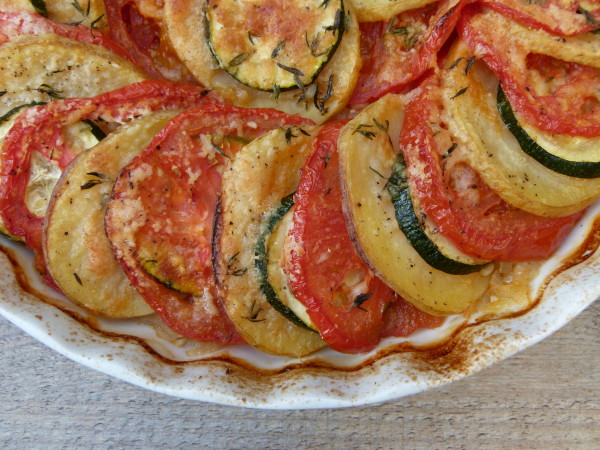 Roasted Summer Vegetable Tian
Ingredients
2 Tablespoons unrefined, cold pressed extra-virgin olive oil + more for drizzling
1 large onion, halved and thinly sliced
Sea salt and freshly ground black pepper
4 cloves garlic, finely chopped
2 medium Yukon Gold potatoes, about ¾ pound, sliced ¼-inch thick
2 small tomatoes, about ¾ pound, sliced ¼-inch thick
1 medium zucchini, about ½ pound, sliced ¼-inch thick
1 Tablespoon fresh thyme leaves
2 Tablespoons freshly grated Pecorino or Parmesan cheese
Instructions
Preheat oven to 375 degrees. Warm oil in a skillet over medium heat and add onions and a pinch of salt and pepper. Sauté until tender and lightly golden, about 6 to 8 minutes. Add garlic and sauté until fragrant, about 2 minutes.
Transfer onion and garlic on the bottom of an 11 x 9 gratin dish or a 10-inch round baking dish. Overlap potatoes, tomatoes and squash over the onion mixture. Season with salt (I use about ½ teaspoon) and pepper. Sprinkle with thyme and Pecorino/Parmesan and drizzle with olive oil.
Cover and bake for 30 minutes. Uncover and bake another 30 minutes until golden and potatoes are tender. You can serve this hot, warm or at room temperature.
Notes
Try to find potatoes, zucchini and tomatoes with approximately the same diameter so the casserole looks balanced.

You can also add shredded gruyere or buttered bread crumbs to the top for an extra special finish.