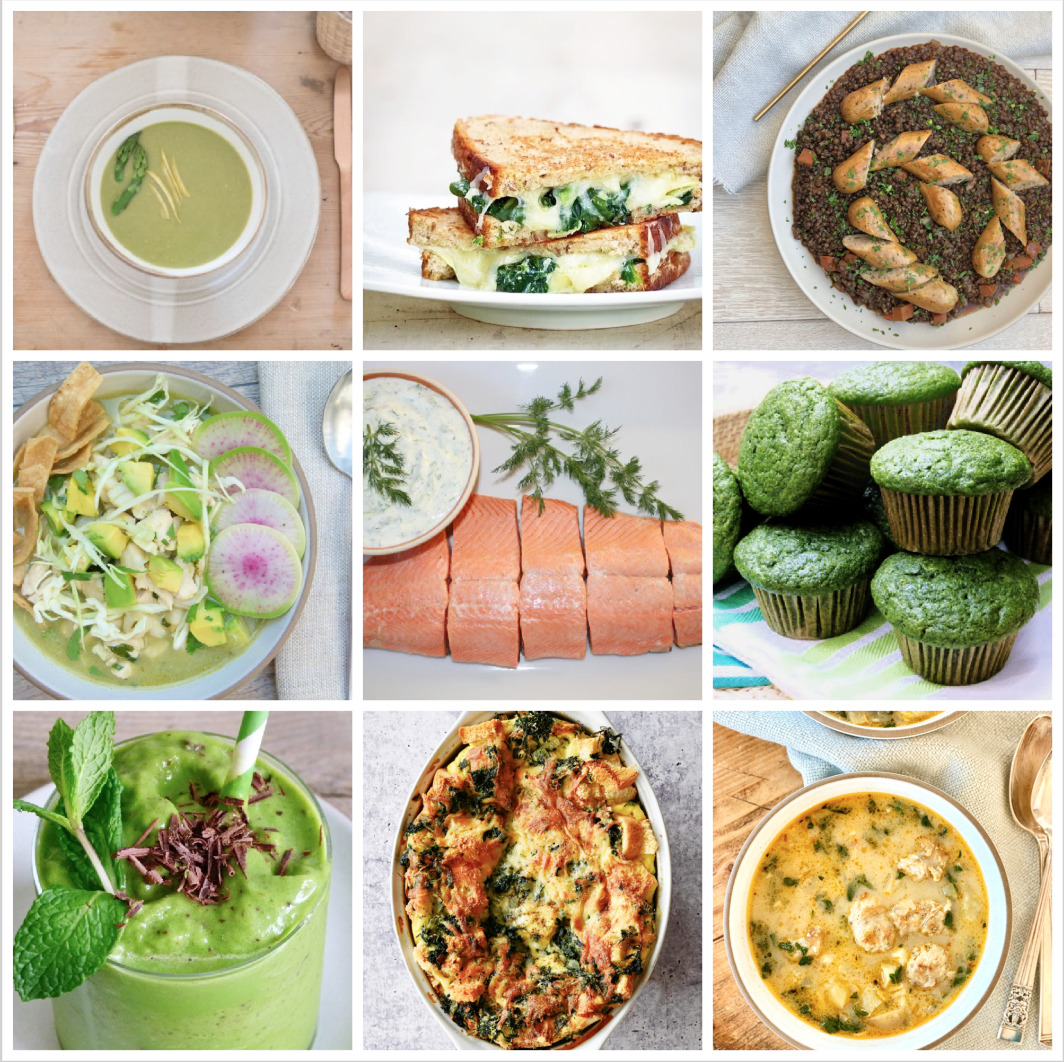 I say this every year, but St. Patrick's Day is not only a day to pay respects to a saint, if that's your culture, but it's an opportunity. The opportunity is to make GREEN food because it's acceptable even for green food-haters. Get out the blender and start blending spinach into your family's pancakes and muffins, avocado into their smoothies, and go ahead and make a chopped salad with every green vegetable you can get your hands on. More ideas below! Also, in Monday's newsletter, I am sharing some fabulous new finds. The newsletter is FREE! Here's your dinner planner for the week:
Meatless Monday: Creamy asparagus soup (dairy-free) with grilled cheese and spinach sandwiches on whole grain bread. You can use dairy-free cheese or avocado instead of the cheese.
Tuesday: Smoky braised lentils with turkey sausage, roasted brussels sprouts
Wednesday: Chicken posole verde with radish, cabbage and avocado garnishes (My son likes tortilla chips. We are fine eating just this, but a quesadilla or salad is a nice accompaniment if you need something more.)
Thursday: Citrus-poached wild salmon with dill-yogurt sauce, roasted carrots (use this recipe as a guide but without the yogurt)
Friday (St. Patrick's Day): We don't eat beef and it's lent, but if you want to make a traditional corned beef and cabbage recipe, I would listen to my friend Marcia Smart. You can make an array of yummy "green" things for St. Patrick's day without using food coloring. We will most likely make split pea soup and Irish soda bread, plus the Colcannon with Cauliflower and Kale is also great. Other green food you could try: green pancakes, green muffins (these have been around the world and back!), green breakfast cookies, green matcha chia pudding, "leprechaun juice" smoothie, vegan mint chip smoothie, green spinach risotto, asparagus or broccoli soup, one pot barley with melted cabbage from my cookbook or any recipe using a green vegetable such as minted sugar snap peas, Brussels sprouts, broccoli, cabbage or spinach
Saturday brunch: spinach and cheese strata from Once Upon a Chef
Sunday: Zuppa Toscana, pizza (either take-out or homemade or semi-homemade with a frozen crust)
Here's what you can do ahead if it helps you:
Sunday:
Make stock if using homemade
Cook lentils
Make posole sauce
Wednesday:
Make dill-yogurt sauce
Thursday:
Bake green muffins, pancake batter, or breakfast cookies
I have LOVED seeing all your creations of my recipes on Instagram. If you make any of my recipes, please tag me @pamelasalzman #pamelasalzman so I can check them out! I have a free Monday newsletter with my thoughts, new recipes, and things I'm loving lately. Subscribe here!
Order my cookbook, Quicker Than Quick! If you have 1 minute, would you mind leaving a review on amazon? I would be so grateful, thank you! Take a peek at my first cookbook "Kitchen Matters"!