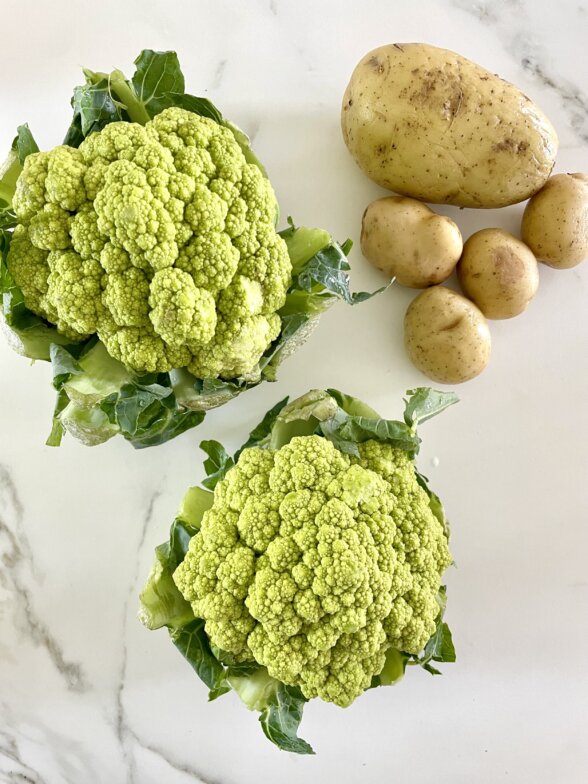 There are two ways I go on St. Patrick's Day – an Irish-inspired meal and/or food that is (naturally) green.  I had to laugh when I read that in Ireland, since St. Patrick's Day is a holiday, people often get take-out, like pizza.  Why in the States are we guzzling green beer with our corned beef and eating green-dyed bagels?  That said, I have always wanted to post a twist on the traditional Irish dish Colcannon.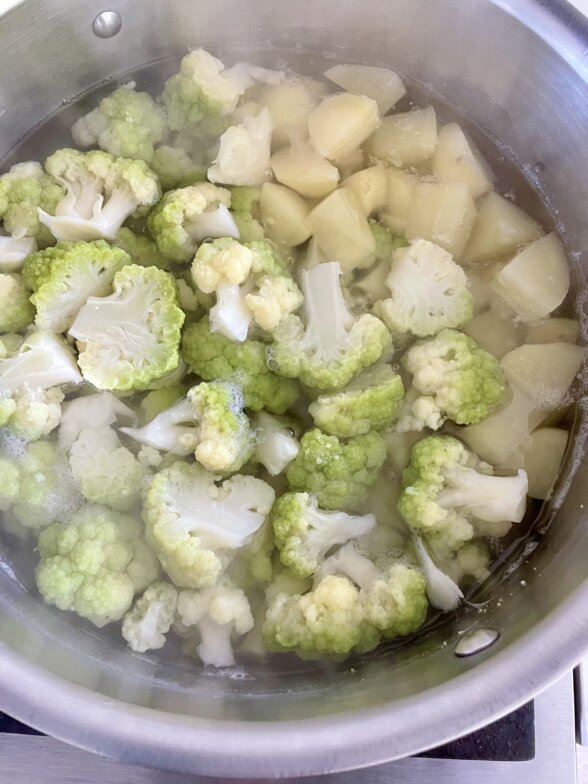 What Is Colcannon?
Colcannon is an Irish recipe which combines mashed potatoes and kale or cabbage. Even though Americans may make colcannon for St. Patrick's Day because it is a traditional Irish dish, in Ireland it is often served on Halloween with trinkets hidden inside.  Like many traditional recipes around the globe, there is not one way to make colcannon, and I couldn't resist putting a healthy spin on it.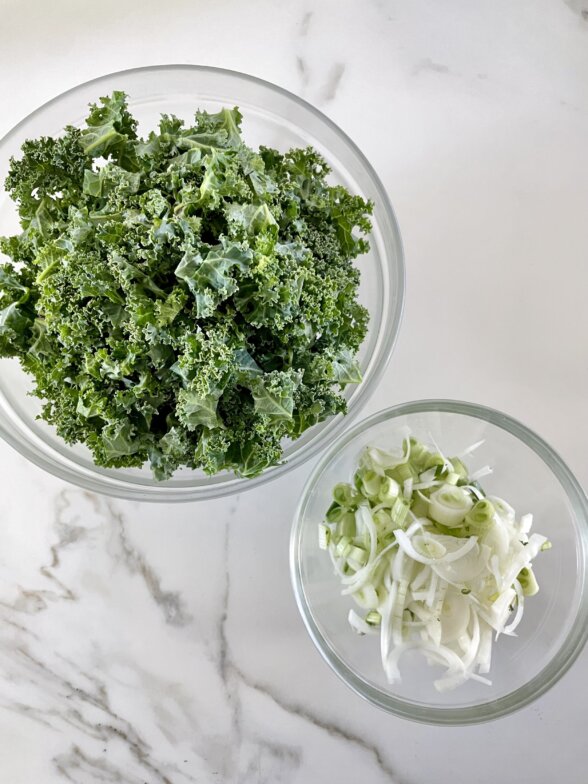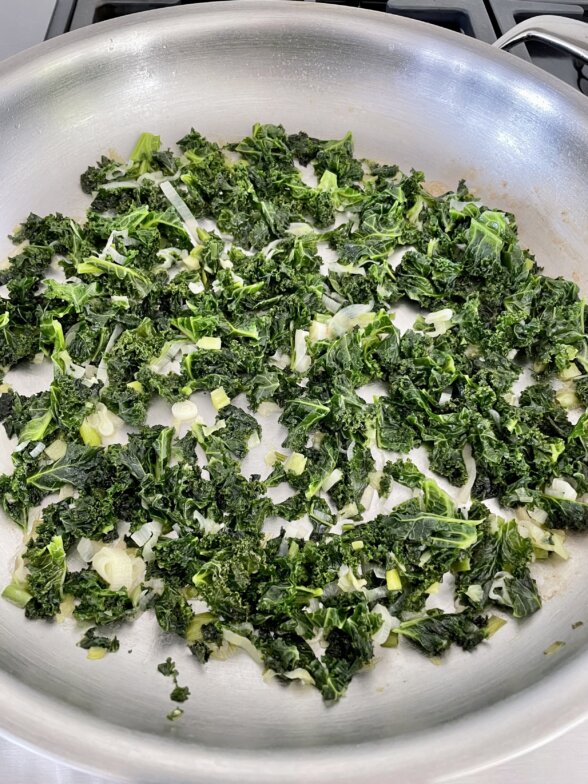 Colcannon Ingredients 
Potatoes: My favorite are Yukon Gold potatoes because the flavor is so buttery and the starch is just right.  Use whatever you can find, including Russets. Red potatoes are not my favorite for mashing.
Cauliflower: Other than on Thanksgiving, I make my mashed potatoes with cauliflower.  If you want to make this with all mashed potatoes, follow my Perfect Mashed Potatoes recipe and stir in the sauteed kale and spring onions. I found pale green cauliflower and couldn't resist making this colcannon even more green! White works perfectly well.
Green Onions: I used a large spring onion here, but green onions or scallions are great, as are leeks. Just give them a quick saute so they're nice and tender and sweet.
Kale or Cabbage: Technically kale IS a cabbage, so either works.  I used kale because I love the vibrancy and texture it provides.  Green cabbage is also delicious, but softer and more mild in flavor.
Butter: It's hard to beat the flavor of butter and in the spirit of the recipe, I used Kerrygold. Feel free to use a plant-based butter like Miyoko's for equally good results.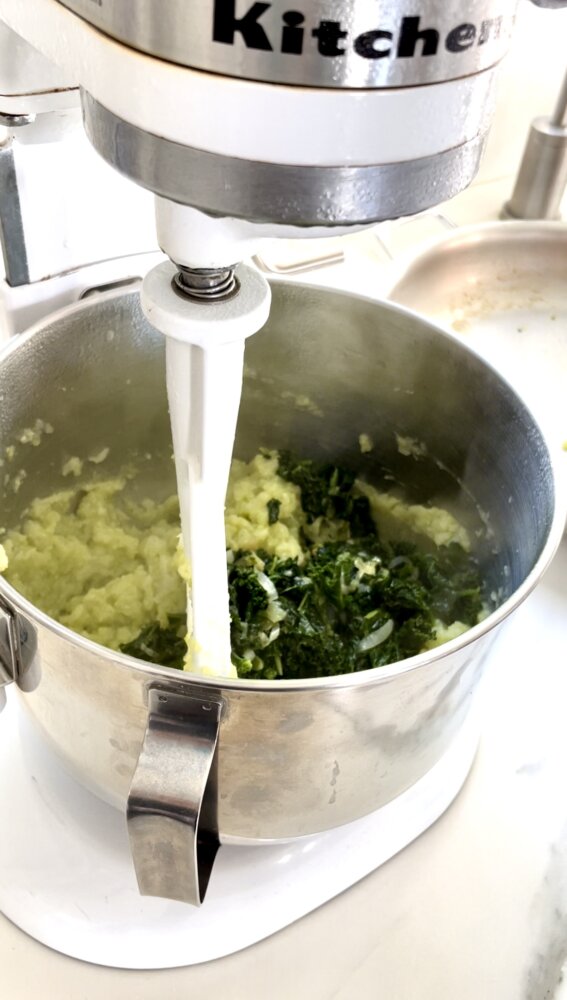 How to Make Colcannon with Cauliflower
Boil potatoes, cauliflower and a big pinch of salt until super tender.
Saute green onions and chopped kale for a minute in a little butter with a pinch of salt; then add a cup of water and simmer until completely evaporated.
Drain potatoes and mash with a potato masher or with a mixer until coarsely blended.  I like a little texture here, otherwise I usually puree my cauliflower mashed potatoes in the food processor.  For regular mashed potatoes, I use a ricer.  Taste for salt.
Stir onion and kale mixture in and transfer to a serving bowl. 
Add an extra pat of butter to the top, if desired, and garnish with chives.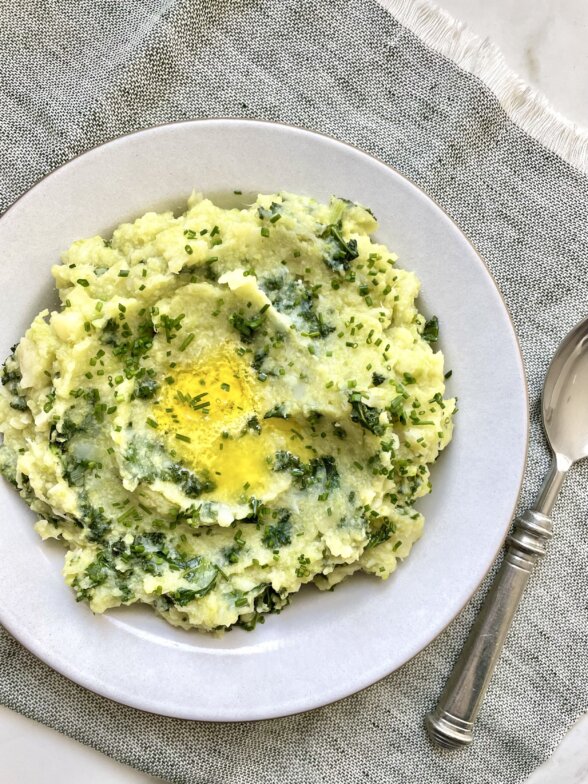 Colcannon Make-Ahead and Storage Tips
Peel and cut your potatoes a day ahead and store them in the fridge submerged in water.
Wash, stem and chop kale up to 2 days ahead.
Cut the cauliflower into florets up to 2 days in advance.
If you make the colcannon the day before, gently reheat in a saucepan over medium low heat or in a microwave.
Store for up to 3 days in a tightly sealed container in the fridge.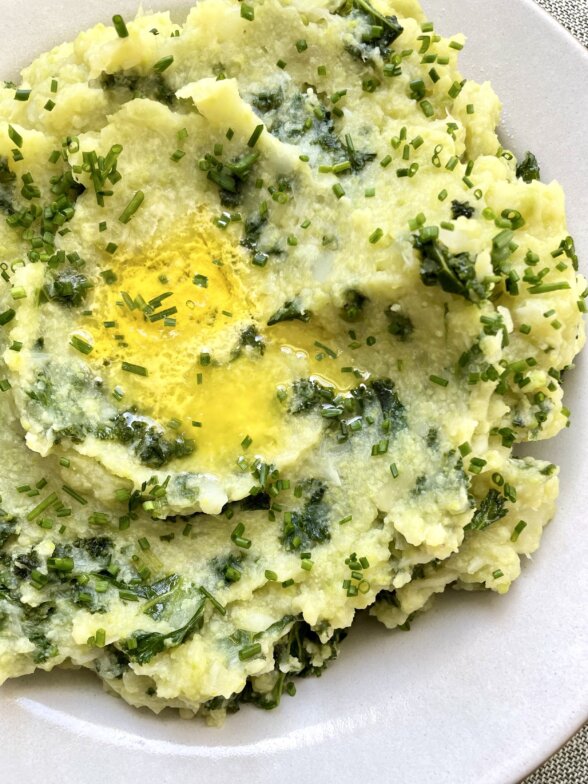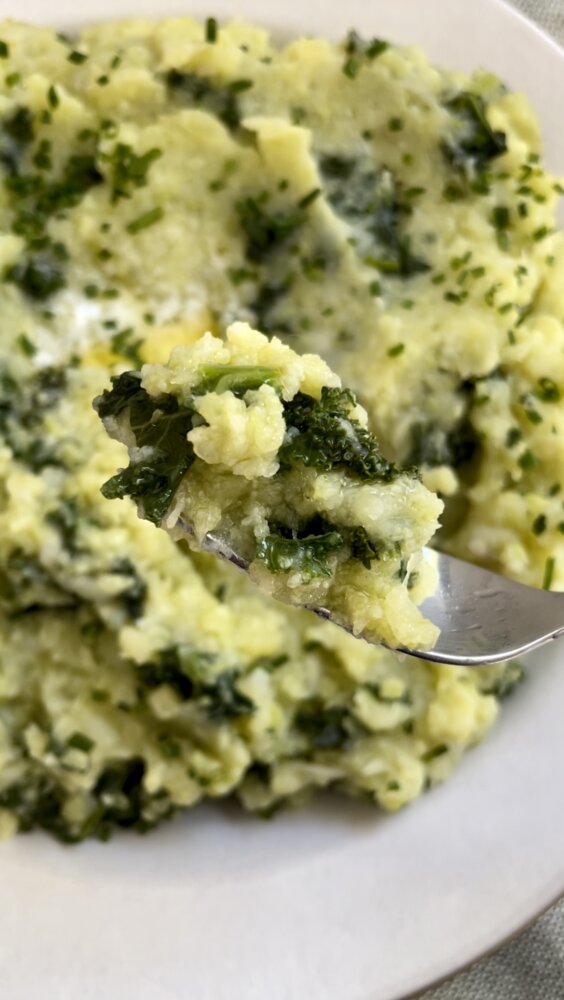 Other festive recipes to try on St. Patrick's Day
See my upcoming dinner planner this weekend for more ideas!
Colcannon with Cauliflower and Kale
Ingredients
1 medium-large head of cauliflower (preferably green), about 2 ¼ pounds, cut into florets (about 5 cups)
1 pound Yukon Gold potatoes, peeled and cut into 1-inch pieces
kosher salt
2 Tablespoons unsalted butter + more for serving
1 bunch kale, stripped and chopped
2 scallions, sliced
Sea salt
5 Chives, chopped
Instructions
Place cauliflower, potatoes and a big pinch of kosher salt in a large pot and add enough water to come just below the top of the vegetables.
Bring to a boil over high heat and then lower to a simmer. Cook until tender, about 15 minutes.
In the meantime, heat a large skillet over medium heat. Add the butter and scallions to the skillet and sauté for 1 minute. Add the kale, ¾ cup water, and season with a pinch of salt. Cook until kale is tender and all of the water has evaporated, about 10 minutes.
Drain cauliflower and potatoes and transfer to the bowl of a mixer fitted with the paddle attachment. Season with ½ teaspoon salt and process until it forms a chunky puree. Stop the mixer. Add the cooked kale mixture and mix until just combined. Taste for seasoning.
Transfer colcannon to a serving dish. Form a well in the center of the mixture and add a Tablespoon of butter. Garnish with chives and serve.