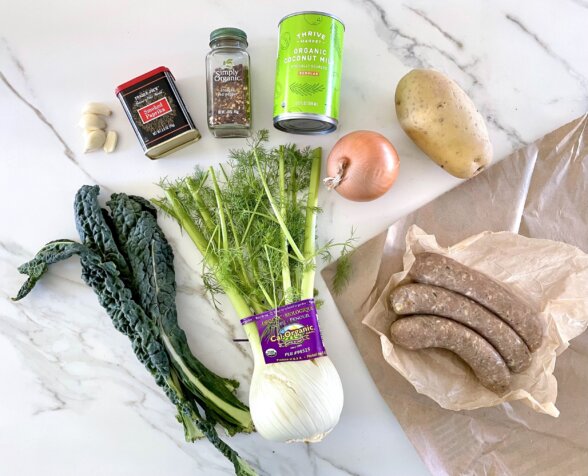 I love eating something in a restaurant and challenging myself to make the same dish at home. Sometimes I try to "clean it up," or sometimes I just like to make it more my style with ingredients I like better. I very often get requests or suggestions from my students such as, "I had this amazing veggie burger with a sundried tomato pesto, pickled radishes, sprouted brown rice and sesame seeds blessed by Tibetan monks.  PLEASE figure out a way to duplicate the recipe!!"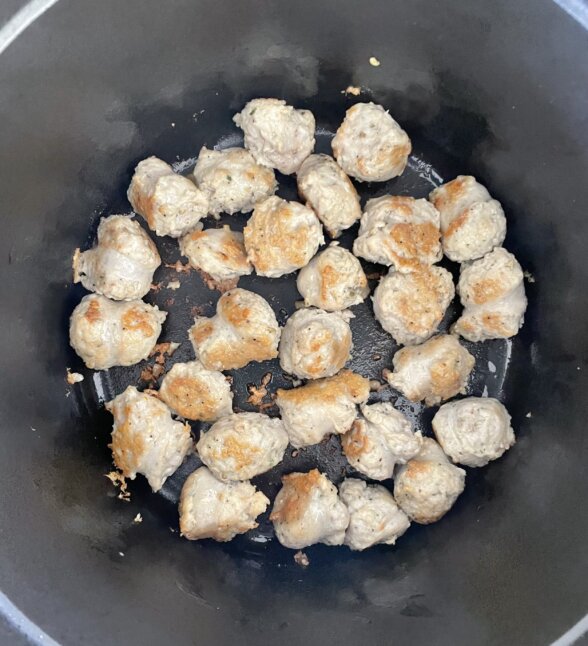 I usually don't attempt duplicating recipes that I've never tasted and for which I have no starting point.  Plus, there are certain recipes (ie complicated ones with a lot of special components) that are better left to restaurants.  But the Olive Garden's most popular soup, Zuppa Toscana ("Tuscan Soup") is pretty simple and easy to attempt at home.  For the record, I don't think this is a classic Tuscan soup, but the name is catchy.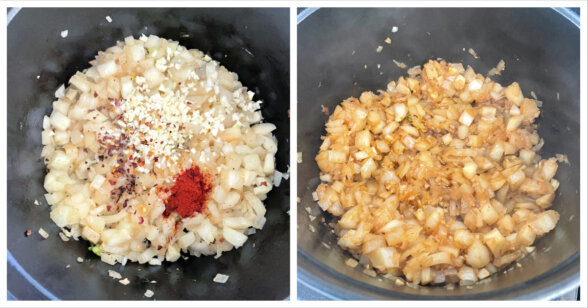 Key Ingredients in Zuppa Toscana
Sausage: I don't eat pork, but I do love the seasonings in chicken and turkey sausage which I used here. I think the fennel seed especially gives a lot of flavor.  Field Roast makes a great plant-based sausage if you are vegetarian/vegan.
Potatoes: Potatoes are a nice alternative to pasta since they're a whole food.  A little starch from the potatoes also helps thicken the soup a bit. Olive Garden uses Russet Potatoes, but Yukon Gold or Red Bliss are great too. I bet sweet potatoes would be delicious too, although not very Italian.
Kale: I love adding hearty greens to soups.  Kale holds up really well and is my favorite.  I like green curly kale in soups, but Dinosaur (aka Tuscan or Lacinato) kale is great too.  Collard greens and Swiss chard are also fabulous.
Broth: A good broth or stock is the foundation of a good soup like this one.  I used vegetable stock here, but chicken stock would be perfect as well.
Cream: I never have heavy cream in my fridge.  I rarely use it outside of the holidays.  But this is a creamy soup, so I swapped in fall fat canned coconut milk which does impart the slightest coconut undertone.  You can also try whisking in raw cashew butter or blending some with some broth before adding.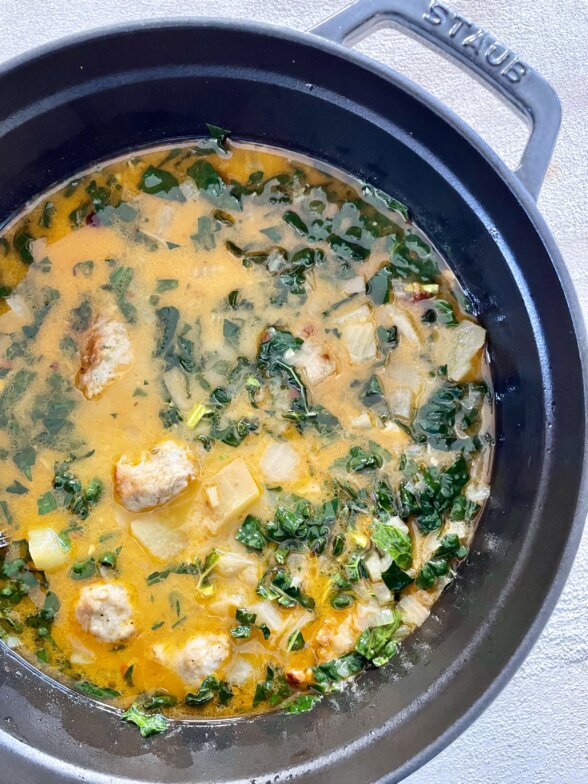 How to Make Zuppa Toscana
Brown the sausage or plant-based sausage. This creates flavor! Either chop up the sausage into bite size pieces or take the meat out of the casings and break it up in the pot with a potato masher.
Saute your vegetables. I always start my soups off with onion and I love adding even more vegetables whenever I can. Fresh fennel was a no-brainer here since it plays off the flavor of the fennel seed in sausage. Get those onions tender and translucent.
Add your spices and stir until they smell fragrant.
Stir in the potatoes, broth and salt and bring to a boil. Lower to a simmer and cook until the potatoes are just tender, about 15-20 minutes.
Add the coconut milk and kale and cook until the kale is wilted. 
Always taste your food before serving!  Adjust the seasonings if needed.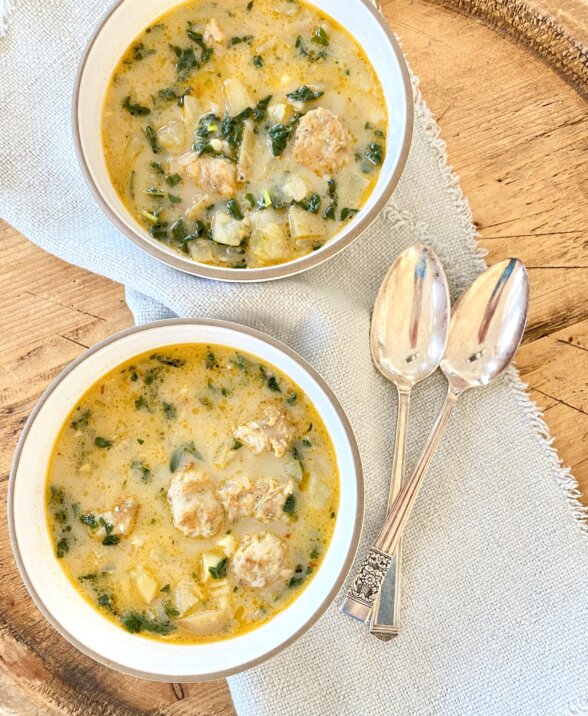 Tips and Tricks for This Recipe
Make sure that the sausage pieces and potatoes are small enough to fit on a soup spoon. No one wants to use a knife to eat soup!
Feel free to use spicy sausage if you like it.
If you don't like potatoes, swap in cooked white beans (such as cannellini or great northern) in an equal amount.
Use the best stock or broth because it will have nowhere to hid in this soup. I make my own. Here are recipes for homemade vegetable stock or chicken stock.
Raw cashew butter is a flavorless thickening agent for soups if you don't want to use cream or coconut milk.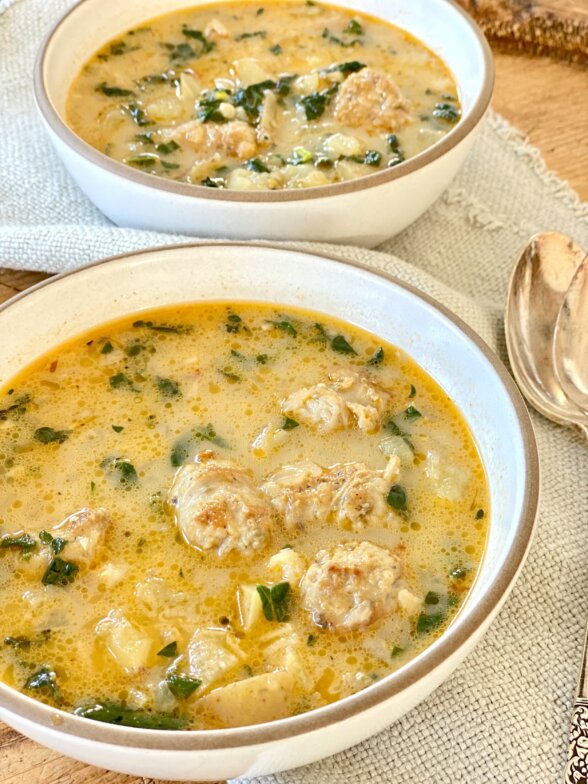 OTHER RECIPES TO TRY
If you enjoy this recipe, I recommend checking out these:
Kale and White Bean Minestrone
As always, if you make any of my recipes, please tag me @pamelasalzman #pamelasalzman so I can see them.  It makes my day to see your beautiful creations!

Zuppa Toscana
Ingredients
Olive oil if needed (plant-based sausage and lean poultry sausage may not have enough fat to get brown in the pot)
1 pound Italian sausage (not precooked), sliced or removed from the casing and left in large pieces or plant-based sausage (I like Field Roast)
1 medium yellow onion, diced
1 fennel bulb, halved and chopped
2 Tablespoons minced garlic, about 4 large cloves
½ teaspoon smoked paprika
pinch crushed red pepper flakes
1 pound Yukon gold potatoes, chopped
4 cups chicken or vegetable stock
Sea salt
Freshly ground black pepper
½ bunch kale, stems removed and leaves chopped, about 4 cups
1 13.5-ounce can full fat coconut milk*
Instructions
In a Dutch oven or heavy-bottomed medium pot over medium heat, add Italian sausage. If you are using bulk sausage without the casing you can use a potato masher to break up the sausage into pieces. Cook until browned and cooked through. Remove sausage pieces with a slotted spoon and transfer to a bowl. Set aside while you continue with the rest of the recipe.
Add oil to the pot if needed. Stir in the onions and fennel; cook until onions are tender and translucent, about 5 minutes. Add the garlic, paprika, and crushed red pepper and saute until fragrant, about 1 minute.
Add the potatoes, chicken stock, salt and pepper. Start with 1½ teaspoons of salt if using unsalted stock. Bring to a boil over high heat, lower to a simmer and cover until potatoes are fork tender, about 15-20 minutes.
Uncover, increase the heat to medium and stir in the coconut milk (including any cream that has settled to the top) and the cooked sausage. Stir until milk has dissolved. Add the kale into the soup just before serving and cook until softened, 2-3 minutes. Season with salt and pepper to taste.
Notes
*To make this soup creamy without coconut milk, use more stock and remove 1 cup of the soup with some potato after step 3 and blend in a blender until creamy. Stir back into the pot and proceed with the rest of the recipe.

If you don't want to use potatoes, swap any color sweet potatoes or carrots, as a suggestion.