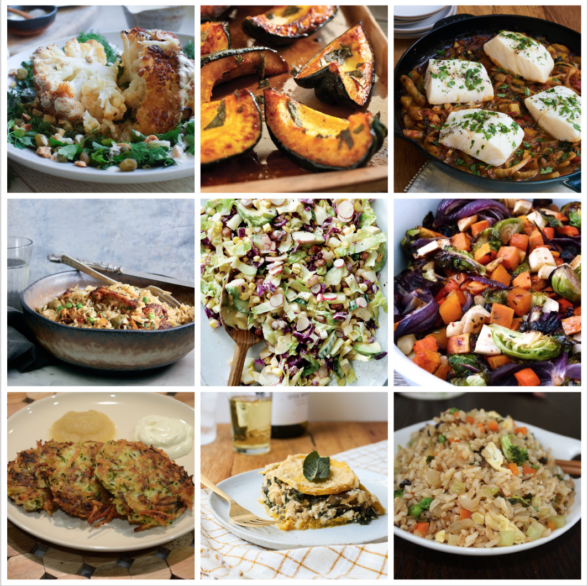 We made it through another week, and I'm calling that an accomplishment!  I actually put on a dress AND makeup for the first time in so many months and did a TV segment on the set of Home & Family.  That was the highlight of my week for sure!  I made the Quicker Chicken Marbella from my book Quicker Than Quick.  If you are in between shows, or caught up on The Flight Attendant, you can watch my segment here LOL.
I am supposed to do my first in-person book signing – outdoors, everyone must be masked and observe social distancing, of course – on Tuesday from 12-2 at Waterleaf in Manhattan Beach.  Would love to see you!  Just don't get to close HA!  Here's your dinner planner for the week:
Meatless Monday: Whole Roasted Cauliflower with Tahini Sauce, Raisins, Hazelnuts and Green Herbs served with roasted acorn squash wedges (wash, cut and roast with coconut oil at 400 until tender, about 30-40 minutes)
Tuesday: Cod aqua pazza (this is truly a one-dish wonder! Use halibut or any thick white fish you prefer.)
Wednesday: Weeknight arroz con pollo p. 215 from Quicker than Quick + a green salad with red cabbage and radishes and everyday salad dressing #2 (or make the creamy chipotle dressing from the Mexican chopped salad on p. 67)
Thursday (Hanukkah): slow cooker whole roast chicken, onion-braised brisket, maple mustard roasted vegetables, roasted fish, use this method, Moroccan Roasted Carrots with Orange and LATKES! Recipes for zucchini latkes and Brussels sprouts latkes.  A non-latke option if you get tired of latkes, are these cauliflower fritters.
Friday: Butternut squash lasagne
Saturday brunch: veggie fried rice with egg (fried rice dishes make use of leftovers like no other!)
Sunday: Slow cooker Italian Pot Roast from Kitchen Matters, serve with a fresh green salad
Here's what you can do ahead if it helps you:
Sunday:
Wash greens and herbs
Make tahini sauce
Make salad dressing
Cut acorn squash into wedges
Slice onions and fennel for cod acqua pazza. Potatoes can be cut and placed in a container with water. Drain when ready to use.
Tuesday:
Make spice mix for chicken and toss to coat
Wednesday:
Make cashew-cauliflower ricotta
Cut butternut squash slices
My new cookbook, Quicker Than Quick, is here!  I have LOVED seeing all your creations of my recipes on Instagram. If you make any of my recipes, please tag me @pamelasalzman #pamelasalzman so I can check them out!  If you have 1 minute, would you mind leaving a review on amazon?  I would be so grateful, thank you!
Take a peek at my first cookbook "Kitchen Matters"!