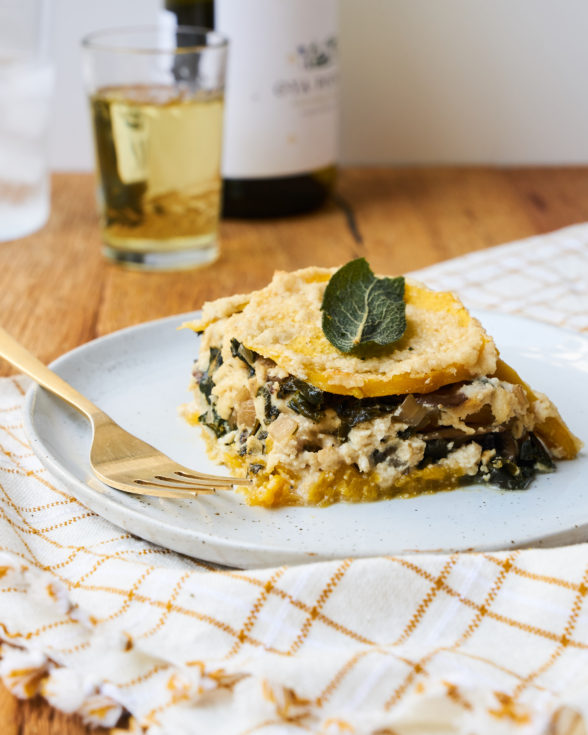 Here it is – the last Thanksgiving recipe I will share this year.  I never post any Thanksgiving recipes after this point because I am hoping you will have committed to your menu in its entirety by now.  No more going back and forth, hemming and hawing. Don't overthink it.  Whatever you have chosen will be wonderful.  The important thing is to have it set so you can secure all your ingredients and tools and be well into prep-ahead mode as soon as possible!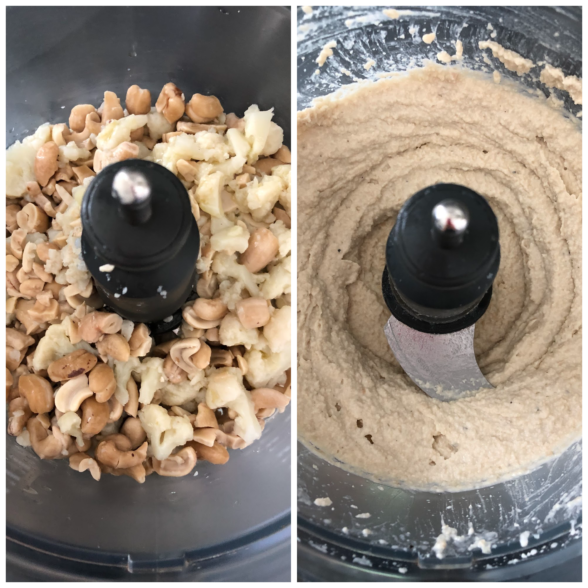 This recipe is for everyone who has asked me what they can make as a plant-based entree.  Think of a lasagne where thin slices of butternut squash stand in for pasta and a creamy cashew ricotta is a replacement for regular ricotta.  For a fall, harvesty dinner, tomato sauce doesn't come to mind, so I went the creamy, veggie route.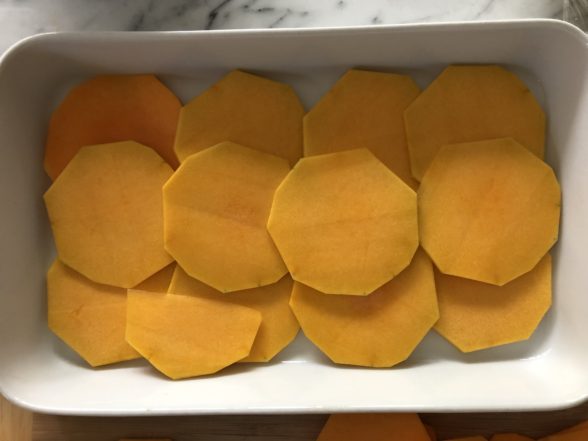 This lasagne is a very special dish which definitely requires a few steps, but is well worth the effort.  I have made it for friends for a plant-based dinner party and everyone went crazy for it.  When I taught it in my classes last year, I saw so much skepticism on my students' faces and I couldn't wait for them to try this.  Everyone, and I truly mean everyone, absolutely loved this.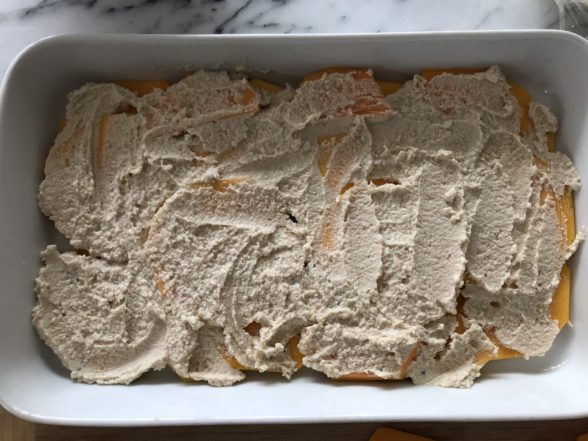 The butternut squash goes in raw and gets just tender enough, but doesn't get watery or turn to mush.  Because it basically steams in the baking dish, it doesn't really get sweet the way it does when you roast it, but stays kind of bland which is good because it mimics the blandness of pasta.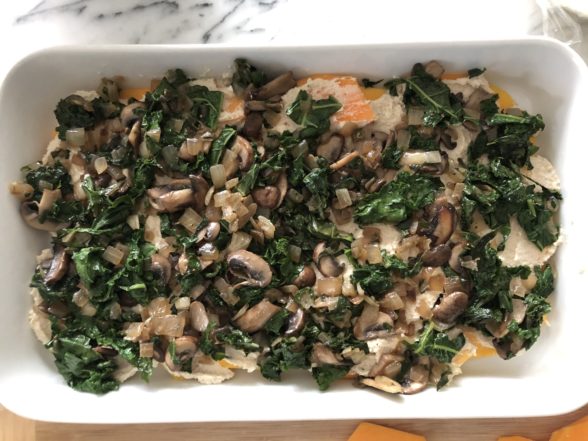 I remember every class after I sauteed the kale and mushrooms and started transferring some to the casserole, at least one person would say, "I would eat just that!"  And you certainly can.  You can just make the veggies and toss them with cooked wild rice or quinoa and it would be simple and delicious. You can also swap in different vegetables, like sauteed Swiss chard or some artichoke hearts.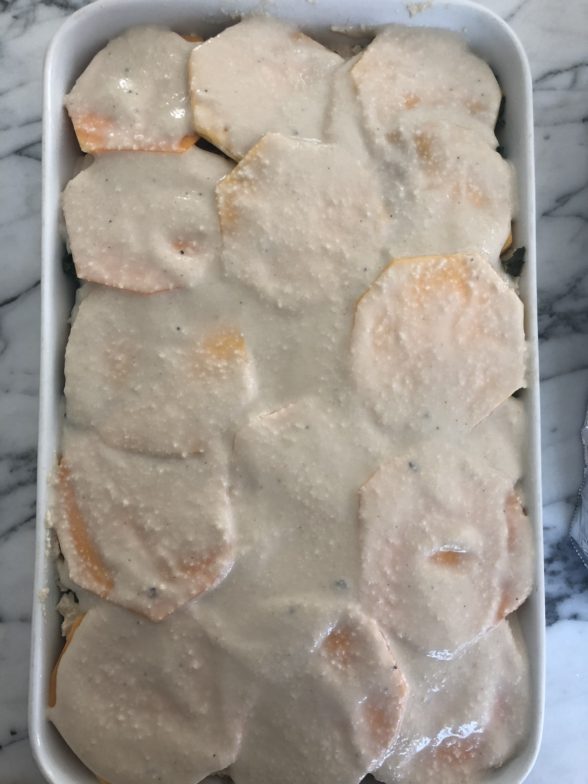 Here are some PREP AHEAD TIPS:
Day before assembling: saute veggies and refrigerate; slice butternut squash and refrigerate; make "ricotta" and refrigerate.
Day before baking:  assemble entire casserole; remove from refrigerator a half an hour before baking.
This is also quite good reheated from leftovers!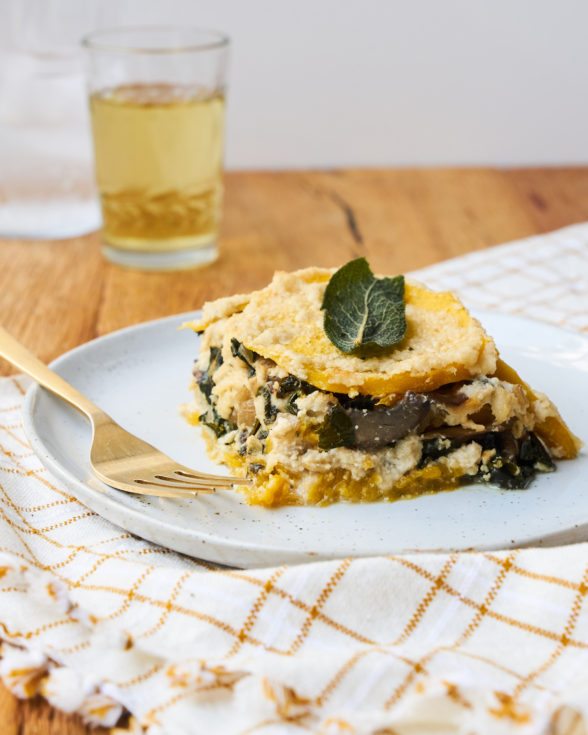 Even if you don't make this for Thanksgiving, it is a delicious and nutritious, seasonal dish that can be served for any occasion, even Hanukkah or Christmas.  I look forward to seeing all your creations, so please continue to tag me @pamelasalzman #pamelasalzman!  I have one more Thanksgiving timeline post this Thursday and next week I will share a great Thanksgiving leftovers idea.  Please don't hesitate to reach out if you have any questions at all.  You know where to find me!

Butternut Squash Lasagne with Mushrooms, Sage, Kale, and Cashew-Cauliflower Bechamel
Ingredients
6 Tablespoons unrefined, cold-pressed extra virgin olive oil, divided
For vegan ricotta:
8 ounces cauliflower florets, cut into ½ -inch pieces (2 ¼ cups)
1 ½ cups raw cashews, chopped
2 ¼ teaspoons sea salt, divided + additional (you can use kosher salt in Step 2)
1 large butternut squash (about 3 pounds), peeled, sliced into 36⅛-inch rounds (I use the top/ "neck" of the butternut squash, but you can use the bottom as well.)
For the vegetables:
1 onion, finely chopped
8 ounces mushrooms, any kind, thinly sliced
6 fresh sage leaves, plus additional for garnish if desired
1 bunch kale, such as dinosaur, stems removed, chopped
sea salt and freshly ground black pepper to taste
Instructions
Preheat oven to 375 degrees.
To make the ricotta: Bring 3 quarts of water to boil in a large saucepan. Add cauliflower florets, cashews, and 2 teaspoons salt and cook until cauliflower is very soft and falls apart easily when poked with a fork, about 20 minutes. Drain cauliflower mixture in colander and let cool slightly, about 5 minutes.
Make the ricotta: Process cauliflower mixture, 3 Tablespoons olive oil and ¼ cup water in a clean food processor until smooth, about 2 minutes. Mixture will be slightly grainy. Season with ¼ teaspoon salt and black pepper to taste. Transfer ½ cup mixture to a bowl and whisk in 4-5 Tablespoons of water. Season with a big pinch of salt and set aside for topping (let's call this the béchamel sauce.)
In a large skillet, warm 2 Tablespoons of olive oil and add the onion, and sauté until tender and translucent. Add mushrooms and sage leaves. Sauté until mushrooms soften, about 3 minutes. Add kale, salt and pepper and sauté until tender, about 6 minutes.
Assemble the lasagne: grease a 13x9-inch baking dish with olive oil. Layer about 12 butternut squash slices on the baking dish. They can overlap since you want to cover the bottom of the dish. With a spoon gently spread half of the ricotta mixture over the butternut slices. Top with half of the sautéed vegetable mixture. Layer 12 more butternut squash slices. Spread remaining ricotta and top with remaining vegetables.
For the last layer, cover with remaining butternut slices and pour reserved béchamel sauce over the squash. Cover with aluminum foil and bake for 30-40 minutes. Remove foil and bake uncovered for 30 more minutes, or until squash is tender. Let cool for 10 minutes and serve. Garnish with fresh sage leaves or fry them in olive oil in a skillet if desired (my preference).
Notes
To fry sage leaves. Warm up a small skillet over medium heat. Add 2 Tablespoons of olive oil. Add sage leaves. If you are frying more than ¼ cup of sage, you will probably need more oil. Reduce heat to medium low and stir sage leaves in oil until fragrant and the leaves begin to darken, about 3 minutes. Remove sage leaves with a slotted spoon or tongs and place on a plate lined with a paper towel to absorb any excess oil. They will crisp as they cool.
If you eat dairy, you can use a 15-ounce container of ricotta combined with 1 beaten egg to replace the cashew ricotta. You can use shredded fontina and grated parmesan to top the casserole.