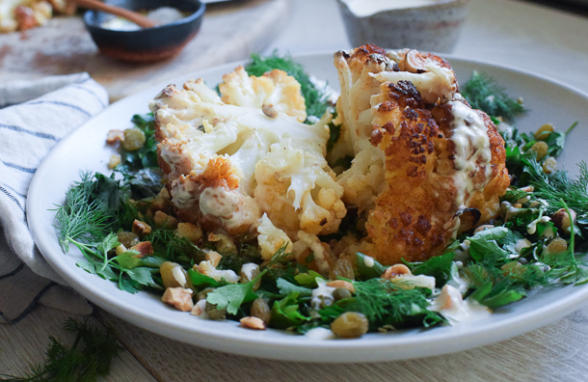 I love a showstopping dish for a holiday meal, whether it is a gorgeous and overflowing cheeseboard, a giant colorful salad brimming with jewel-toned, seasonal produce, a big, impressive dessert, or basically anything that makes my guests say "oooooh!"  The trick is to make that recipe be impressive, but still easy at the same time which can be a tall order.  Oh, and make it healthy-ish, too.  Hmmmm……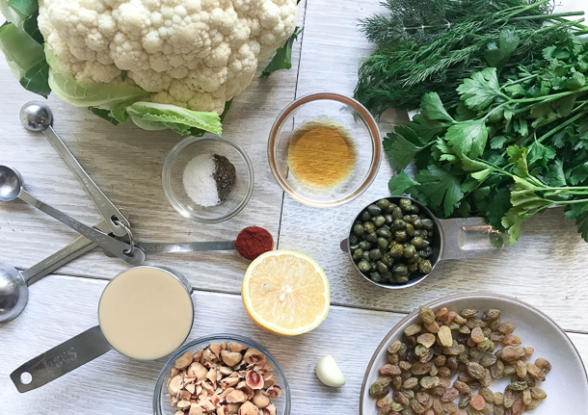 Enter the roasted head of cauliflower.  I'm sure you've seen them around the web and I'm sure many of them are wonderful, but this recipe is a WINNER!  Over a year ago, I had a side dish of wood-burning oven charred cauliflower with hazelnuts, dill, capers, and raisins with a tahini sauce at Lodge Bread, my favorite spot in LA for bread, ironically.  It was one of the best things I have ever eaten.  Veggie heaven, with all the flavors and textures you could ask for – sour, sweet, salty, creamy, fresh, crunchy.  You know how I am a sucker for textures and balanced flavors.  I was instantly inspired to recreate the dish at home and I immediately envisioned doing it with a whole roasted cauliflower.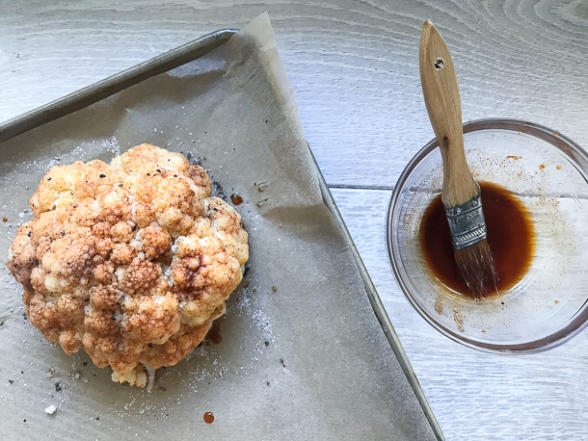 Cauliflower is hands-down my favorite vegetable.  It is SO good for us, so versatile, the flavor is mild and neutral when you steam or boil it, but sweet and more complex when you roast it.  I've taught cauliflower every which way other than roasting it whole, so last December I decided it was time.  Never have I seen so many of my students photograph a recipe as much as this one.  Because it's a SHOWSTOPPER.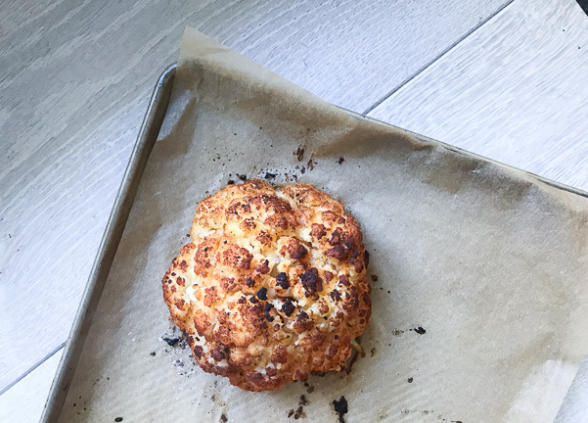 And you know what else?  Easy!  Nutritious!  I hardly ever make cooking class recipes in my personal life right after I have taught them because I've just eaten them every day for a month.  But this whole roasted cauliflower recipe took center stage on our Christmas table last year and everyone loved it.  I really made it for my husband who was newly vegan and I wanted him to have a hearty and special dish that would be his entree (tahini and hazelnuts offer plenty of protein.) But, I also earned all the ooohs and ahhhs from the meat-eaters, too.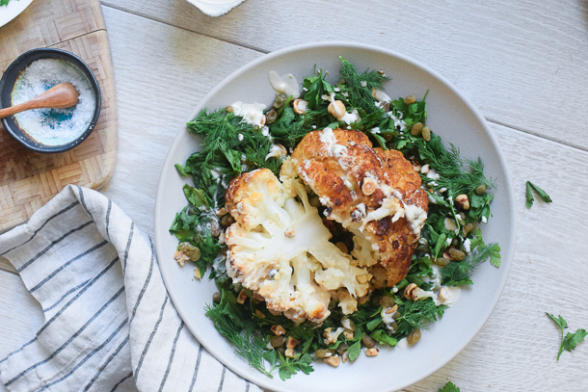 Roasting a whole head of cauliflower can take a long time, though (well over an hour.)  So I came up with this method of par-cooking it before roasting which cuts the roasting time in half.  The key is adjusting the time according to how large your cauliflower is.  For small heads, you steam for less time.  This preparation is ideal for holidays and dinner parties since you can steam the cauliflower several hours ahead of time and make the tahini sauce several days ahead.  Just bring the sauce to room temp a few hours ahead and possibly add a little more water to loosen it up.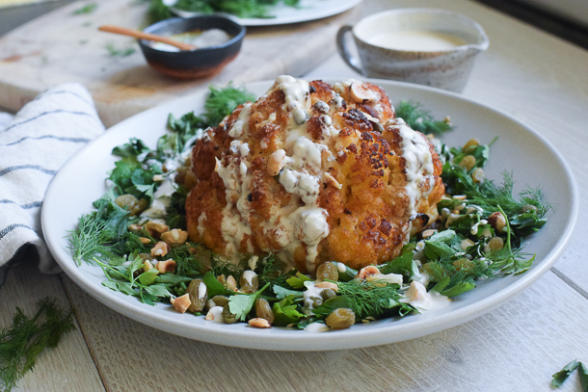 And by all means, if you love the combo of the capers, raisins, herbs and nuts, you can swap another vegetable for the cauliflower like broccoli, romanesco, carrots, beets, or winter squash (like butternut, acorn, kabocha, or delicata.)  Truthfully, the sauce is delicious on anything!  Sometimes I'll add a splash of red wine vinegar or white balsamic vinegar to the platter on top of the tahini sauce just before serving and that's also super good.
I know you will not be disappointed with this recipe.  As always, I get the biggest thrill when you make any of my recipes.  It might not seem like a big deal to you, but it really is to me.  So please tag me on Instagram so I can see them all! @pamelasalzman #pamelasalzman
LA friends, I'll be at Lunya in Santa Monica tonight (Tuesday) from 6:30 to 8:00 pm doing a cooking demo with Brightland Olive Oil.  It's a free event, but we ask that you RSVP please.  Come!  I'd love to meet you! Click here to RSVP.
Shop the tools for this recipe by clicking on the images below:

Whole Roasted Cauliflower with Tahini Sauce, Raisins, Hazelnuts and Green Herbs
Serves:
4 as an entree or 6 as a side dish
Ingredients
1 large head of cauliflower, green leaves trimmed and core cut so that the cauliflower can stand upright.
1 Tablespoon unrefined olive oil or melted ghee
½ teaspoon paprika (this helps to create a nice color)
¾ teaspoon sea salt, divided
Freshly ground black pepper to taste
⅓ cup tahini
2 Tablespoons freshly squeezed lemon juice
1 clove garlic, minced
1-2 teaspoons mild raw honey or pure maple syrup
¼ cup roasted and skinned hazelnuts, roughly chopped
¼ cup unsulphured green raisins or currants, soaked in warm water for 15 minutes and drained (this plumps them up and makes them soft and juicy)
¼ cup capers drained from brine
1 cup fresh dill leaves and tender stems
1 cup fresh flat-leaf parsley leaves and tender stems
Instructions
Preheat oven to 425 degrees (or 400 degrees on convection.) Line a small baking sheet with unbleached parchment paper. Place a steamer basket inside a saucepan with a couple inches of water. Bring to a boil. Carefully place the cauliflower on the steamer basket, cover and simmer over medium heat for 7 minutes (do a minute or two less for a small head of cauliflower.)
Remove the cauliflower from the pan and place on the prepared baking sheet. This can be done up to two hours ahead and left at room temperature. In a small bowl, combine the oil, paprika, salt and pepper. Brush all over the outside of the cauliflower. Roast in the oven until super tender and golden brown, about 45 minutes. If roasting on convection, check the cauliflower at 30 minutes.
While the cauliflower is roasting, make the sauce: in a medium bowl, whisk tahini, enough water to make a pourable sauce (start with ¼ cup and add more as necessary), lemon juice, garlic, honey and ¼ teaspoon salt until combined.
Place the cauliflower on a rimmed plate or shallow bowl. Arrange the herbs around the cauliflower. Sprinkle the hazelnuts, raisins, and capers on top and around the cauliflower. Drizzle with some of the sauce and pass the remaining sauce on the side.