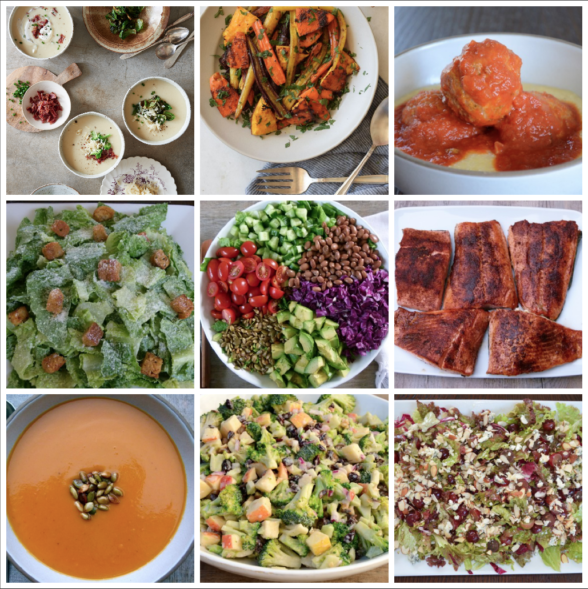 This was not the best of weeks, I think we can all agree on that.  I valued even more the gift of sitting down with my family each night to be together and share a meal that I cooked with love.  I know cooking can be hard to fit into a busy life, but do what you can.  It's important to eat well, and cooking at home is the best way.  🙂  Try to write down a dinner planner for the week and you'll be more likely to stick to it!  Here's a dinner planner I am sharing with you this week:
Meatless Monday: loaded baked potato soup with toppings bar from the cookbook
Tuesday: Roasted fish with chermoula, Moroccan roasted carrots, sautéed spinach
Wednesday: Turkey meatballs with pasta, polenta or spaghetti squash and avocado caesar salad
Thursday: slow cooker chicken tacos, Mexican chopped salad
Friday: spice-rubbed salmon, sweet potato coconut soup, sautéed Swiss chard (I'm going to do a simple saute .)
Saturday lunch: broccoli crunch salad
Sunday: mixed green salad with grapes, gorgonzola and almonds and seared grass-fed steaks (use this technique for perfectly cooked grass-fed steak)
Here's what you can do ahead if you need:
Sunday
Make chicken or vegetable stock
Prep toppings for baked potato soup: shred cheese, steam/roast broccoli or brussels sprouts, make pesto, etc.
Make the chermoula and refrigerate
Make the salad dressing for the mexican chopped salad, broccoli crunch salad and mixed green salad with grapes
Wash your salad greens and herbs
Tuesday
Make the meatballs up to the point of refrigerating and keep them covered in the fridge until tomorrow night.
Make the tomato sauce for the meatballs and refrigerate
Friday
Steam or blanch broccoli for salad on Saturday
Here's a link to my previous dinner planners.
If you like my recipes, you'll LOVE my new cookbook!