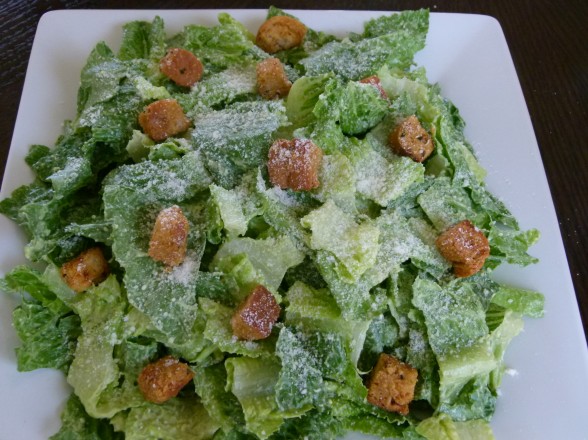 I hope you all had a lovely Easter or Passover holiday.  Ours was so nice thanks to my mother-in-law took care of the meal and all I had to do was show up with desserts.  But now I'm ready to move on from anything to do with coconut or eggs.  In fact I am going to be a rebel and just omit eggs in recipes where you would normally expect to find them!  I can be crazy that way.   One thing that has surprised me in teaching cooking classes the last few years is how many people have food intolerances/allergies.  If you or one of your kids is one of those people, you are not alone.  The most common allergens I run across with my students are gluten, dairy, nuts and eggs.  There are others of course, like soy, corn, mangos and shellfish, to name a few.   Then there are people who can't tolerate garlic, which I'm not sure how I could live without.  But eggs is a big one.  So it's always in the back of my mind when I come up with a recipe and I try to share egg-free versions of anything I teach.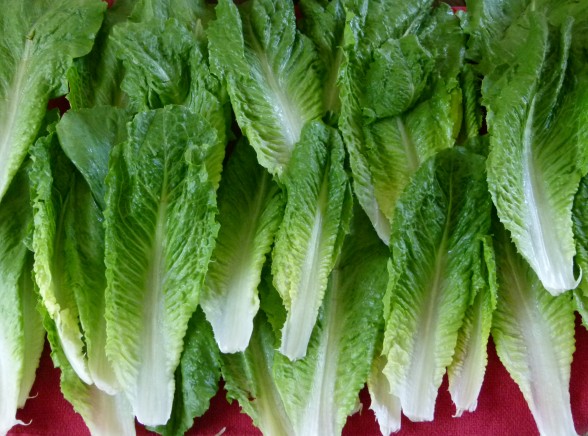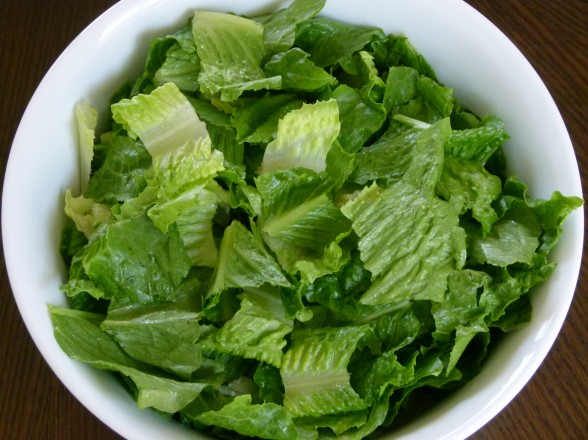 Caesar salad dressing is traditionally made with olive oil, garlic, anchovies, lemon juice or lemon juice and red wine vinegar, mustard and raw egg yolks.  Normally I substitute mayonnaise for the egg yolks because I'm not always comfortable serving kids raw eggs, but sometimes mayonnaise contains egg, too.  So to make this dressing egg-free, but still creamy, I tried using one of my favorite rich, nutritious foods — avocado — and a new favorite salad dressing was born.  The color is a tad green, but you won't notice it once it's tossed with the lettuce.  And the avocado does nothing to change the flavor of the dressing so you would otherwise have no idea that you weren't eating a regular Caesar salad.  Do I dare say this is even better than a normal Caesar?  I made this for a working lunch at home yesterday and my assistants and I couldn't stop eating it.  So goooooood!
Did I mention that Caesar salad is also very simple to prepare at home?  That's one reason I'm not likely to order it in a restaurant.  I have a thing about ordering food in a restaurant that can be easily made at home.  I don't mind paying for handmade pasta, high quality sushi, or foods that are either unusual or labor-intensive that I can't reproduce at home.  But even the novice cook can make a delicious Caesar dressing for a fraction of a restaurant's price.  I can buy an entire head of romaine lettuce at the farmer's market for $1 and probably make Caesar salad for 4-6 people for under $4.  You'll think twice about spending $12 for one portion.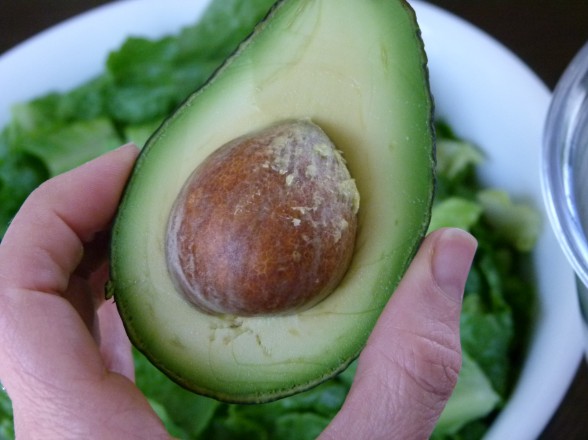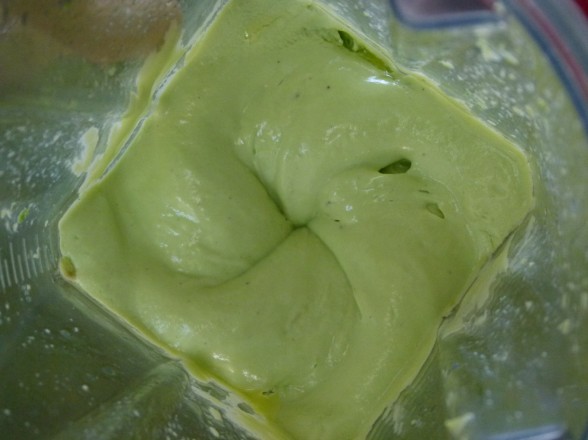 Salads are a great way to use the topping bar method with your kids.  Many children do like Caesar salad,  but if yours are unsure about all that lettuce, allow them to add whatever they like to their plate, even if it's something that you might not eat on the salad — olives, pecans, dried fruit, popcorn, avocado, chopped up chicken tenders.  That's not what's important.  We're just allowing them to have some control over what they eat while encouraging them to eat the same food we do.  They're still finding their way.
I don't add cheese to the actual Caesar dressing, but instead sprinkle it on top of the chopped lettuce and then toss with the dressing.  If you are dairy-free, you can leave the cheese out completely or substitute Parma (vegan "Parmesan cheese") or nutritional yeast and a little extra sea salt.  And if you're vegan, omit the anchovies and add a drop of vegan worcestershire sauce.  Dairy-free and vegan peeps, did you think I was only going to give love to my egg-free friends?  I have more than enough to go around.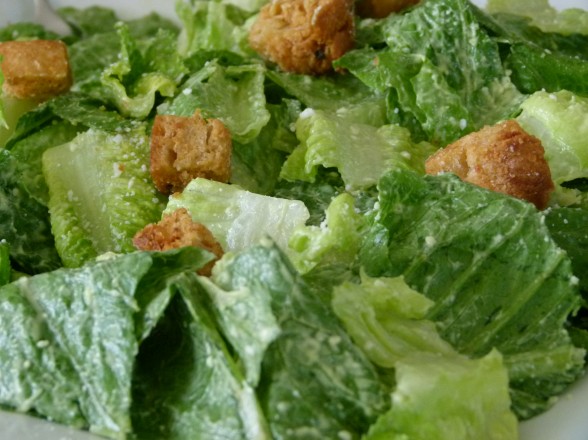 Avocado Caesar Salad
Ingredients
Dressing (makes about 1 cup):
2-3 Tablespoons fresh lemon juice
3 Tablespoons unrefined, cold pressed extra-virgin olive oil
1 ripe avocado, pitted and peeled
½ teaspoon sea salt (you can add more if you're skipping the cheese)
freshly ground black pepper to taste
½ teaspoon Dijon mustard
1 teaspoon anchovy paste or 1-2 anchovies** (optional, but traditional)
1-2 garlic cloves, finely chopped
6 Tablespoons water
Salad:
1 head romaine lettuce, washed, dried and torn into bite-size pieces
¼ cup freshly grated Parmesan or Pecorino cheese* or a wedge shaved into thin strips
croutons for garnish, if desired
Instructions
To make the dressing: Combine all the dressing ingredients in a blender and blend until smooth and creamy. Add a little more water to make it thinner, if desired. Taste for salt and pepper, but be conservative with the salt since the cheese is salty.
Place the lettuce in a serving bowl or on a platter and sprinkle with grated cheese and croutons. Depending on the size of your head of lettuce, you may have more dressing than you need, so just toss lettuce with enough dressing to coat lightly. Or toss salad with dressing and garnish with shaved cheese.
Notes
Other options: You can also take a head of romaine, cut it in half, brush with olive oil and grill it for a Grilled Caesar Salad. Other sturdy lettuces could be radicchio, endive or red romaine.

*Try Parma or nutritional yeast for a dairy-free option.

**Vegans can drop the anchovies and add a drop of vegan worcestershire sauce instead.