For those of you celebrating the Jewish holidays, Happy New year to you!  I hope it is a sweet one (but not too sweet, hee hee.)  When I put together last week's dinner planner, I completely forgot Sunday was the first night of Rosh Hashana!  It's not one of my holidays to do, so it wasn't on my radar.  My mother-in-law takes care of that dinner and I cook the lunch on the first day of Rosh Hashana.  Basically, a lot of eating happens in a 24 hour period of time!  Have a great week!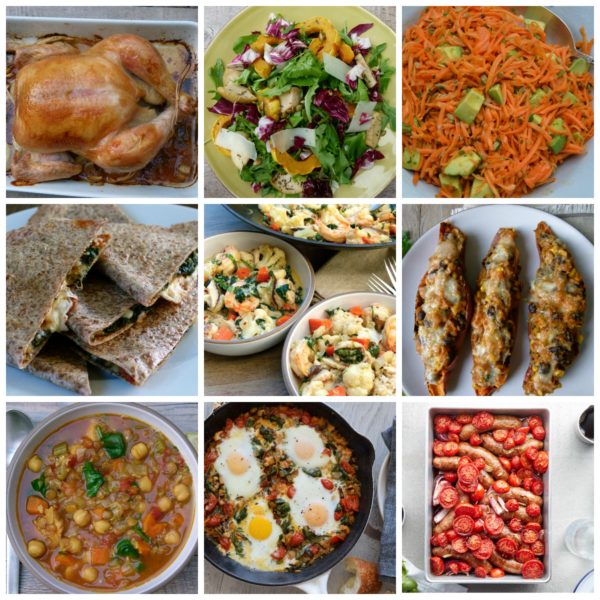 Here's your dinner planner this week:
Rosh Hashana lunch: 3 whole roasted chickens with potatoes and fennel, delicata squash and apple salad, carrot salad, Marakkesh chopped salad (new for my October classes), noodle kugels, fruit platter and sweets
Tuesday: Leftover chicken turned into chicken and spinach quesadillas (kind of like this recipe without the sauce), black beans
Wednesday: Shrimp and veggies with coconut basil sauce and brown rice
Thursday: Tex-mex stuffed sweet potato skins, green salad with fiesta dressing, red cabbage, radishes and toasted pepitas
Friday:  Harira (one of my favorite recipes ever!), green salad with cucumbers, pickled shallots, and everyday dressing #1
Saturday lunch: Green shakshuka with crusty bread
Sunday:  Baked sausages with roasted tomatoes from Thrive Market (I am going to use Whole Foods fresh mild Italian turkey sausages), cauli-rice
Here's what you can do ahead if it would help:
Sunday
Salt chickens (read this post on the secret to great-tasting chicken — do not salt kosher chickens!)
Cut potatoes and cover with water.  Refrigerate.
Prep (wash, dry, cut, refrigerate) fennel
Prep delicata squash
Make dressings for salads
Wash greens
Monday
Soak beans for Tuesday
Wednesday
Wash greens for Thursday and Friday
Make dressing for Thursday and Friday
Make stock for Harira (or make on Sunday and freeze)
Friday
rice the cauliflower and refrigerate
Here is a link to all my dinner planners.