I know you will roll your eyes when I tell you I am exhausted from too much celebrating, but it's truuuuue.  I am soooo tired.  So much dancing and eating and staying up late for my son's bar mitzvah weekend and then there was all the wine in Napa earlier in the week to celebrate my bestie's 50th.  But I didn't forget about my classes and you lovelies here.  I am back with some things I am loving lately, a few of which I have been using in my classes this month.  Have a great weekend!
Trader Joe's Organic Black Bean Pasta

I think that Trader Joe's is really on the ball when it comes to product development-they are always coming out with new products that impress me.   Recently added to that line-up is this organic black bean pasta. I have been using it in my classes this month for a Greek pasta salad and everyone has been going nuts for it! It is definitely a nutritional boost over white pasta; one serving contains 14 grams of protein, 15 grams of fiber, and 20 percent of your daily iron intake. Pretty impressive and you don't need to worry about supplementing with any protein.
Plus, it is such an interesting, beautiful dark gray, almost purple color when it is cooked. Since the pasta is gluten-free, I like to cook it using a method similar to the one I posted here. My method is to cook the pasta until it is not quite al dente, then turn the heat off before the pasta is done cooking and allow it to sit in the hot water for a minute or so before draining. I have already cooked this pasta 14 times this month and have ended up every time turning the heat off at 6 ½ minutes, and allowing it to sit for about another 45-60 seconds and then draining. I bring this up because the directions on the back of the package instruct to boil for 8-10 minutes which is too long!
A couple of other tips that I have for perfect gluten-free pasta is to turn the heat to a medium boil after the pasta is added, rather than a full, rapid boil. Also, as soon as you add the pasta to the water, it helps to stir the pasta until the water comes back up to a boil. You can use this as you would any other pasta, but it definitely has a bit more of an assertive, "bean-y" taste than traditional pasta.
"How Not to Die" the book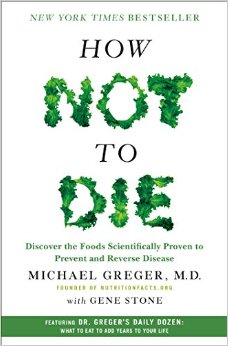 I subscribe to very few websites, but one of my favorites is NutritionFacts.org, a site started and managed by Dr. Michael Greger who thoroughly researches and backs up everything he claims with scientific evidence.  He also posts many videos which I enjoy watching.  When Dr. Greger came out with this book, "How Not to Die," I immediately bought it and I am not disappointed.
As opposed to his website which posts a new article everyday, and doesn't really categorize them by illness/disorder, his book concisely accumulates the studies and data for identifying what to eat to help treat the top 15 causes of death.  It also includes Dr. Greger's Daily Dozen, a checklist of the foods and activities he recommends incorporating into our daily routines.  I think his advice is practical and easy to understand, and more importantly, backed by science.  Do not expect this book to say you can eat truckloads of meat every day and be healthy, because it doesn't.  Dr. Greger advocates a mostly plant-based diet, but gives easy to read snapshots in each chapter of the best foods to eat to prevent certain diseases.
People ask me in my classes every day what I am reading and what my favorite nutrition books. Here you go!
Sami's Bakery Millet and Flax Crackers

While junk food is something I gave up years ago, every now and again I really get the urge for something crunchy, salty, and crispy. As much as I would like to say that a nice slice of crispy radish or carrot does that trick, sometimes you just need a little something more. While there are tens of hundreds of packaged snack foods on the market today all touting their health claims, it is really hard to find one that has completely clean ingredients and that I feel guilt-free from eating. These millet and flax chips from Sami's Bakery fit the bill and really are a nutritious packaged snack food. They are made from a combination of whole grain flours including millet and flax meal, olive oil, sea salt, and water.  I think they have the perfect amount of saltiness and have a lovely, light and crispy texture.
I was staying with my friend Lisa in Dallas and she left a bag for me.  I was instantly smitten and immediately ran over to The Gem juice bar to purchase a bag to take home with me.  They are available for purchase on their website!
Halloumi Cheese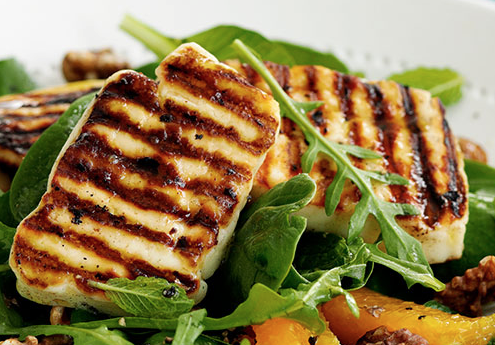 I always love introducing new foods to my students and often I am surprised how many of the women I teach haven't ever tried certain things. I have been using halloumi cheese in a salad this month (seared and added to a cantaloupe and arugula salad), and I think everyone is now a halloumi convert! Halloumi cheese is a sheep's milk cheese (already an added bonus there, since sheep's milk is so much more digestible than cow), and it has properties that allow it to be grilled/fried without melting! Instead you end up getting a warm, stretchy, gooey and crispy piece of cheese that you can serve in a salad, on top of a grain bowl, on a skewer, etc. It is particularly delicious when paired with any kind of melon and is so perfect in the salad I described above! I liken the taste of halloumi to a salty mozzarella, so do be aware that is definitely packs a salty punch! To grill hallloumi, I tested several different methods and pans and found that the best result was using a well-seasoned cast-iron skillet without any oil. Using a stainless steel skillet here is a bit of a mess as it requires oil to prevent sticking, and nonstick pans just didn't get the nice golden crust that you get with the cast iron. One of my students said yesterday that she uses her panini press to grill the halloumi.  Genius!  Once the halloumi cools, it doesn't retain its stretchy nature, so if you aren't serving immediately or need to do this ahead of time, it keeps perfectly in a 300 degree oven until you are ready to serve. Halloumi can be found at Trader Joe's, Whole Foods, and Bristol Farms in my area!
Trader Joe's Grainless Granola
Grain-free has been a buzzword that has been floating around the foodie community as of late. Going grain-free is a diet that goes hand in hand with being Paleo, which is the style of eating I am seeing to be most popular right now, at least in Los Angeles. Eliminating grains from your diet is in no way necessary for everyone and nor is it something I do. However, there are certain situations where eating grains can cause an imbalance or distress and it is good to have grain-free options.
Enter this grain-free granola from Trader Joes! Since most granola has a base of oats, a grain-free granola essentially removes the oats and replaces it with more nuts and seeds. You do need to be conscious however that this will also up the calorie and fat content. I taught a grain-free granola in my classes this summer and everyone loved it—it really is a nice change from the standard oat-based granola. Plus, all grain-free dieting aside, sometimes I like something with a little crunch on top of my oatmeal or porridge in the morning, and pouring oat-based granola over my oats can be a little redundant; this is great to have on hand when you actually want to top oats with something and don't want to take the time to toast up and chop nuts and seeds.