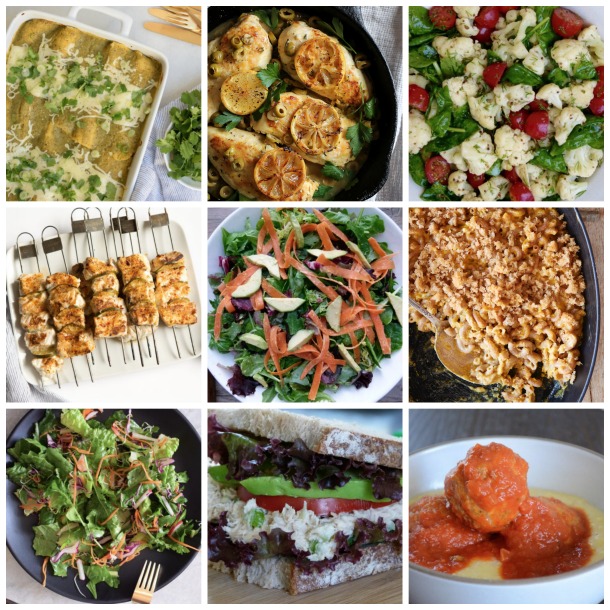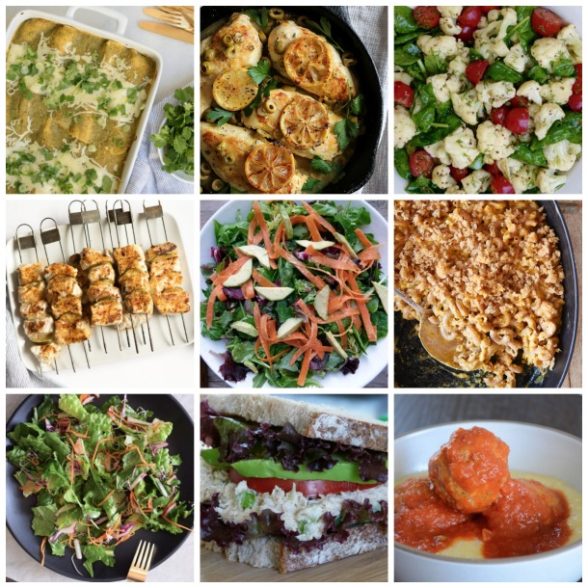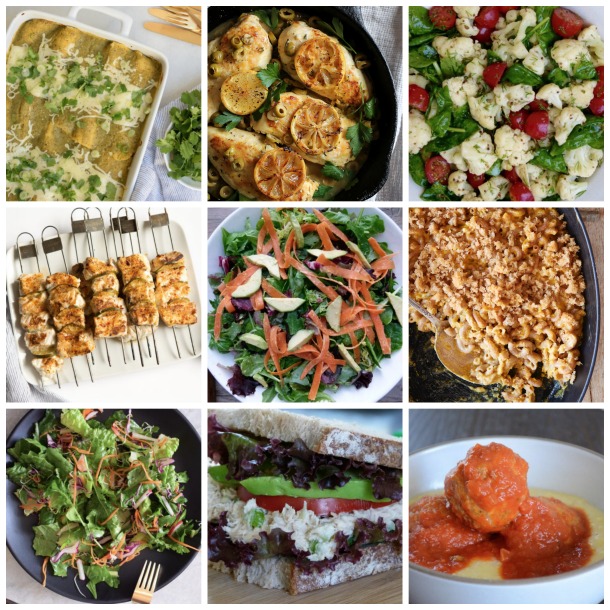 We made it through the first week of school!  And I made it through my first week back teaching cooking classes, AKA my real job.  I had to be really organized this week for breakfast (my son needs to eat by 6:30 am!), lunch (school lunch, you know) and dinner.  Yikes!  Follow me on Instagram where I have been doing some live videos during dinner prep, and it's not too late to sign up for my course on batch cooking that I developed for Clean Eating Magazine.  It starts on Monday!
I've had some feedback about posting the dinner planner earlier, on Saturdays.  Seems like many of you prefer that.  Let me know if you'd like this to continue on Saturdays or go back to Sundays.
Here's your dinner planner for the week:
Meatless Monday: Roasted vegetable and black bean enchiladas
Tuesday: Skillet lemon chicken with olives and herbs from SkinnyTaste, Caulilfower and cherry tomatoes with dill
Wednesday: Mexican chopped salad with spicy cilantro dressing from my cookbook, fish and lime skewers
Thursday: Beef and broccoli, greens with miso-ginger dressing
Friday: Vegan mac and cheese, big green detox salad
Saturday lunch: Tuna salad
Sunday: Turkey meatballs, spaghetti squash with 5-minute cherry tomato sauce (See this recipe for how to roast spaghetti squash)
Here's what you can do ahead if you need:
Sunday
Roast veggies for enchiladas
Make enchilada sauce
Prep cauliflower
Wash herbs and greens
Make spice mixture for fish skewers
Prep broccoli
Make miso-ginger dressing
Tuesday
Make Mexican salad dressing
Prep salad components
Thursday
Make mac and cheese sauce
Make tuna salad
Make spaghetti squash, rake into strands (can be reheated in a skillet with a teaspoon of olive oil)
Meatballs can be baked and frozen any day.
Here's a link to my previous dinner planners.