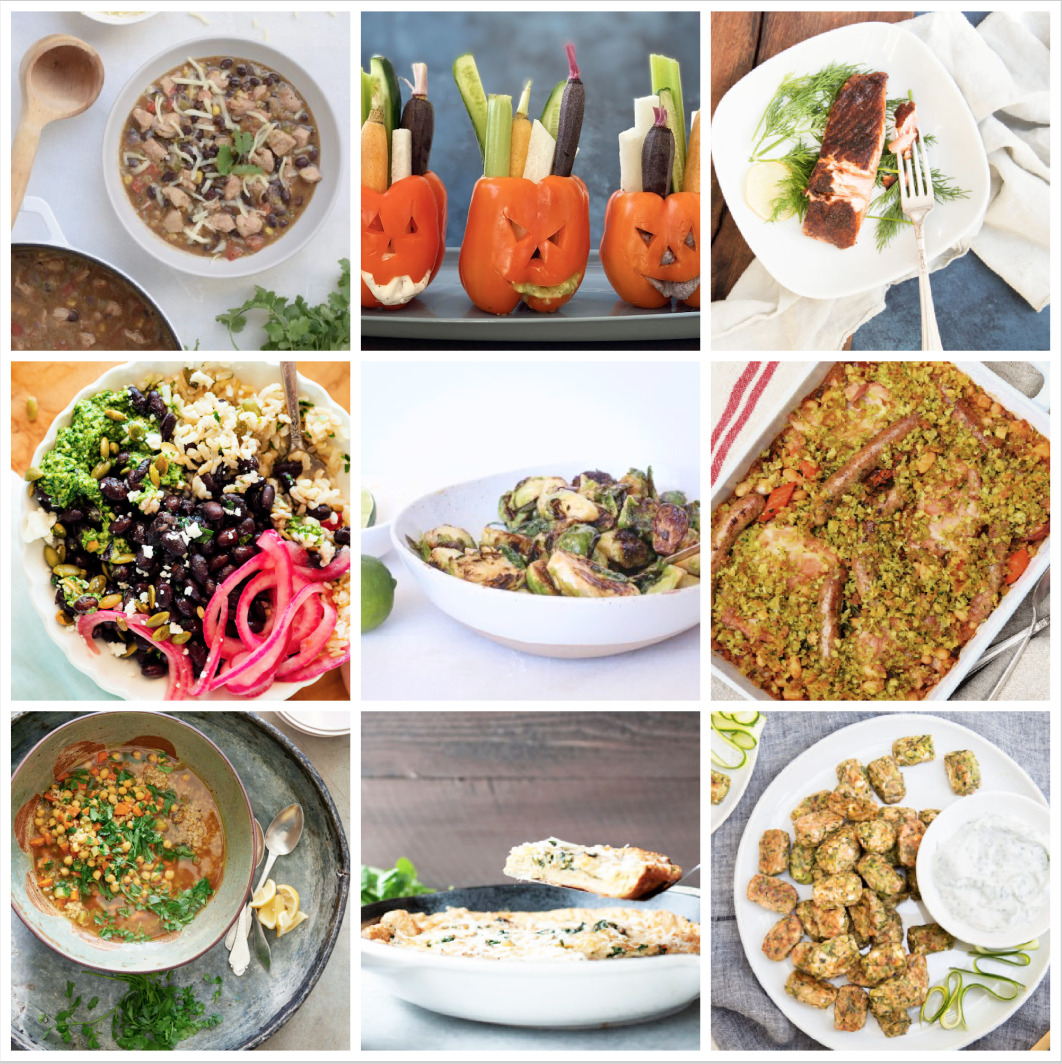 I know Halloween is on Monday, but THANKSGIVING is 4 weeks from this past Thursday!!! It's game on, friends!! My newest Thanksgiving e-book is available and better than ever. It is basically a Thanksgiving manual with over 100 recipes, troubleshooting tips, prep ahead best practices and every piece of advice I have learned over the last 27 years of cooking Thanksgiving and teaching over 200 Thanksgiving classes. If there is something I have down pat, it's Thanksgiving. Click here to learn more about the e-book and to order. It will save you hours and hours of searching for recipes and tips!! Here's your dinner planner for the week:
Meatless Monday (Halloween): Turkey chili (to make this plant based: swap out turkey for an equal weight of cooked beans or cooked lentils) or check out this mushroom veggie chili + topping bar and cornbread. Other fun ideas you may like are the Bell Pepper Jack o' Lanterns or Roasted Stuffed Fondue Pumpkin.
Tuesday: spice-rubbed salmon, broccoli Caesar salad from Bon Appetit. Garnish with roasted slivered almonds.
Wednesday: Rice and bean burrito bowls, guacamole, chipotle brussels sprouts and any other roasted veg you want to add (carrots, zucchini, peppers, onions, sweet potato etc.)
Thursday: Cassoulet-style chicken and sausages, green salad with everyday salad dressing #1 or 2
Friday: Middle Eastern Vegetable Soup with Freekeh from my KM cookbook, side of fresh salad (or if you have leftover cassoulet, chop everything into bite size pieces, add some stock and turn it into the best soup!)
Saturday brunch: Savory dutch baby pancake with spinach and gruyere, optional to sip with an energizing Pumpkin Spice Yerba Mate Latte
Sunday: Simple whole roast chicken, zucchini tots (or throw some potatoes, carrots, and fennel onto the baking dish with the chicken for a 1-dish meal!)
Here's what you can do in advance if it helps you:
Sunday:
Make salad dressings, including Caesar dressing
Wash greens
Cook beans for the week if making from scratch
Make chili
Measure spice mix for salmon
Tuesday:
Cook rice
Wednesday:
Make breadcrumb topping for cassoulet
I have LOVED seeing all your creations of my recipes on Instagram. If you make any of my recipes, please tag me @pamelasalzman #pamelasalzman so I can check them out! I have a free Monday newsletter with my thoughts, new recipes, and things I'm loving lately. Subscribe here!
Order my cookbook, Quicker Than Quick! If you have 1 minute, would you mind leaving a review on amazon? I would be so grateful, thank you! Take a peek at my first cookbook "Kitchen Matters"!