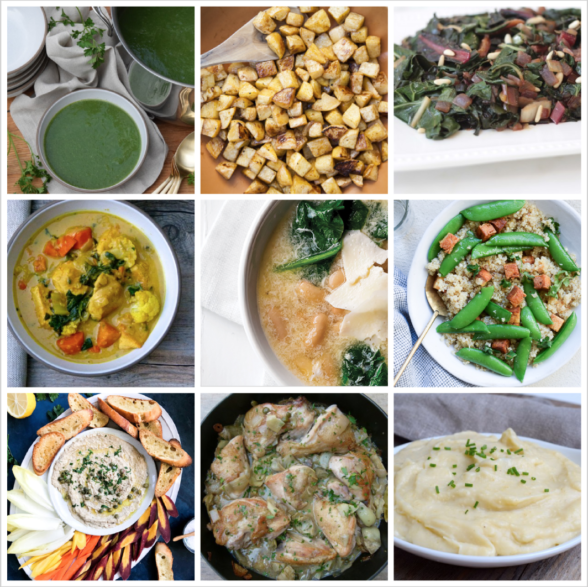 I hope you all had a wonderful Thanksgiving.  We had a very small holiday with just 9 of us outside, of course.  It was still lovely and I was so very happy to see so many of your photos, emails, DM's and comments showing me your success stories!  Thank you for bringing me into your kitchen and trusting me with your family's important meals and gatherings.  I am truly honored.  I am going to relax the rest of the weekend with Hubs and the kiddos and try to get creative with the leftovers!
Here's your dinner planner for the week:
Meatless Monday: Bieler's broth is my favorite reset and I feel very good afterwards; everyone else can make a scramble or a waffle of leftovers
Tuesday: Roasted salmon (olive oil, salt and pepper at 400 degrees/8-10 minutes per inch of thickness) with roasted balsamic rutabagas, sautéed swiss chard (you can use this recipe and leave out the dried apricots and pine nuts, if you want)
Wednesday: Chicken and vegetable curry (I might make this vegan and sub chickpeas for the chicken), steamed brown rice
Thursday: Stracciatella (Italian Egg Drop) Soup , you can use this Turkey Stock recipe (I made the turkey stock using my leftover turkey from Thanksgiving); Hubs is making sourdough pizza dough! For anyone asking about our sourdough recipes, they all come from ThePerfectLoaf.com.  We are not experts!
Friday: Sugar snap pea and quinoa salad with tofu (I will replace snap peas with cauliflower or another fall/winter vegetable), I might add a quick saute of veggies if I think we need it
Saturday brunch: Easy Tuna Dip spread on freshly toasted whole grain or gluten-free bread
Sunday: Baked chicken with artichokes and capers, millet-cauliflower mash
Here's what you can do ahead if it helps you:
Sunday:
Trim green beans
Peel and cut rutabagas
Wash greens
Wednesday:
Cook white beans if making from scratch
Thursday:
Break cauliflower into florets
My new cookbook, Quicker Than Quick, is here!  I have LOVED seeing all your creations of my recipes on Instagram. If you make any of my recipes, please tag me @pamelasalzman #pamelasalzman so I can check them out!  If you have 1 minute, would you mind leaving a review on amazon?  I would be so grateful, thank you!
Take a peek at my first cookbook "Kitchen Matters"!