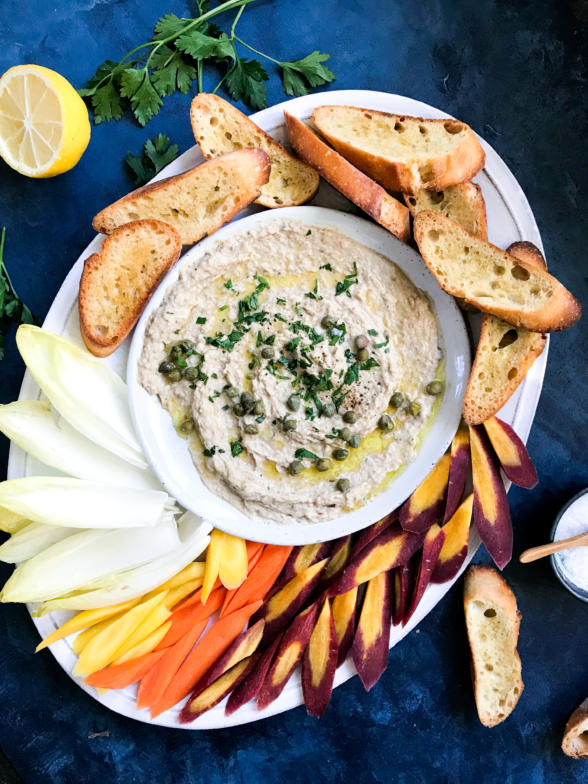 I don't usually post a Thanksgiving recipe this week because I like to assume we've all committed to our menus by this point!  But I know something that I wouldn't turn down right now is a super fast, easy, healthful appetizer recipe that could be made with pantry staples in 5 minutes flat.  Tell you more? Of course.
There aren't too many canned foods that I keep on hand, but canned tuna is one of them.  Those of you who have been hanging out here for a while know I have loved canned tuna as long as I can remember.  And I thank my lucky stars that all of my kids love it, too.  Tuna is the reason I have mayo in the fridge.  It saves me when I have no idea what to make for lunch when there's nothing in the fridge.  Tuna adds protein to my salads and even my stir-fries when I need it.  And I genuinely love it out of the can with a fork, although I like it better in an avocado half with a squirt of sriracha.  One of my favorite salads ever is the Italian Tuna Salad with White Beans in my cookbook.  Then there's the Nicoise Salad on my website – a summer staple.  My son is obsessed with my tuna patties.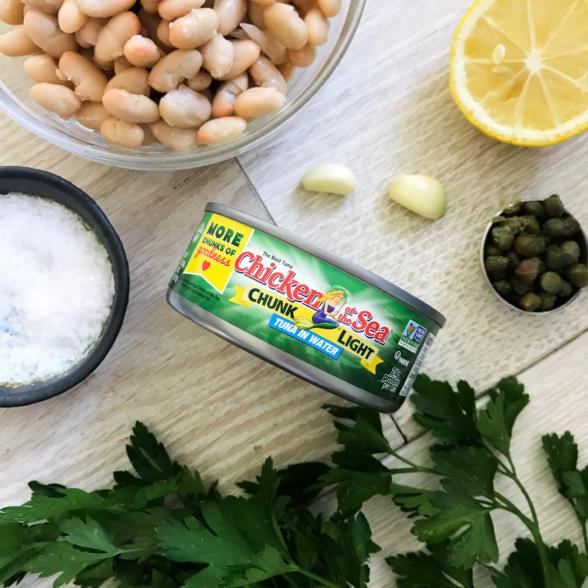 I also recommend canned tuna for anyone who wants an economical, wild-caught, high Omega-3 fish.  Chicken of the Sea recently reached out to me knowing that I am a canned tuna fan and offered to share their newly formulated chunk light tuna, which they proudly conveyed to me has improved texture and taste, as well as more chunks of tuna.  Honestly, I already like all kinds of tuna, so what I was more interested in was:
is it wild caught? Yes!

is it preservative-free?  Yes!

dolphin-safe?  Yes!
And Chicken of the Sea has tracking system in place which I didn't even know existed.  You can trace the source of your fish from the code on the bottom of the can. I tried it and it worked.  Very cool!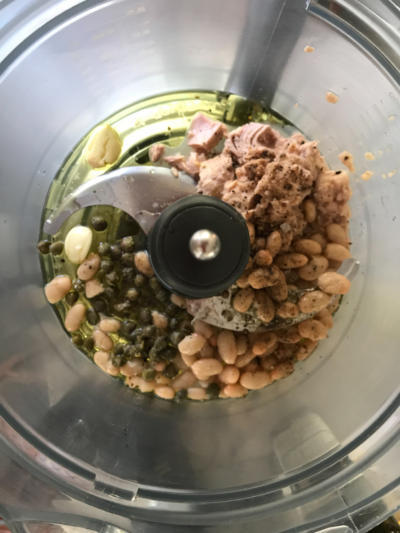 I am sharing a recipe I grew up with but tweaked a little to make it even more nutritious, but just as easy and tasty.  It's a version of an Italian tuna spread called Crema di Tonno or Mousse di Tonno. It is usually made with oil-packed tuna and either mayonnaise, butter, or soft kind of soft, spreadable cheese.  You blend it in a food processor with some capers, lemon juice and anchovies, although I think you could easily do without them. So easy! We would serve this dip with crostini (i.e. toast.) Instead, I am swapping cooked white beans for the mayo and I am using tuna packed in water plus additional olive oil.  Not only was this dip I actually like this version better because it is less loose than the kind I remember, and more spreadable.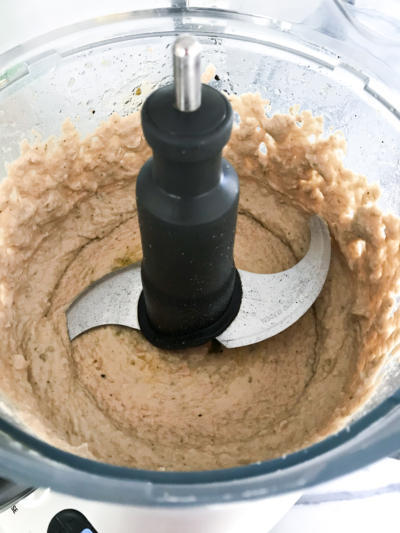 I love anything on toast, but to make this more appealing to the gluten-free and grain-free folks, I serve the dip with fresh, crunchy crudites.  Cucumber, endive, carrots and celery are all no brainers. But bell pepper, boiled potatoes (remember the Nicoise salad mentioned above) and cherry tomatoes would all be a perfect match.  I would absolutely serve this with drinks on Thanksgiving, any holiday gathering, or general entertaining! So when you're picking up those last minute items for your holiday meal, don't forget to grab a few cans of tuna.  You'll always have a way to enjoy it! Here's wishing you all a very happy Thanksgiving!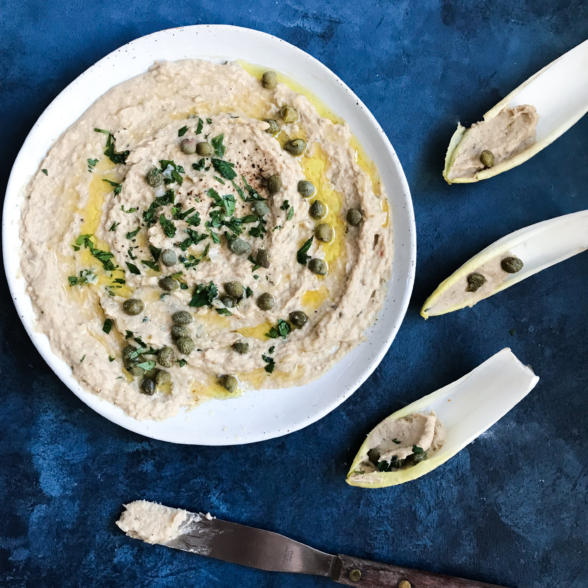 Shop the recipe tools for this recipe by clicking on the images below:

Easy Tuna Dip
Serves:
approximately 1 cup
Ingredients
1 6 or 7-ounce can or jar of tuna packed in water, drained
½ cup cooked white beans, such as Cannelini or Great Northern, drained and rinsed if canned (you can also use same amount cream cheese or mayonnaise)
4 Tablespoons unrefined, cold-pressed, extra-virgin olive oil + extra for drizzling
1 Tablespoon capers, drained + extra for garnish
1 Tablespoon fresh lemon juice
1 Tablespoon anchovy paste
2 medium garlic cloves, smashed
a few grinds of freshly ground black pepper
sea salt, if necessary
fresh flat leaf parsley for garnish, finely chopped
Suggested accompaniments: crackers or crostini, endive leaves, cucumber rounds, carrot sticks
Instructions
In the bowl of the food processor fitted with the metal blade, place the tuna, white beans, olive oil, capers, lemon juice, anchovy paste, garlic and black pepper. Pulse until combined. Or alternatively puree for a smooth dip. Taste for seasoning.
Spread the dip in a shallow bowl and drizzle with extra olive oil, plus a sprinkle of capers and parsley. Serve with desired accompaniments or place a spoonful on a cucumber round, endive leaf or cracker.