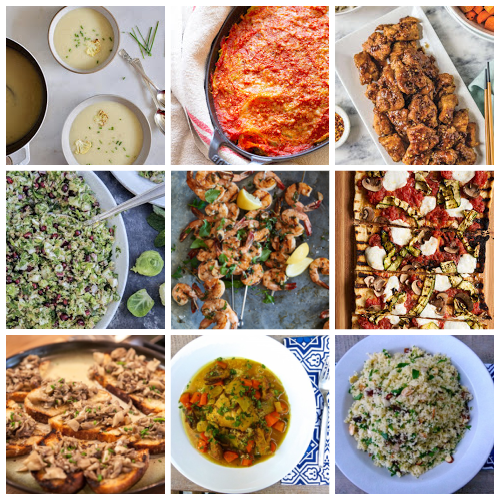 This week is likely not going to be a quiet and calm one.  Be prepared for me NOT to make any political statement about the election.  I have family, friends, readers, students and community members who align themselves with different political affiliations.  My space and social channels are about helping you be healthier through cooking more from scratch with whole food ingredients.  My only message is "Please Vote and Let Your Voice Be Heard and Counted."
Thanksgiving is coming and my family and I are super excited.  It's going to be the smallest Thanksgiving we have ever had, but I am doing it up anyway!  My new, updated Thanksgiving ebook is finally available and will help you with every detail, every prep-ahead tip, ALL my Thanksgiving recipes in one place with color photos.   All for $10.  $10 to have a stress-free Thanksgiving!  Here's your dinner planner for the week:
Meatless Monday: cauliflower and roasted garlic soup served with toasted bread; I like the idea of a caramelized onion and gruyere toast with this!
Tuesday/Election Day! Deconstructed stuffed cabbage casserole, serve a salad on the side if you need more (you can swap lentils for the meat to make this vegetarian).  We may also need some Pinot Noir and some chocolate peanut butter cups or pumpkin-chocolate swirl bars to get us through the night.  Make lots.
Wednesday: Easy Chinese chicken, steamed rice, steamed or roasted broccoli
Thursday: Fall/winter tabbouleh with grilled shrimp or crispy tofu
Friday: Pizza night!  Here's my homemade pizza dough recipe.  I cook the pizzas on a preheated pizza stone in my oven at the highest temperature my oven will go which is 500 convection!
Saturday brunch: hen of the woods mushroom toast
Sunday: Moroccan chicken with dates, couscous or cauliflower rice, sauteed Swiss chard
Here's what you can do in advance if it helps you:
Sunday:
Roast head of garlic
Make stock
Blanch cabbage leaves
Cut cauliflower into florets
Wednesday:
Cook quinoa
Seed pomegranates
Thursday:
Make pizza dough
My new cookbook, Quicker Than Quick, is here!  I have LOVED seeing all your creations of my recipes on Instagram. If you make any of my recipes, please tag me @pamelasalzman #pamelasalzman so I can check them out!  If you have 1 minute, would you mind leaving a review on amazon?  I would be so grateful, thank you!
Take a peek at my first cookbook "Kitchen Matters"!