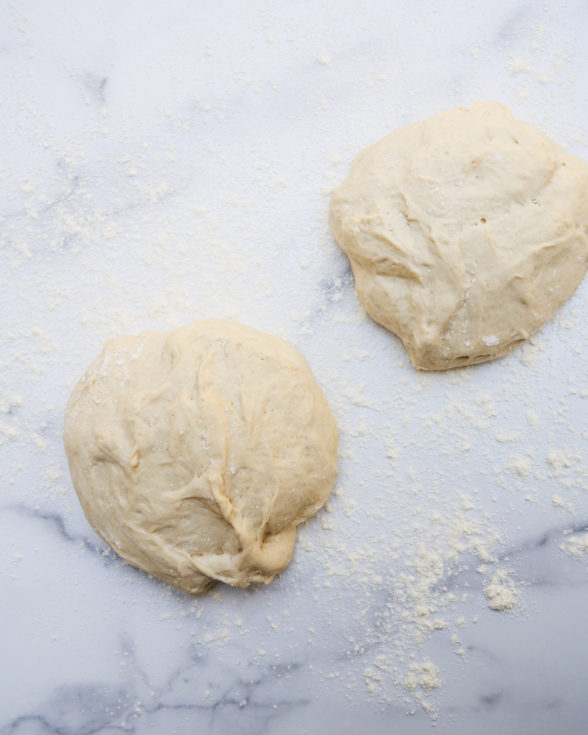 I've gone through many pizza phases in my life (I eat it often then I don't and so on) and where I acknowledge that it is not a health food, I really do enjoy it.  Even if the dough is gluten-free or made with whole wheat flour, flour is flour and will spike your blood sugar.  So when I eat pizza, I don't eat too much and I always supplement my meal with a salad.  I also tend to load up my pizzas with lots of veggies and I often use no cheese, opting instead for my homemade vegan mozzarella (recipe from my online class this spring), cashew-cauliflower ricotta, or the red pepper pesto from Quicker Than Quick.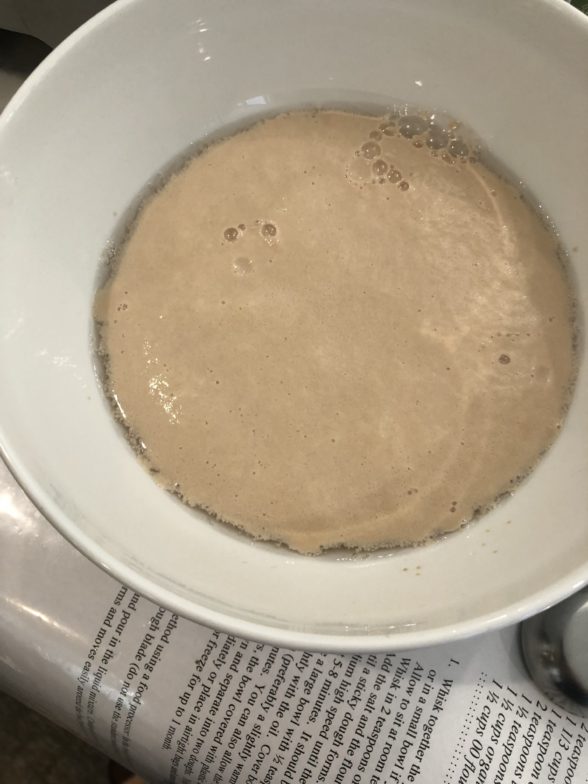 Back in the day (when I wasn't working so much), I made my own pizza dough.  It's pretty easy, but needs a little advance planning since there is yeast and rising involved.  You can't make pizza in 5 minutes.  So the busier I got, the more I started to rely on grocery store pizza dough.  It's easy, it's ready to go, and you can even keep in the freezer for a last minute pizza night.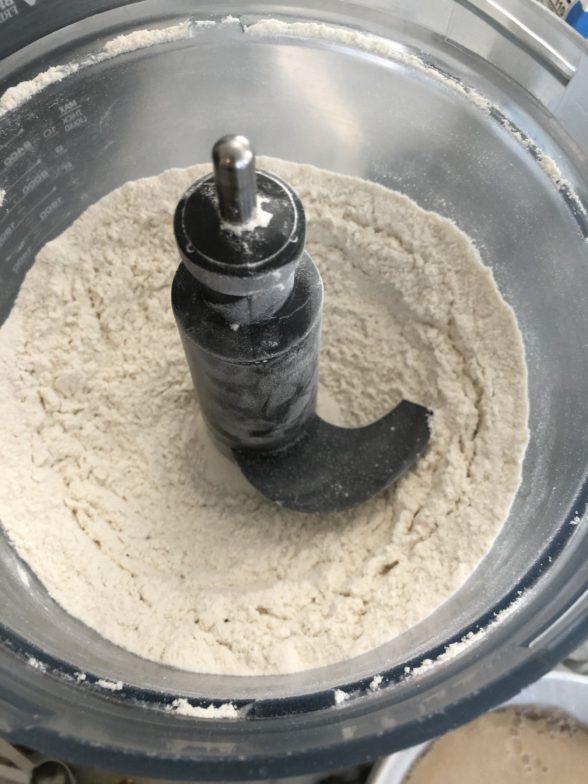 The bummer is that I can't find organic pizza dough in my local stores, not even Whole Foods.  Non-organic wheat is a no-go for me.  Conventionally grown wheat, as well as many other grains, is being sprayed with glyphosate as a drying agent.  Ugh.  Back to homemade it is!  But once I started making my own dough again, I was reminded how easy it is.
Let's talk wheat flour for a minute.   There are two types of wheat grain – hard and soft wheat
The flours listed below are all hard wheat (with the exception of all-purpose which is a combination) and have a relatively high protein content. Hard wheat is high in protein and has a higher ability to form gluten, which provides coarse and elastic texture. More gluten means the flour has more strength, which helps it hold baked goods together, such as in breads, pasta, pizza dough. The texture of pizza dough is usually associated with the amount of gluten in the flour, making it one of the most important ingredients. Gluten is what creates the chewy texture in many bread products.
Soft wheat flours have a lower protein content and are great for cakes, cupcakes, scones, biscuits, muffins – recipes where you want a more tender crumb.  Hard wheat flours tend to have a subtle granular feel, whereas soft wheat flours have a fine, starchy texture similar to cornstarch. 
Two most popular flours used for pizza dough are all purpose and bread flour.  I sometimes make my dough with some 00 flour, but it can make the dough very soft and hard to work with.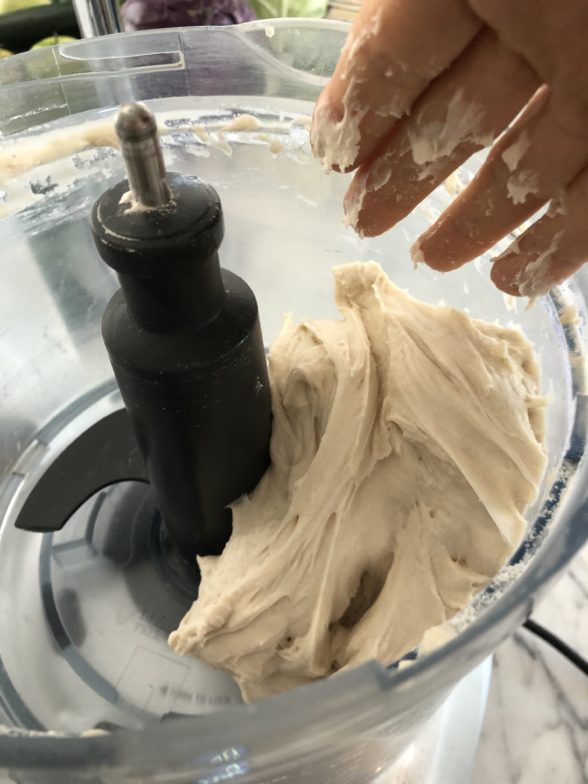 ALL-PURPOSE FLOUR (brands can range from 7 – 12 % protein content – average 10-12%)
Some manufacturers use a combination of hard and soft wheat, so protein content will vary by brand.  It can be used for nearly everything – bread, biscuits, cookies, pizza dough, thickening sauces and gravies. Also great for baking white breads and cakes because it doesn't add color.  It's one of the go-to flours when trying to create a thin, chewy pizza crust. Since all-purpose flour has a lower gluten content, it doesn't rise as high as higher-gluten containing flours, which makes it perfect for thin crusts, but it can be harder to stretch out since it can tear more easily compared to other flours.  It's available bleached and unbleached. Freshly milled flour has a yellow cast that naturally whitens over time, however, some manufacturers expedite the bleaching process by adding chemicals such as benzoyl peroxide or acetone peroxide.  Obviously, you want to only buy unbleached flour!  Be careful not to use self-rising flour (all-purpose flour with leavening added) unless the recipe specifically calls for it. 
BREAD FLOUR (12 – 14 % protein)
One of the most common types of flour used for pizza dough and it's made of hard wheat. It's great for yeast breads because the high gluten level combined with yeast provide a chewier consistency. It works well for thin crust pizzas, too. The structured dough allows for stretching and rising and creates thick, soft and fluffy dough with crisp edges. Great for heavily topped pizzas. Bread flour will not tear as easily as other flours when handling. Since bread flour is very springy, some chefs recommend stretching your dough an inch or more than the recipe indicates so when it's placed on the pizza stone or baking sheet, it will spring back to the desired size. 
00 FLOUR (11 – 12 % protein) 
Also called doppio zero flour. This is considered the Italian pizza flour. The numbers refer to the grind in the flour – very fine, powdery texture. Italian flours are classified by numbers based on how finely ground they are – ranging from roughest ground tipo 1, to 0 and 00, the finest. Most of this flour in the U.S is made from ground durum wheat and has a similar protein content to all-purpose flour. Works well for thin pizza dough. Because 00 flour is very finely ground, it will allow you to roll out your dough thinner than bread flour or even all-purpose, but your dough will likely require less water than the standard amount. That's why it's important to follow a recipe that specifically calls for this type of flour.  For best results, 00 flour works best in a hot oven – 800 degrees or higher. Because of its low sugar content, the high temperature won't cause the pizza to burn, but rather give it the brown color and texture you're looking for. 
SEMOLINA FLOUR (10 – 15 % protein – higher protein content than bread flour)
A coarse golden yellow flour ground from hard durum wheat, it's high in protein and gluten. Mainly used for pasta and couscous as it helps noodles hold their shape and provides texture for sauces to adhere. Can also be used to make pizza, bread, biscuits, porridge and gnocchi. You may see corn semolina and rice semolina varieties- usually labeled this way because of its texture, but they are not the same as regular semolina. Semolina flour in pizza dough recipes helps the crust develop a crispy bottom and chewy texture. It also doesn't char as easily as all-purpose flour.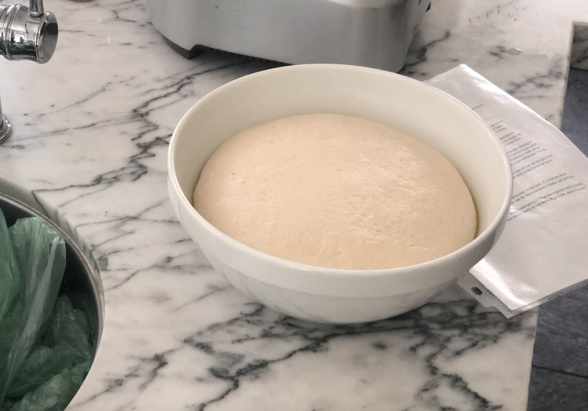 For the everyday home cook just starting out, try bread flour (I like Organic King Arthur bread flour.)  If you can't find it, you can use all-purpose.  You can mix it by hand or let your food processor do the work with the PLASTIC DOUGH BLADE (not the metal S blade.). The more you do it, the more you'll get the hang of it.  Let me know if you give this a go.  You can then use the dough in any recipe that calls for pizza dough (pizza rolls, garlic knots, cinnamon buns, etc.) Next week, I'll be posting my technique for GRILLED PIZZA.  Get ready!  If you make any of my recipes, please tag me @pamelasalzman #pamelasalzman so I can see your beautiful creations!  A little heads-up:  I will be sending out the first email to sign up for my Plant-Based Boot Camp next Tuesday.  If you are subscribed to my website, you will find out about it first.  Spots are limited and my first bootcamp sold out in one day, so if you are interested or you want to take it with a friend, I don't want you to miss out!  XOXO

Pizza Dough
Serves:
1½ pounds of dough or 2 doughs for 12-inch pizzas
Ingredients
2 teaspoons or 1 package active dry yeast (not rapid rise - you don't proof rapid rise yeast)
1⅓ cups warm water, between 105 and 115 degrees Fahrenheit (I use a meat thermometer to take the temp)
1 teaspoon organic cane sugar or honey (this is to feed the yeast)
2 teaspoons unrefined extra-virgin olive oil + ½ teaspoon for the bowl
1 ½ teaspoons sea salt
3 cups organic bread flour (use all-purpose if that's all you can find)
Instructions
Whisk together the yeast, warm water and sugar in the bowl of a stand mixer or in a small bowl if you want to use a food processor* or to mix by hand. Allow to sit at room temperature for 15 minutes until the mixture is foamy. Whisk in 2 teaspoons of olive oil.
Add the salt and the flour to the bowl and mix with the paddle attachment until a sticky dough forms. Switch to the dough hook and beat the dough on medium high speed until the dough pulls away from the sides of the bowl, about 5-8 minutes. It should be a little sticky.
Grease a large bowl with ½ teaspoon olive oil and add the dough, turning to coat lightly with the oil. Cover bowl with a kitchen towel and set it in a draft-free area (preferably a slightly warm area) until it has doubled in bulk, about 45-60 minutes. You can also allow the dough to rise in the refrigerator for up to 24 hours, the bowl covered with plastic wrap.
Punch down and separate into two doughs. You can roll out the doughs to be used immediately or place in airtight bags and store in the fridge for up to three days or freeze for up to 1 month.
Notes
*An alternate method using a food processor: In the bowl of a food processor fitted with the plastic dough blade (do not use the standard metal S blade), add the flour and salt.
Start the motor and pour in the liquid mixture. Continue to process until a smooth ball of dough forms and moves easily around the food processor, about 2 minutes.