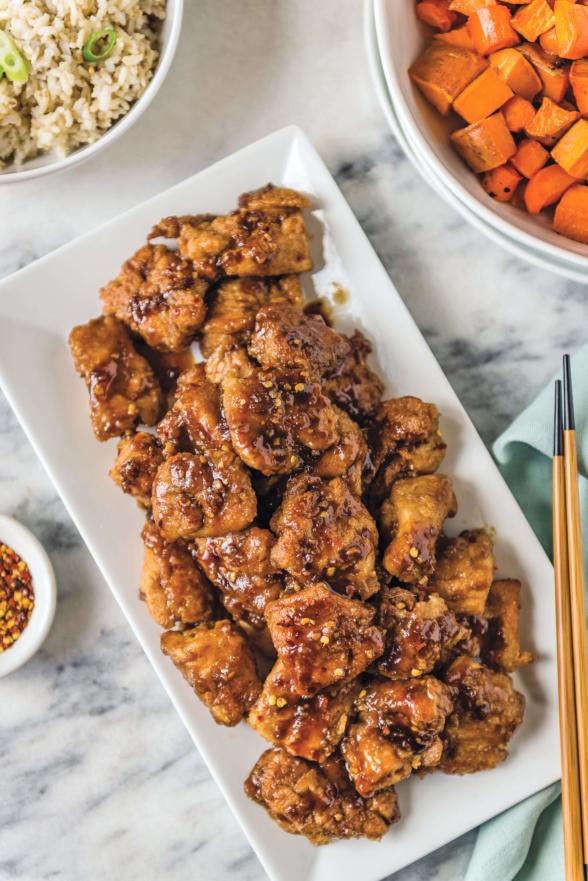 My friend Lisa Leake of 100DaysofRealFood.com just came out with her THIRD book and I couldn't be more excited to share a recipe with you.  Her new book is called "100 Days of Real Food on a Budget" and it has the same mission as her other two books and her site which is to highlight why and how easy it is for a family to eat an unprocessed diet. Obviously, Lisa and I are on the same page, so to speak.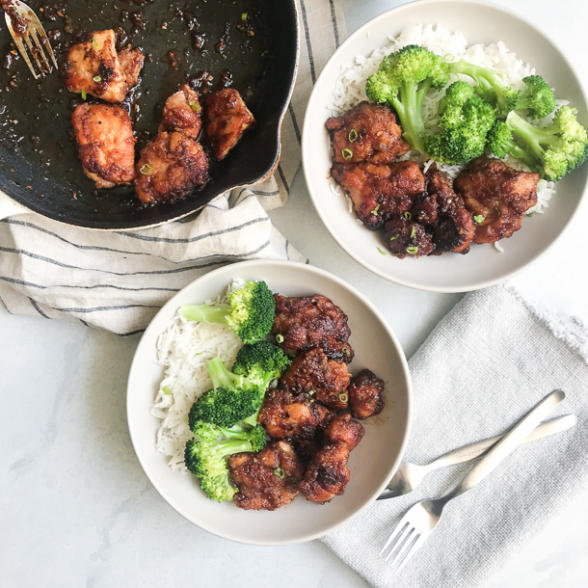 My son was looking over my shoulder when I first perused her book, and I quickly jumped at the chance to casually (always keep it chill, Moms) to ask him if anything looked good to him.  But I didn't want to express any hope that Mr. Picky would actually pick a recipe that he wanted me to make for dinner.  And I continued to keep my cool when he said, "is that Easy Chinese Chicken recipe actually easy?" He failed in love with Asian food when we were in Thailand, on Koh Samui, staying in most beautiful villa ever!
"Yeah, I think that looks pretty easy," I replied.  Still not asking if I should make it, but hanging on the edge of my seat.
"Maybe you could make that for dinner this week."  HALLELUJAH!!!!!!!!!!!!!
"Um, let me think about it. I guess so.  It seems pretty quick."  Do not mention that it is also clean and nutritious.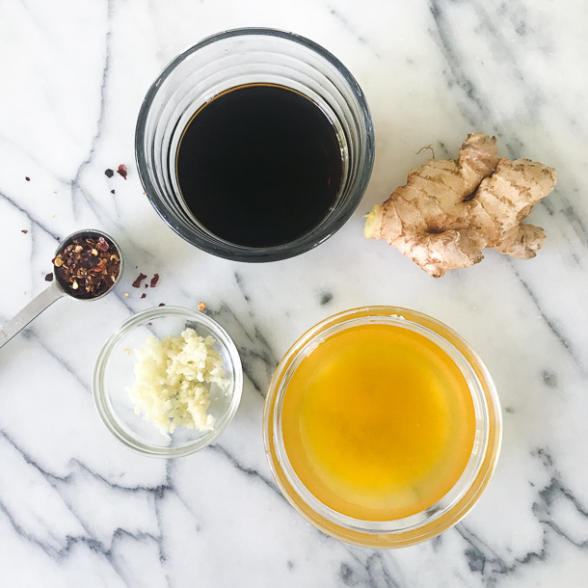 And this is my life with a picky eater.  Sound familiar?  Actually, my son is almost 15 years old and this summer was a big turning point for him.  He really started to eat more things and be open to allowing different foods on his plate to touch each other.  Baby steps, but it's progress.  There is hope for you parents who are struggling with finicky little ones.  Stay the course!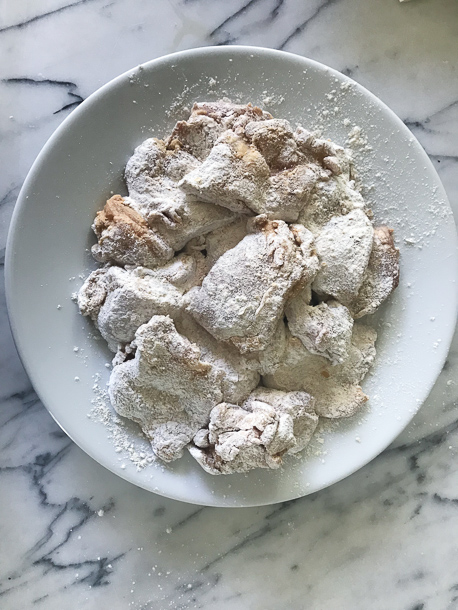 Well, this recipe was indeed easy, and budget friendly, and delicious!  I made it grain-free with cassava flour, but otherwise followed the recipe to a T.  I am partial to boneless, skinless thighs which I think have more flavor and are harder to screw up/dry out than boneless, skinless breasts.  This chicken would have been equally delicious in a Chinese salad.  I personally dislike Chinese takeout food.  Yucky refined, low quality oils, and too much low quality soy sauce.  It's also very hard to find Chinese restaurants which use organic, non-GMO ingredients.  Therefore, I much prefer to make Chinese food at home.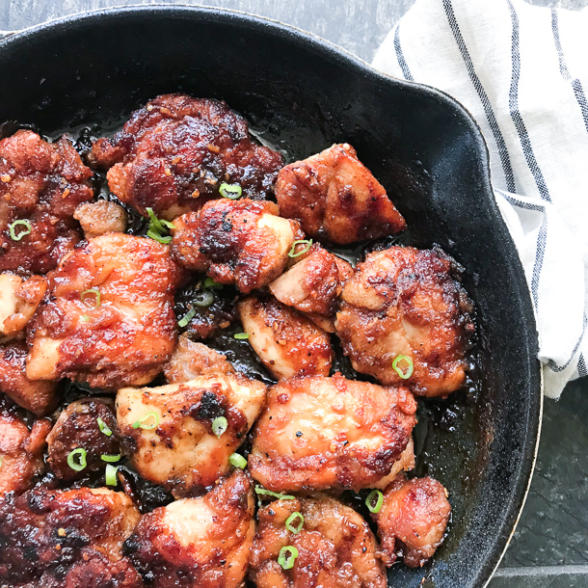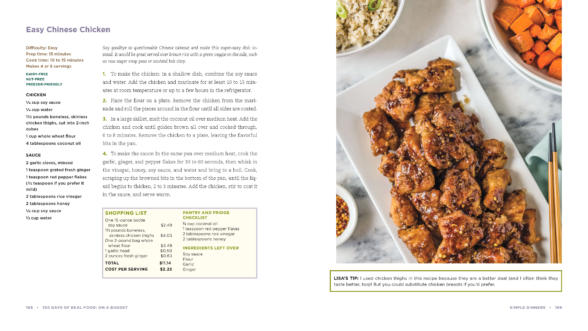 We'll definitely be making this one again, especially since my son and I both loved it.  (Hubs is still vegan!)  I served it with rice and broccoli, but this would be great on a bed of cauliflower rice or quinoa, too.  Check out Lisa's book here!
I love seeing your creations, so please tag me @pamelasalzman #pamelasalzman!  My next online cooking class drops in about 10 days.  Check out my online classes here.
You can shop the tools I used for this recipe by clicking on the images below!

Easy Chinese Chicken
Ingredients
1½ lbs organic boneless skinless chicken thighs, cut into roughly 2-inch cubes
¼ cup tamari or coconut amino acids, if soy-free
¼ cup water
1-cup whole wheat flour, in a medium sized bowl (I used cassava flour)
4 tablespoons coconut oil (I used avocado oil)
Sauce:
2 garlic cloves, minced
1 teaspoon grated fresh ginger
1 teaspoon red pepper flakes (1/2 teaspoon if you prefer it mild)
2 Tablespoons rice vinegar (I used unseasoned rice vinegar)
2 Tablespoons honey (I think you could use maple syrup, too)
¼ cup tamari or coconut amino acids, if soy-free
½ cup water
Instructions
In a container, marinate the chicken thighs with the tamari and water. Let it sit for at least 15 minutes but if you have the time, let it sit for a few hours for even more flavor.
While the chicken is marinating put the garlic, ginger, and red pepper flakes in a small bowl and set aside. In a separate bowl whisk together the rice vinegar, honey, tamari, and water. Set aside.
When the chicken is ready to cook, remove the chicken from the marinade and roll the pieces around in the flour until fully covered. Set the pieces on a separate plate.
Heat the pan with the oil on medium heat. Place the chicken thighs in the skillet and cook until each side is golden brown. Set aside on a separate plate. Make sure to keep the brown bits in the pan for extra flavor for the sauce.
In the same pan on medium heat, add the garlic, ginger, and red pepper and cook for 30 seconds. Then add the rest of the sauce and stir, scraping up the brown bits.
Once the sauce begins to thicken, add the chicken back into the pan and coat each piece with the sauce. Serve with a side of veggies and rice.
Notes
*If you're unsure if the chicken is done, check the internal temperature. It should be 165 degrees F.