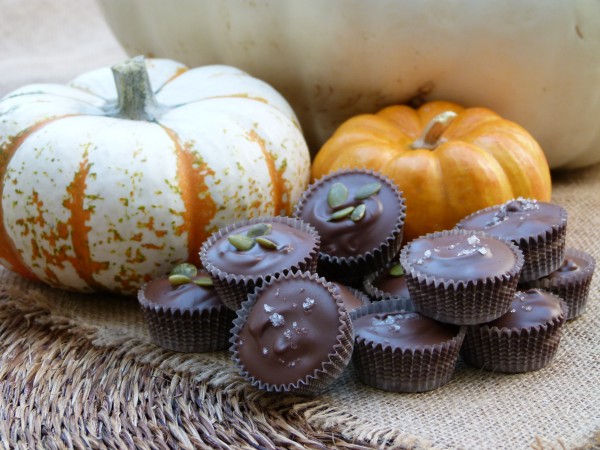 It is really ironic that I try to discourage sweets but I have always have so much fun making them!  I had the best time last Christmas making gingerbread men with my kids.  My favorite part of every Thanksgiving meal for me is baking all the pies.  And more recently, I thoroughly enjoyed making these chocolate peanut butter and almond butter cups.  After my friend Rachel Sarnoff from MommyGreenest guest posted here about choosing higher quality Halloween candy, I did a little research looking for the best options (organic, non-GMO, free of artificial colors, etc.)  And then I thought it might be cool to make my own candy for when I have guests over or to give as a hostess gift.  Do not for a minute think I would ever make my own Halloween candy to give out to trick-or-treaters!  That would for sure put me over the edge.  If you do that, however, I think you are amazing.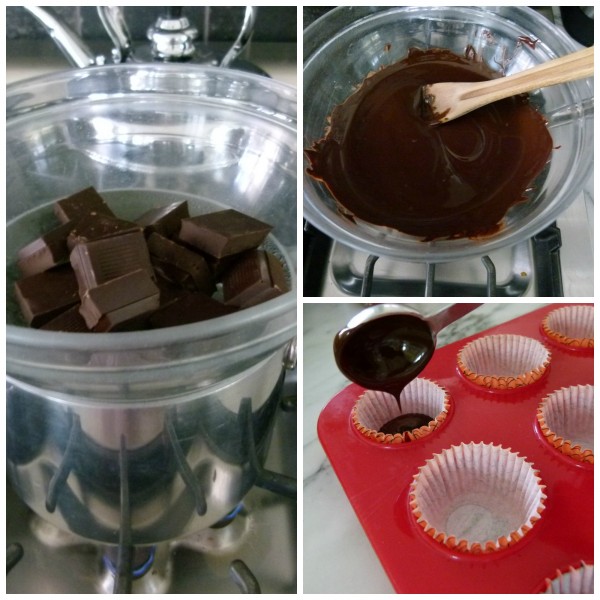 I've seen DIY chocolate peanut butter and almond butter cups all over the internet, so I figured that would be a good one to try.  Plus, my husband and I both love them.  Reese's peanut butter cups were always among my favorites at Halloween.  Let me tell you, these are a cinch to make!  No candy thermometer required.  No special ingredients needed.  You probably have it all in your pantry and they come together in a jiffy (no pun intended.)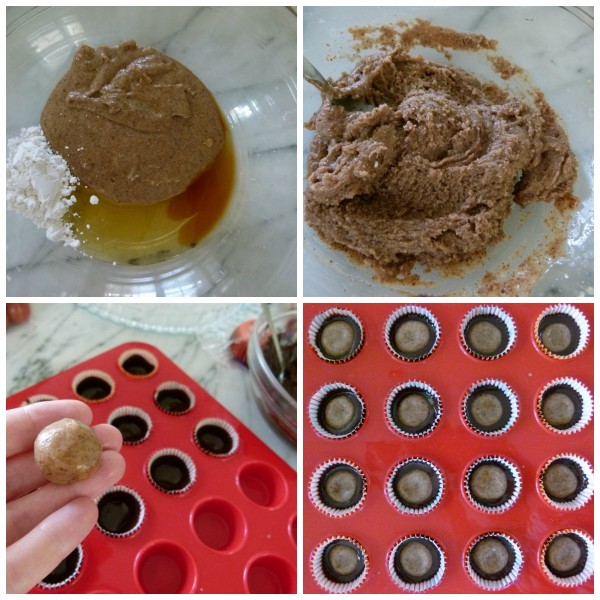 Even better, I made these when I wasn't in a rush.  I wasn't trying to beat the sunset so I would still have natural light for photographing.  I wasn't making these at dinnertime when I had other things to tend to.  In fact, my son was sitting at the kitchen table doing his homework, quiet as a mouse, and my girls were out at their activities.  And I found making these chocolates to be almost meditative.  I can't wait to make them again!!  In fact, if you invite me over for dinner, I will likely bring you a little box of these!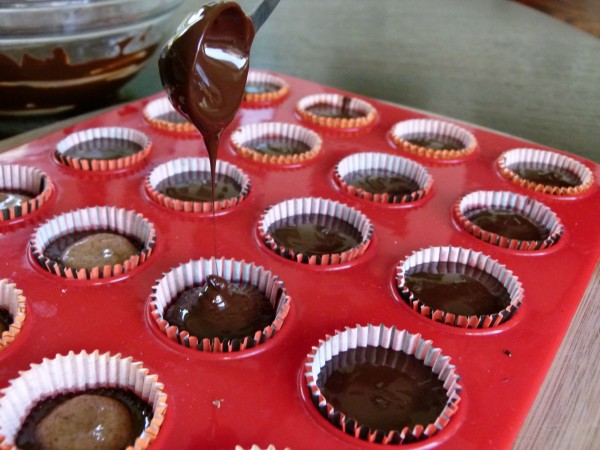 I know that some of you are ready to point out to me that these candies, no matter how much love and organic ingredients go into them, are not healthful.  And you know what?  You are totally right.  I am not going to sell these to you today as something that's going to save your life.  Are they less bad for you than Reese's?  I can argue that yes, they are probably less bad for you than Reese's which contains GMO-sugar, non-organic peanuts and TBHQ, a toxic preservative which is a derivative of butane.  Nope, no butane in mine, but also not exactly health food.  But it is Halloween and I think we're entitled to a few treats now and then and that's that.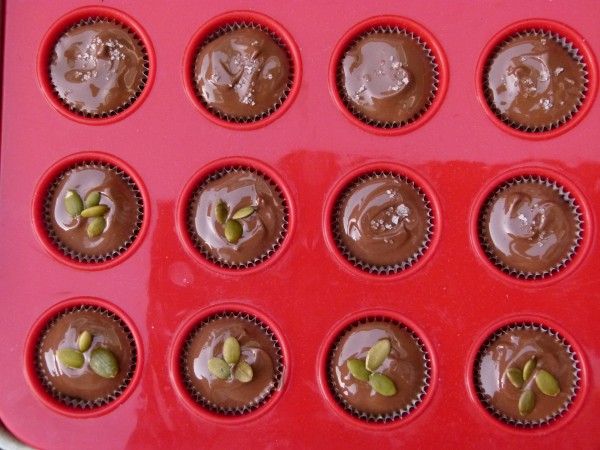 I have already made these several times, with both dark chocolate (less sugar) and milk chocolate.   I have used (homemade) almond butter as well as organic peanut butter.  And I have sweetened the filling with powdered sugar and also with a combination of powdered sugar and honey or maple syrup.  Clearly the least bad (I know that's grammatically incorrect) option would be dark chocolate with almond butter mixed with powdered sugar and maple syrup.  And those are so delicious I can't even believe it.  But if you are looking to make something closer to a Reese's peanut butter cup, then you need to use milk chocolate, peanut butter and all powdered sugar.  Those were my kids' favorites and I have to say they taste better than the real thing!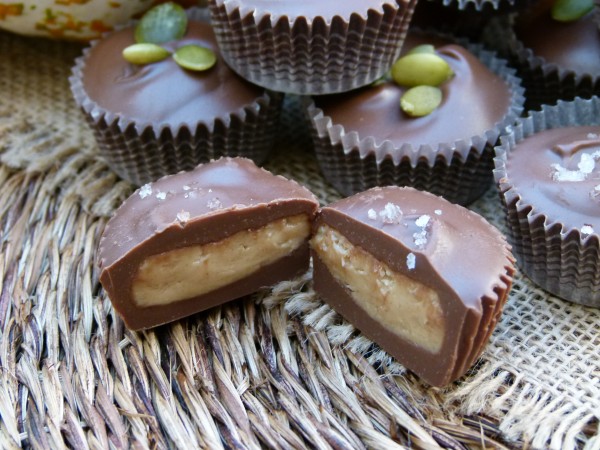 If you're looking for a fun activity to do with your kids or grandkids, look no further!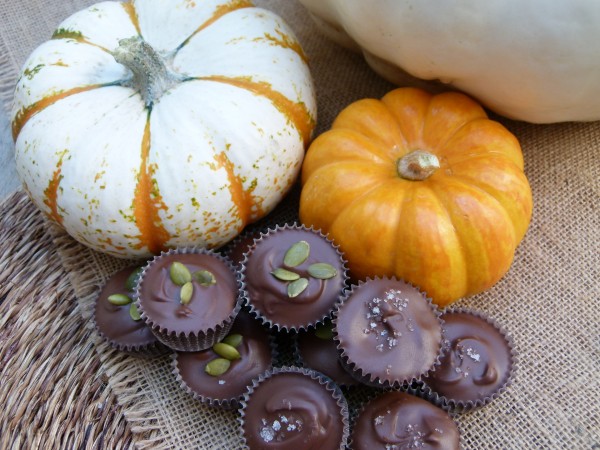 Chocolate Peanut Butter and Almond Butter Cups
Author:
Pamela, adapted from several sources including Top Secret Recipes, Joy of Baking, and Sprouted Kitchen
Ingredients
12 ounces dark or milk chocolate
½ cup natural creamy almond or peanut butter (or sunflower seed butter if you're nut-free)
3 Tablespoons powdered sugar (or 2 Tablespoons powdered sugar + 1 Tablespoon raw honey or pure maple syrup)
½ teaspoon pure vanilla extract
¼ teaspoon fine grain sea salt
sea salt flakes or pumpkin seeds for topping, if desired
Instructions
Line a mini muffin tin with paper liners. If you are using a silicone muffin pan, it's probably a good idea to place the pan on a baking sheet so you can transfer it more easily to the refrigerator.
Bring a small pot of water to a boil. Break up the chocolate into small pieces and place in a glass bowl big enough to fit over the pot of boiling water without touching the water (this is a double boiler).
Lower heat so that the water just simmers and place the bowl of chocolate on top of the pot. Melt the chocolate, stirring occasionally, until perfectly smooth. Set bowl aside.
Mix the almond or peanut butter, powdered sugar, vanilla and salt together in a small bowl until smooth. This mixture should be a consistency that allows you to roll it into small balls.
Spoon a teaspoonful of chocolate into each lined cup.
Scoop a teaspoon of the almond/peanut butter mixture and roll into a ball with your hands and press down slightly to flatten a little. Place in the center of each chocolate cup and push down slightly to allow the chocolate to cover the sides, but not the top of the almond/peanut butter disc.
Pour another teaspoon of chocolate on top of the cups covering the peanut/almond butter mixture completely. Use the back of your teaspoon to smooth out the chocolate on the tops of each cup.
Sprinkle with a pinch of sea salt or a couple pumpkin seeds if you like and place in the refrigerator for a few hours to harden. If you need to speed this up, place in the freezer.
Because the chocolate is not tempered, you should keep these refrigerated.
Notes
I use this silicone mini muffin pan.  Each individual mold measures 1½ inches across the top.  I found two mini baking liners at Michaels which worked perfectly, but these were just slightly too big for my pan.