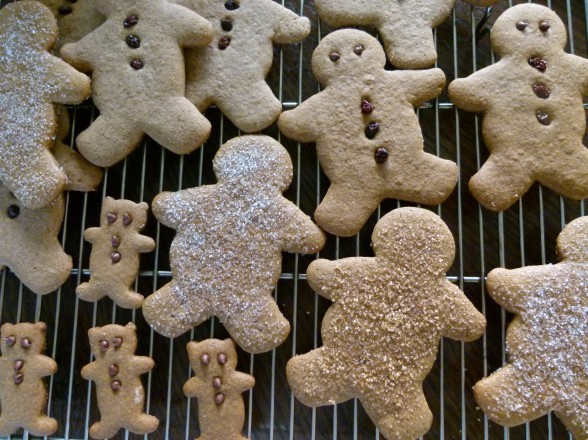 Mr. Picky asked me the other day if I would make cookies with him and I was this close to saying "Not today, sweetie.  I'm too busy."  That would have been absolutely true.  We're all so busy.  I don't know anyone whom I have asked lately "How are you?" that hasn't responded, "Really busy!  How are you?"  It's not just this time of year either.  I feel like we're running around at 90 miles an hour all year long.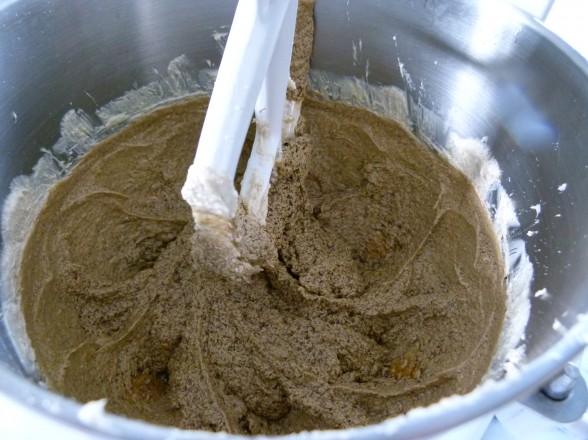 In my classes and on my blog, I try to emphasize balance and moderation, yet I'm not so sure I practice what I preach with respect to finding downtime.  And as I had that thought, my daughters came home from school.  That is to say, they pulled into the garage in a car driven by Daughter #1 who turned 16 two months ago.  They walked in and all I could see was a 4-year-old and a 6-year-old.  I used to hate it when people told me kids grow up so fast, but the cliché couldn't be more true.  It goes by in a nanosecond.  I can't say my daughters have asked me recently to bake cookies with them, instead they invite their girlfriends over to stay up late and eat the cookie dough I keep in the freezer.  Believe me, I'm thrilled they even hang out at our house!  So last week I skipped writing a post that I thought would get published last Friday and instead baked cookies with my favorite little dude.  Totally worth it.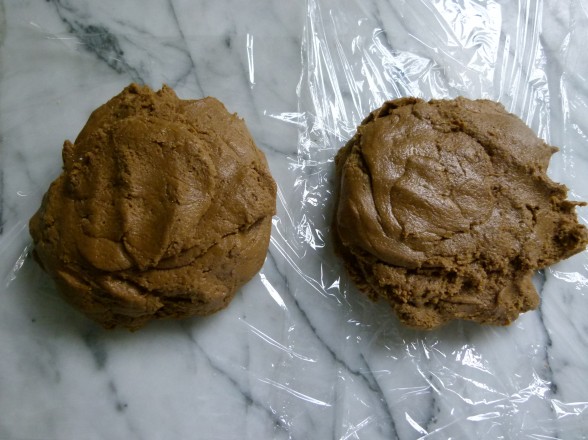 Mr Picky is a funny kid.  Some people joke with me that a boy who eats lentils and beans cannot be labeled "picky."  And every year he adds more and more foods to the still narrow "approved" list.  But he doesn't seem to like what most kids do such as buttered pasta, macaroni and cheese, pizza or sandwiches, not that I'm complaining.  His favorite cookies don't contain candy or sprinkles, but instead are gingerbread.  And that's what we decided to make last week.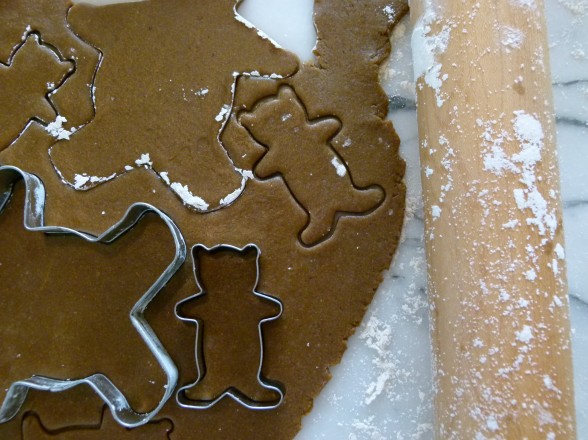 Gingerbread cut-out cookies are a commitment.  It's not like make a batter and spooning drops of it onto a baking sheet.  There's chilling the dough, rolling it out, cutting it into shapes, decorating the cookies.  It's a fairly simple dough to make and I don't hold back on the spices.  But these cookies aren't spicy, they're just really flavorful.  Whole wheat pastry flour can be substituted with a gluten-free flour blend such as the King Arthur Multi-purpose GF Flour plus the addition of 1/4 teaspoon xanthan gum per cup of flour.  Mr. Picky's favorite part is decorating which I always keep pretty simple with raw sugar, currants or mini-chocolate chips.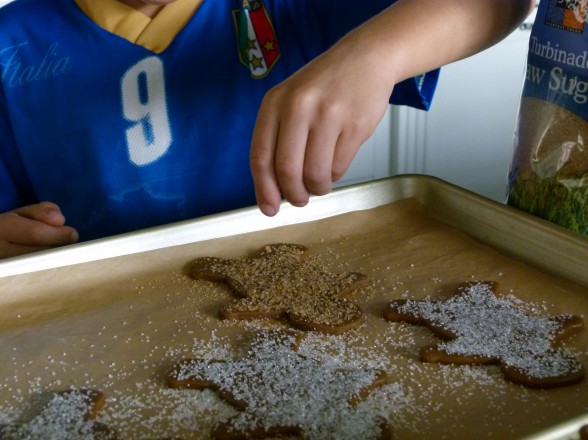 We had the best afternoon.  It was so nice to have one-on-one time with him and chat about school, football and his favorite new book.  We also talked about the mystery of Santa and that this was definitely going to be the year that he stayed awake to watch him leave gifts under my parents' tree.  Sweet.  Spending time in the kitchen with my son was such a gift and a reminder to me that the biggest joys in life don't come from checking off my to-do list.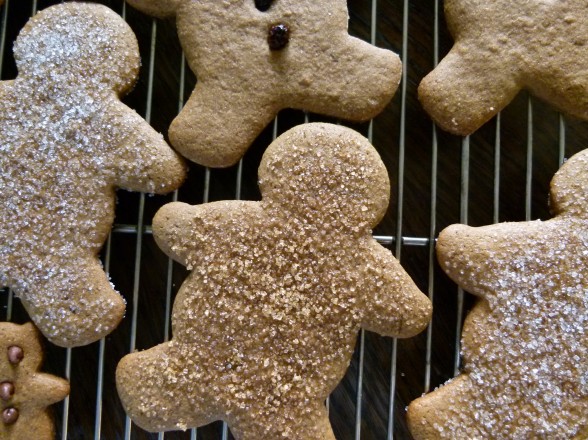 Gingerbread Cookies
Serves:
makes 24-28 4-inch cookies
Ingredients
4 cups whole wheat pastry flour (or your favorite gluten-free flour blend +1 tsp. xanthan gum)
¾ teaspoon baking soda
¾ teaspoon salt
4 teaspoons ground ginger
1 Tablespoon ground cinnamon
¾ teaspoon ground cloves
½ teaspoon allspice
a few grinds finely ground black pepper (optional)
1 cup (2 sticks) unsalted butter, at room temperature
⅔ cup dark natural cane sugar (i.e. muscavado), or dark brown sugar, packed
2 large eggs
⅔ cup unsulphured molasses (not blackstrap unless you like that bitterness)
large grain sugar for decorating or mini-chocolate chips or currants
Instructions
In a medium bowl, whisk together flour, baking soda, salt and spices. Set aside.
In a bowl of a mixer fitted with the paddle attachment (or by hand), cream the butter until it is light and fluffy. Add the sugar and mix again until light and creamy, about 2-3 minutes. Blend in the eggs one at a time and then the molasses. Add the flour mixture in two additions either by hand or on low speed. Divide the dough in two pieces, wrap each in plastic and chill for at least an hour.*
Preheat the oven to 350 degrees. Line two baking sheets with unbleached parchment paper or Silpats.
Roll the dough out onto a lightly floured countertop to about ⅛-inch thick and cut with cookie cutters of your choice. ** Reroll the scraps and continue to cut additional cookies. Decorate with sugar crystals, dried fruit or chocolate chips before baking. For softer cookies, roll out a little thicker. Transfer to baking sheets and bake for 10-12 minutes for 3-4-inch cookies (less for smaller cookies, more for larger.) I like to see a little tinge of golden color around the edges of the cookies. Remove from the oven and allow to cool on the baking sheets for 2 minutes and then transfer cookies to a wire rack to cool completely.
Notes
*Dough can be prepared up to 2 days in advance.

**If you are not comfortable rolling on your countertop, roll the cookies out on a piece of parchment cut to fit the baking sheet. Remove scraps. Then transfer the parchment and cookies to the sheet and bake.