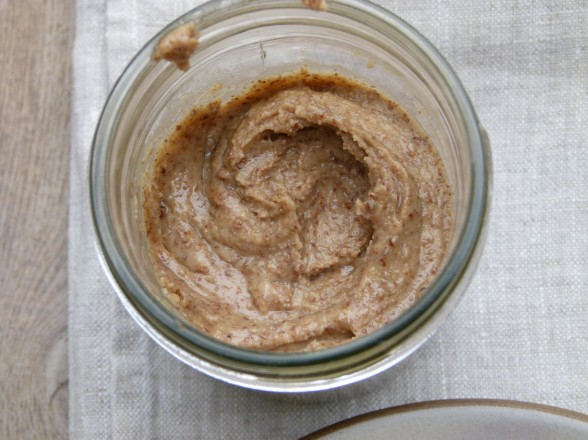 Why would you need to know how to make almond butter?  After all, you can buy it very easily at the supermarket or even via amazon.  You can pick your pleasure — with a hint of sea salt, lightly sweetened with honey or maple syrup, laced with chocolate, raw or roasted.  But what if you have an intense craving for a spoonful of this creamy, heavenly spread and you enter the kitchen only to see your younger daughter scraping the last bits of it from the jar?  Nooooo!  Don't panic.  You're organized.  You have a well-stocked pantry.  Except today.  Drat.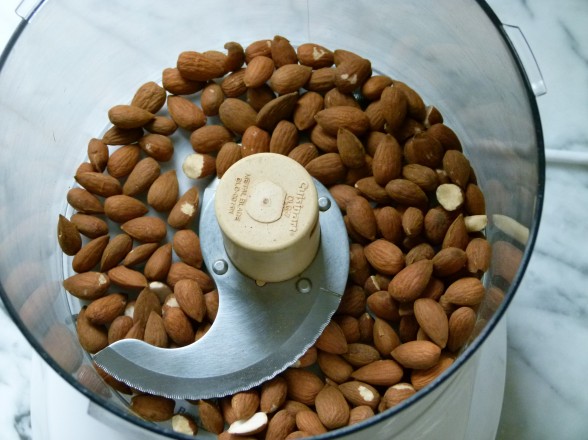 This was my sad reality a few weeks ago.  As my daughter scooped up the last drop of almond butter with a crisp wedge of apple, she very nonchalantly suggested, "Why don't you just make some?  It's just almonds, right?"  She had a point.  So I took out my Vitamix which can basically grind rocks into flour (don't take my word on that one), and threw in some beautiful raw almonds from Organic Pastures.  Didn't work.  All the ground almonds got stuck on the bottom of the blender.  Shoot.  So I transferred everything into my Cuisinart and with a lot of patience and optimism, I made almond butter!  And it was fantastic!  And I almost ate the whole cup!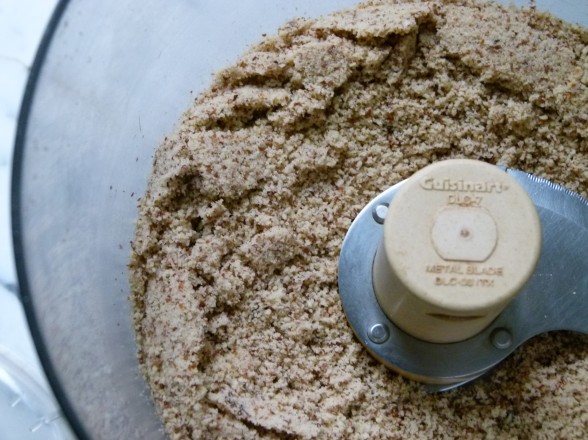 We go through a lot of almond butter in this house, more so than any other nut butter.  We like it slathered on toast with jam, sliced bananas or a drizzle of honey.  It makes a high quality breakfast or snack spread on cut apples or stirred into oatmeal.  Almond butter has even found its way into some unexpected places such as flourless chocolate cake or these delicious cookies.  Besides the fact that almond butter is so yummy, it is also pretty good for you, way better than peanut butter (which is high in inflammatory Omega-6 fatty acids and very often contains a toxic mold called aflatoxin – yikes!).  Like all nuts, almonds are high in protein and fiber.  But unlike all nuts, almonds are alkalizing to the blood and cells and contain lots of Vitamin E, a powerful antioxidant.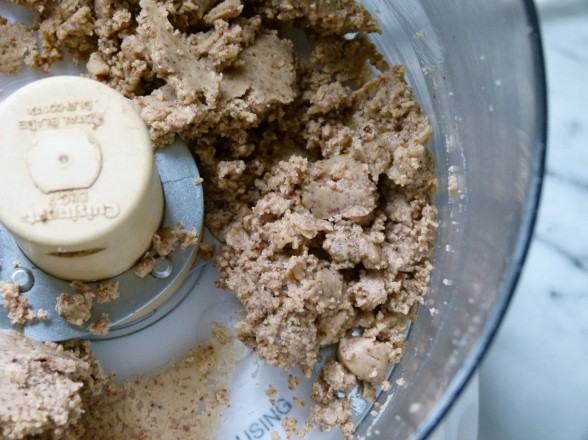 But here's the deal with nuts, and I hope this doesn't send you over the edge:  nuts which haven't been soaked or lightly roasted (at home) contain enzyme inhibitors which makes these suckers really rough on the digestive system.  In a perfect world, you would either soak the almonds overnight and dry them out in an oven on its lowest setting or in a dehydrator, then process them into almond butter.  Or you can lightly roast them on a baking sheet at 300 degrees for about 15 minutes and then process them into almond butter.  I don't advise buying already roasted almonds from the supermarket as generally they have been roasted at way too high a temperature, damaging the natural fatty acids and oftentimes cooked with nasty refined oils.  Yuck.  Roasted almond butter tastes different from raw and has a richer, nuttier flavor.  Which brings me to my next tidbit of info about raw almonds.  Guess what?  The USDA allows nut producers to label almonds as RAW even if they've been steamed and pasteurized.  So unless you buy your almonds DIRECTLY from the nut grower, like I do from Organic Pastures at the farmer's market, you're not getting raw nuts no matter how big the lettering on the package.  Call me crazy, but I think that should be illegal.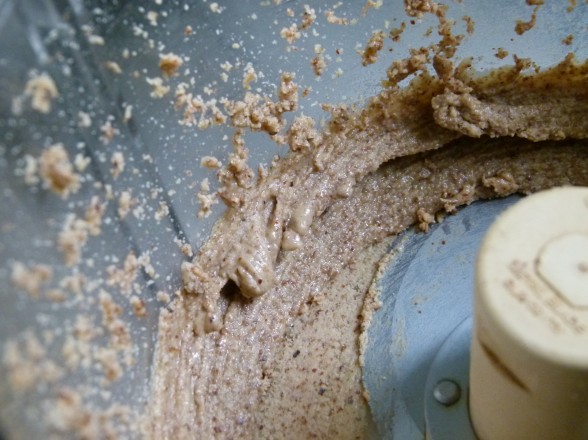 If you don't eat nut butters frequently or if you don't notice digestive problems after eating nut products, then feel free to do what's easy for you.  Sometimes when I mention soaking or sprouting in my classes, I here a few sighs and a comment like, "Pamela, please don't tell us we have to do one more thing.  Isn't it enough that we've gone from Jif to natural, organic peanut butter?"  The answer, of course, is yes.  Yes, it is.  I'm just here to provide food for thought and inspiration to have fun in the kitchen, not cause undo stress over something as scrumptious as almond butter.   If any of you have good internet sources for raw almonds or have fun ways to enjoy almond butter, please share!!

How to Make Almond Butter
Ingredients
2 cups almonds, either raw, soaked and dehydrated or roasted
optional add-ins: a pinch of sea salt, a spoonful of pure maple syrup or raw honey, ground flax seed, or a spoonful of raw cacao powder
Instructions
Place almonds and optional add-ins in the bowl of a food processor fitted with a steel blade. Turn motor on and process, scraping down the sides occasionally until desired consistency is achieved. This can take up to 15 minutes, although roasted almonds take a little less time than raw. Keep in a covered glass container in the refrigerator.