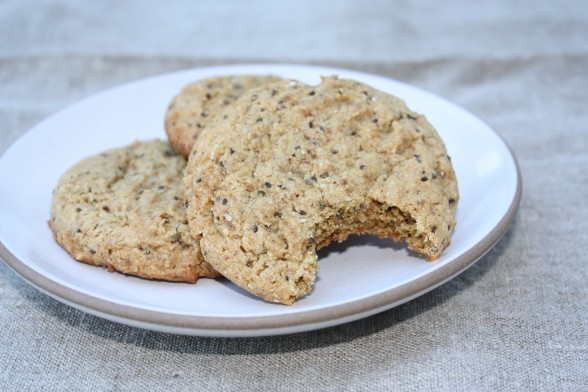 Remember the commercials for Chia Pets, the clay animals with a green furry layer of sprouted chia seeds covering their bodies?  Did your parents let you have one?  I SO wanted a chia puppy!   I can't help but chuckle at the fact that 30 years ago chia seeds were popular as an arts and crafts project and now they are the latest super food.  Chia is giving flax and hemp a run for their money.  So what's all the hype?  Chia seeds are a great source of Omega-3 fatty acids, contain lots of protein and fiber and are rich in antioxidants.  Unlike flaxseeds, chia seeds do not need to be ground up or soaked for you to be able to benefit nutritionally.  What's kind of cool about chia seeds, though, is their gelatinous quality.  If you add them to a smoothie or yogurt, they swell up and thicken whatever they're in.  My Whole Foods sells them in the bulk bins if you just want to buy a few spoonfuls and play round with them in your oatmeal or salad dressing.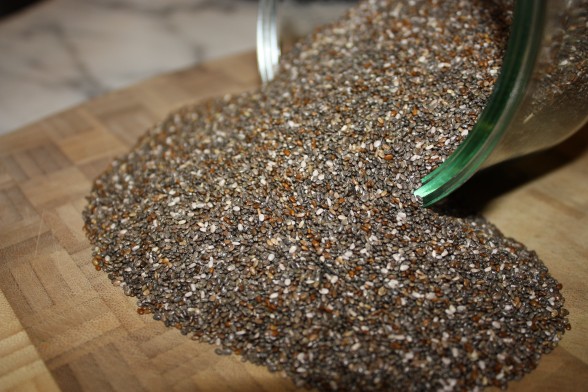 But chia seeds are not in these cookies because I think they will magically turn this dessert into a healthful food — it's still a cookie, or as my husband calls them — the "Chia Pet Cookies."  Nutrition aside, chia seeds just add a really fun crunch, almost like a poppy seed.  You can add more crunch and texture if you like by adding finely chopped almonds, dried cranberries or chocolate chips.  No matter how you make them, these cookies are really quite tasty and a nice change from peanut butter, which Mr. Picky eats enough of.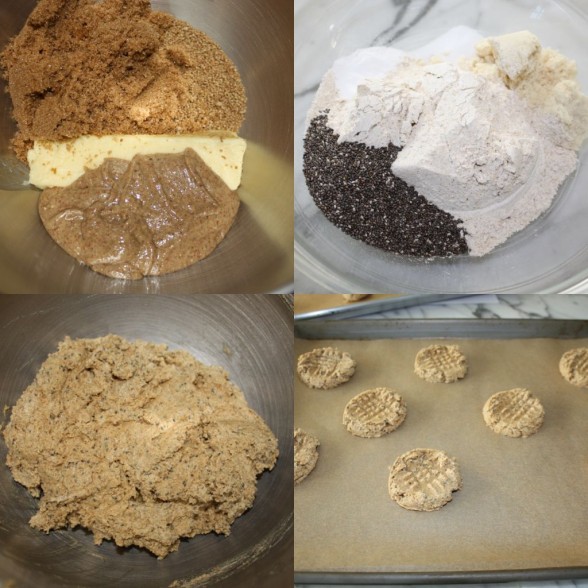 My friend Peggy invited me to a large dinner at her house a few weeks ago and asked if I would bring a dessert.  The dinner happened to fall on a busy day for me (whom am I kidding?  Everyday is a busy day, isn't it?), so I whipped up two batches of batter the night before and hid them in the fridge way back there so certain people who can't keep their fingers out of raw cookie dough wouldn't see them.  The next day while I tested someone on vocabulary words, I scooped dough onto cookie sheets and baked them off.  Everyone at the dinner asked, "what kind of cookies are these?"  "Almond butter and chia seed," I replied.  "Like the Chia Pet??!!"  Never fails.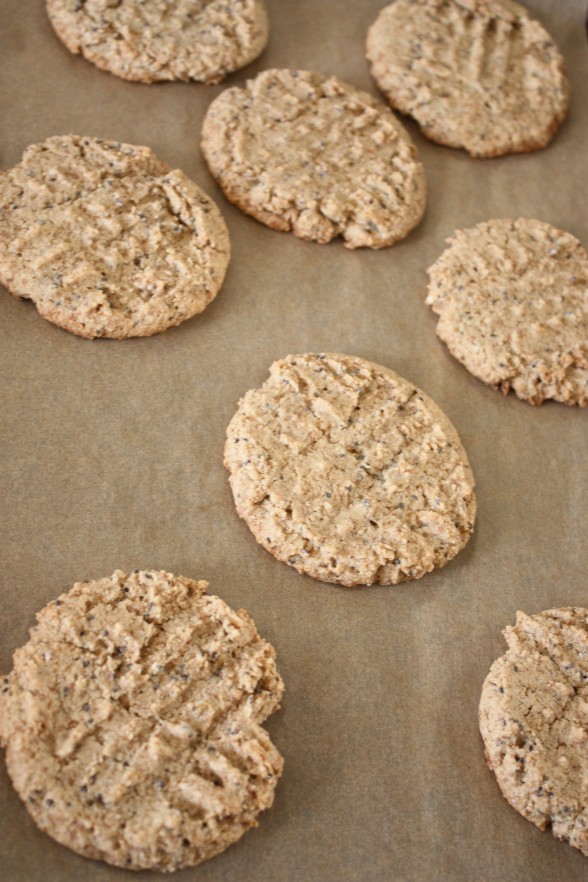 Almond Butter and Chia Seed Cookies
Serves:
makes 20 3½-inch cookies
Ingredients
½ cup (1 stick) unsalted butter, softened
½ cup natural cane sugar (e.g. Sucanat) or regular granulated sugar
½ cup brown sugar
½ cup raw, unsalted, creamy almond butter
1 large egg
½ teaspoon 100% pure vanilla extract
1 ¼ cups whole wheat pastry flour or gluten-free oat flour*
¼ cup ground almond meal (buy this already ground or make your own by processing blanched almonds in a food processor until powdery)
½ teaspoon fine grain sea salt
¾ teaspoon aluminum-free baking soda
2 Tablespoons chia seeds (optional, but fun!)
Instructions
Preheat the oven to 350 degrees. Line 2 baking sheets with parchment paper.
Cream the butter, sugars and almond butter with an electric mixer until light in color, about 4 minutes. Add the egg and vanilla. Beat until well blended.
In a small bowl, whisk together the flour, almond meal, sea salt, baking soda and chia seeds. Add to the mixing bowl and stir until just combined.
Using a 1 ¾ -inch ice cream scooper, drop batter onto prepared pans. Press down lightly on the cookie with the tines of a fork, making criss-cross marks. Bake 14-15 minutes or until golden brown around the edges.
Cool on the baking sheet for 1 minute and then transfer to a cooling rack.
Notes
To make a smaller cookie, use a 1 ¼-inch scooper and bake for 9-10 minutes.

If you like a thicker cookie, refrigerate the dough for a few hours before scooping.

*Oat flour results in a more tender, cake-ier cookie.