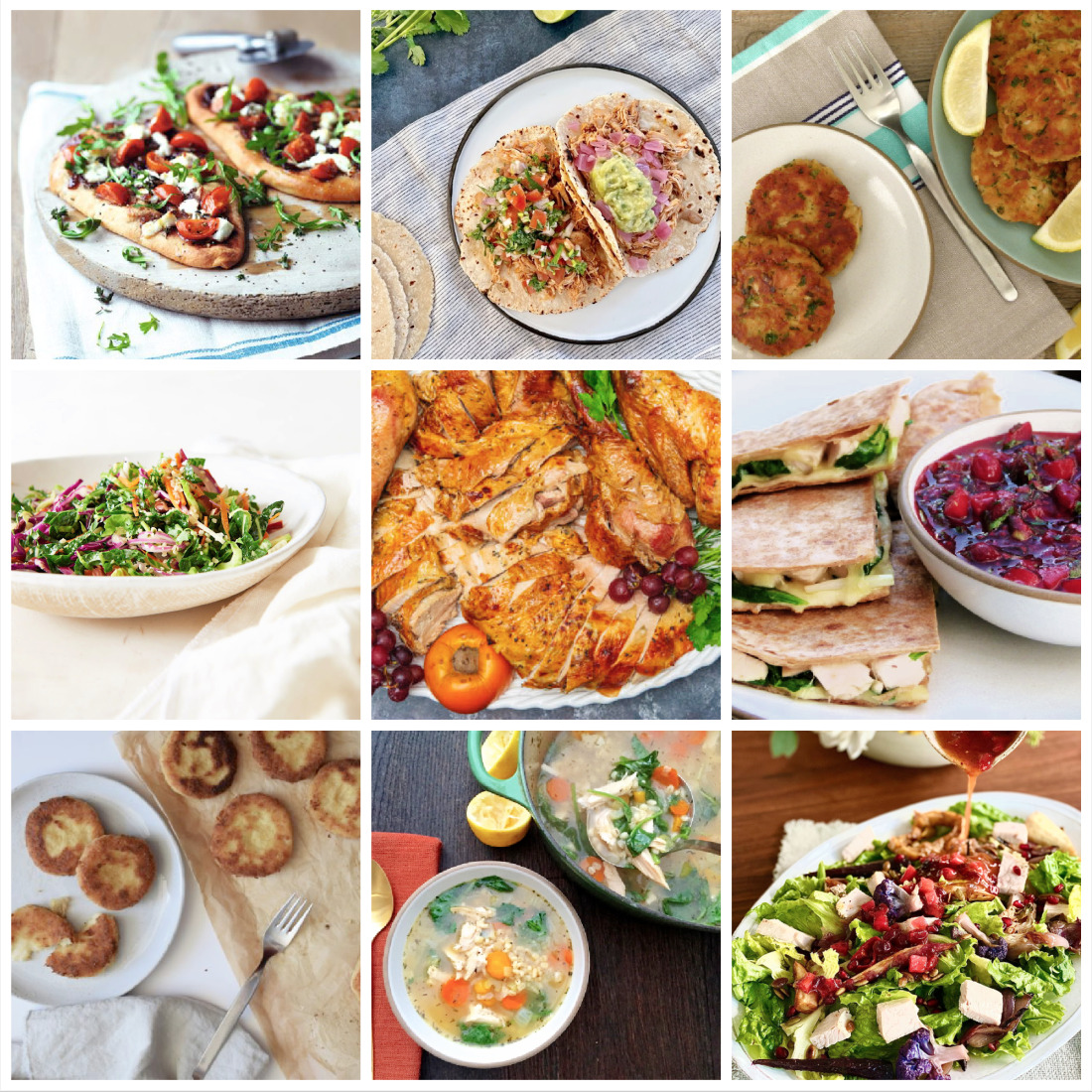 Two of my three kids are coming home and I am giddy with excitement! I am really, really looking forward to the whole week and especially Thanksgiving! **I'll have my entire menu and detailed timeline included in Monday's newsletter. My newsletter is FREE, so subscribe if you like exclusive content! **Last call for my Thanksgiving Ebook – friends, we are very close to the big day and if you have even a HINT of anxiety, this ebook is worth every penny (BTW, it's only $15 and will save you HOURS of precious, valuable time and make you a Thanksgiving goddess!) **For my monthly online subscribers, I'm so glad you are loving the new Thanksgiving class! Yay! Our second live "office hours" is this Tuesday at 9:00 am PT. Bring ALL your questions!! Check your email for the zoom link. **This week's dinner planner includes the easiest pre-Thanksgiving dinners + some ideas for leftovers. Here's your dinner planner for the week:
Meatless Monday: Naan pizza (spread your favorite topping on fresh naan bread from the store and roast in the oven until ingredients are warmed and cheese is melted), green salad with Everyday Salad Dressing #1
Tuesday: Slow cooker chicken tacos served bowl-style with rice, black or pinto beans, freshly shredded cabbage, thinly sliced radish rounds and fresh avocado
Wednesday: Tuna patties, Winter Vegetable Slaw with Ginger and Lime from Kitchen Matters mixed with quinoa and any leftover avocado.
Thursday: Happy Thanksgiving! If you're still searching for recipes and tips, my new Thanksgiving E-Book is here.
Friday: Leftovers! Check out these recipes for Spinach and Turkey Quesadillas with Cranberry Sauce, Stuffing Egg Bake, Mashed Potato Croquettes, use this Chicken Pot Pie recipe and sub turkey for chicken and gravy for the flour/stock combo + whatever leftover vegetables are left. Or take any recipe that uses cooked chicken and swap in cooked turkey.
Saturday brunch: Turkey Barley Soup with Lemon
Sunday: Giant salad with leftover turkey and roasted vegetables tossed with cranberry vinaigrette
Here's what you can do in advance if it helps you:
Sunday:
Wash and dry all greens and veggies
Make all dressings, marinades and sauces
Make rice and quinoa
Tuesday:
Prep slaw ingredients
Friday:
Make turkey stock with your leftover turkey carcass. (Or use chicken stock and make the soup with that.)
For ALL my Thanksgiving Recipes and Tips, check out my new Thanksgiving eBook!
Here's a link to my previous dinner planners.
I have LOVED seeing all your creations of my recipes on Instagram. If you make any of my recipes, please tag me @pamelasalzman #pamelasalzman so I can check them out! I have a free Monday newsletter with my thoughts, new recipes, and things I'm loving lately. Subscribe here!
Order my cookbook, Quicker Than Quick! If you have 1 minute, would you mind leaving a review on amazon? I would be so grateful, thank you! Take a peek at my first cookbook "Kitchen Matters"!