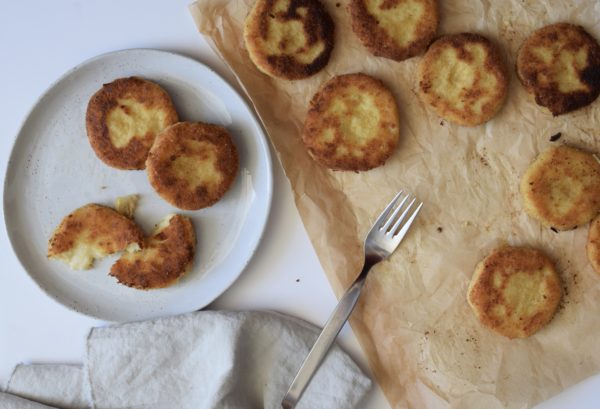 How's it going, friends?  If you are deep in Thanksgiving prep, I am hoping you are pacing yourself and having fun, or at least not panicking!  All my Thanksgiving recipes for this year have been posted so I am moving onto leftovers!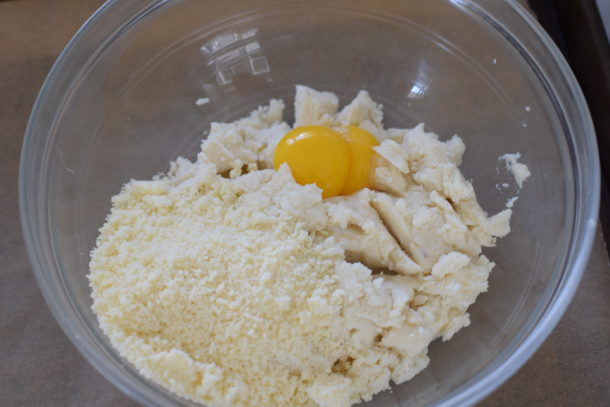 These are my older daughter's favorite Thanksgiving leftover.  And since I dislike mashed potatoes the next day, I think these croquettes are the best use for them.  You hardly need a recipe, and feel free not to follow mine.  Improvise by adding shredded cheddar cheese and chives to your mixture or diced up smoked salmon or even diced, cooked turkey bacon.  Don't make things difficult for yourself though.  Thanksgiving leftovers should be easy since you already worked so hard on the holiday meal.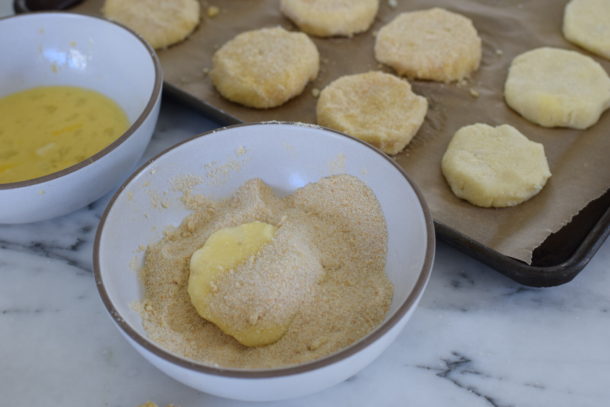 I can't say these are low-calorie, but if you eat them with a salad and a small piece of fish, or scrambled eggs and some sauteed greens, and you skip the pie afterwards, I'd say you're fine.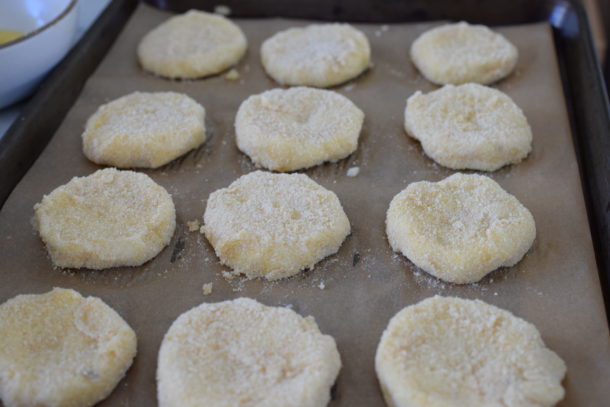 The only key step here is that you saute the croquettes when they are cold so they don't fall apart.  Use whatever dried breadcrumbs you have.  I prefer panko, which are coarse dried breadcrumbs.  But the day I photographed these I didn't have any so I used regular dried breadcrumbs.  They were still great.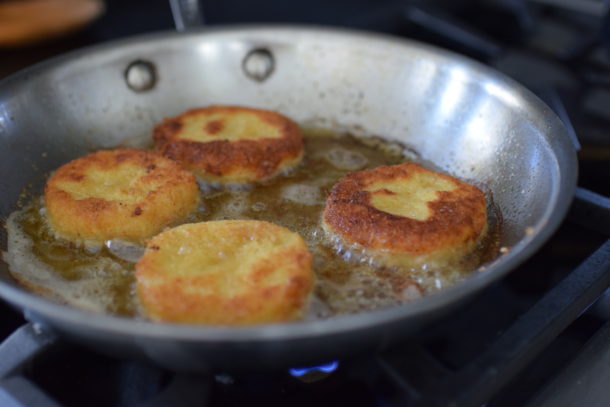 What is delicious about potato croquettes is the contrast of crunchy and crisp on the outside and soft and creamy on the inside.  My daughter likes to dunk them in hot gravy.  I like them on a bed of crisp arugula dressed with Everyday Salad Dressing #2 and a few slivers of lox.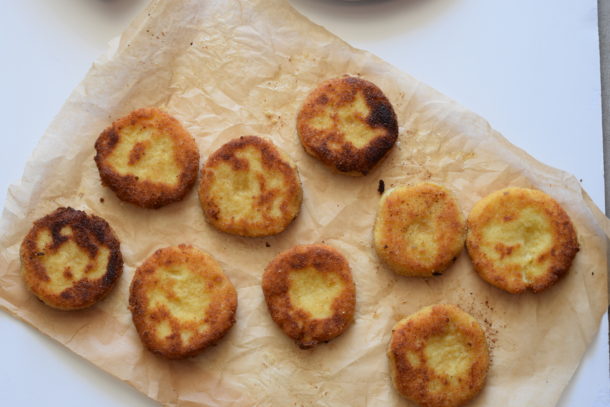 Ok, gotta run.  I'm sure you do, too.  I want to wrap this post up by saying thank you.  Thank you for being the amazing readers and students that you are, for allowing me to come into your kitchens and share what I love which is a passion for cooking and eating healthy food.  I am so grateful for you and I wish you a beautiful holiday!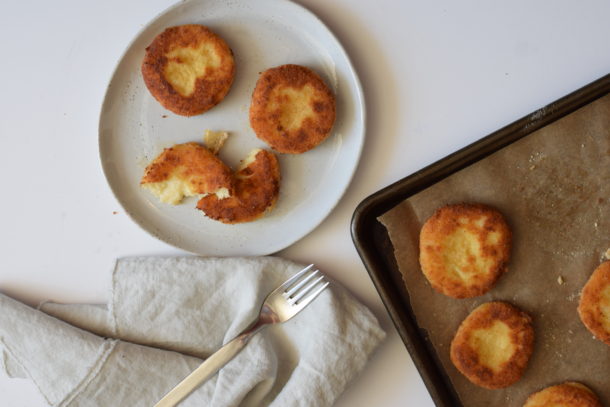 Leftover Mashed Potato Croquettes Recipe
Ingredients
2 cups leftover mashed potatoes
2 large eggs, whites and yolks separated
½ cup grated Parmesan or Pecorino cheese (optional)
1 large egg, beaten
½ cup dried breadcrumbs, preferably panko
¼ cup unrefined, cold-pressed, extra-virgin olive oil
Instructions
Line a baking sheet with unbleached parchment. In a medium bowl stir together the leftover potatoes, egg yolks, and cheese if using. Using your hands, form 12 small (around 3 inch) patties with the mixture. Place on the prepared baking sheet, cover and chill for at least two hours or overnight. Place the egg whites in the refrigerator.
When ready to cook, combine the reserved egg whites and beaten whole egg in a shallow bowl and the breadcrumbs in another shallow bowl. Dip each cold patty into the beaten egg, and then into the breadcrumbs, tossing to coat well with breadcrumbs on all sides. Repeat with remaining patties and place them back on the baking sheet.
Meanwhile, warm the olive oil in a large skillet over medium heat. When hot, add the croquettes, cooking until browned on both sides, about 1-2 minutes each side. Serve immediately.