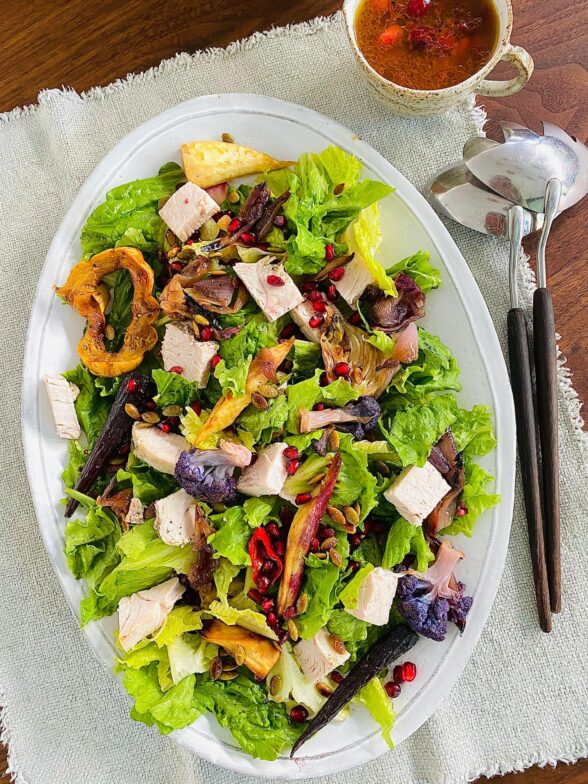 Every year on the day after Thanksgiving, we have our leftovers traditions.  For breakfast, my daughters dig into pie and Hubs toasts leftover cornbread to eat with coffee.  I do a scramble of chopped leftovers and tofu.  Then lunch is some sort of chopped leftovers salad with or without a stuffing waffle (take stuffing and combine with a beaten egg or two and cook in a greased waffle iron); and dinner makes use of the turkey stock that has been simmering all day.  You got it – soup of some sort like lemon-barley or turkey tortilla.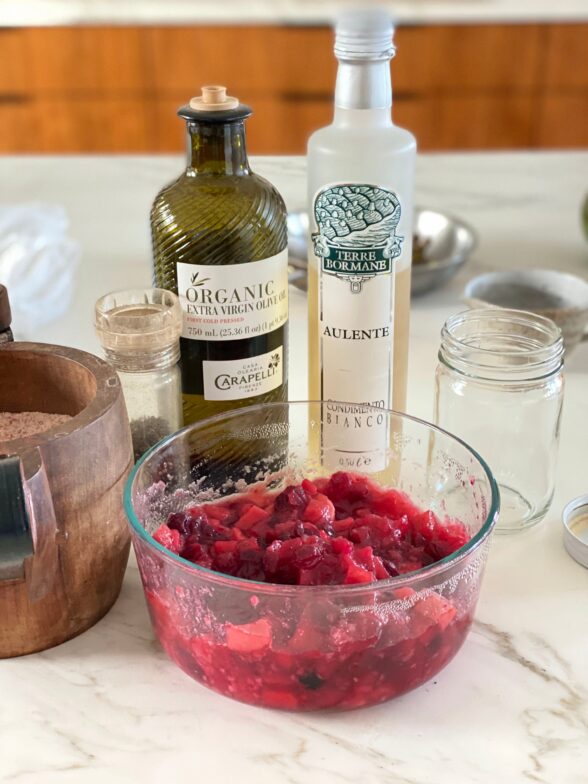 I always make a ton of cranberry sauce because my kids LOVE it and eat it straight out of the bowl.  I made a salsa from it once and served it with turkey quesadillas.  Delicious! This cranberry sauce vinaigrette is my latest obsession.  It is tart and sweet with the perfect acidity and it goes perfectly with Thanksgiving leftovers like roasted turkey and vegetables. My husband and son prefer mild lettuces like romaine and green leaf lettuce over peppery or bitter lettuces like arugula, radicchio, but my daughters and I like the contrast of a sweet dressing with assertive greens. Eat what you like!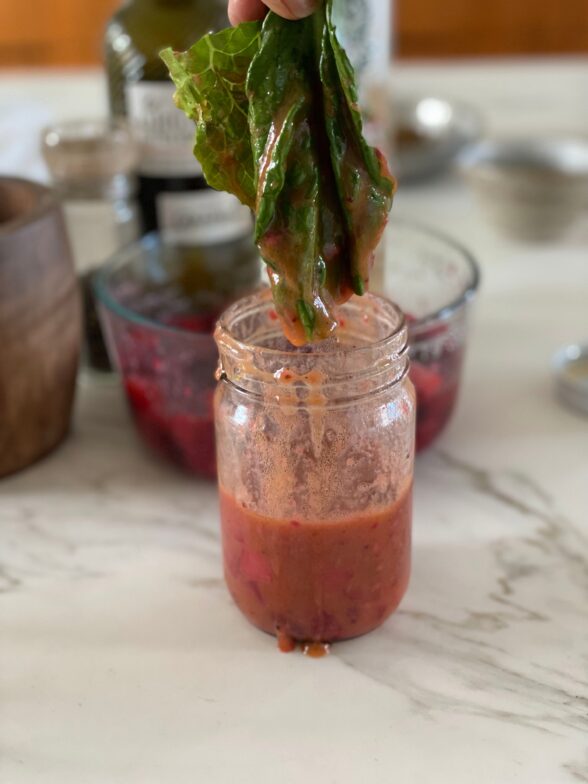 This dressing couldn't be easier:
Shake it all up in a jar OR
Blend in a blender.
Taste for seasoning like salt or sweetness and adjust.  This vinaigrette will be delicious with any cranberry sauce, not just the one have posted on my site.  Cranberry sauce is just like adding fruit preserves to a dressing which I have done before with delicious results.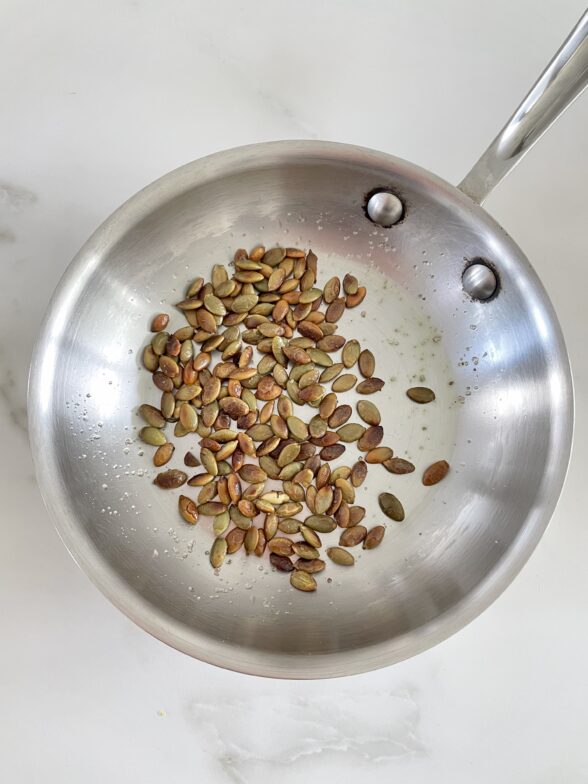 You do not need to follow this salad the way I have photographed it.  Cranberry sauce vinaigrette goes well with any basic salad greens and then the sky is the limit.  Avocado, goat cheese, blue cheese, pecans, walnuts, any root veggie, chicken or salmon…..what sounds good to you?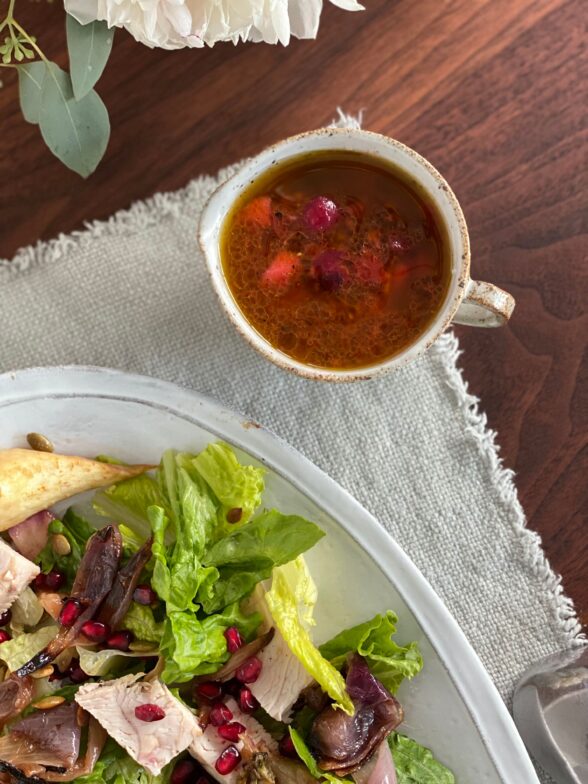 I love eating somewhat light the next day but making good use of what's leftover.  If you live in a cold climate and want something warm, make a warm salad!  Reheat the leftovers and serve over baby spinach or chopped kale + this vinaigrette or over warm quinoa.  Sounds good, right?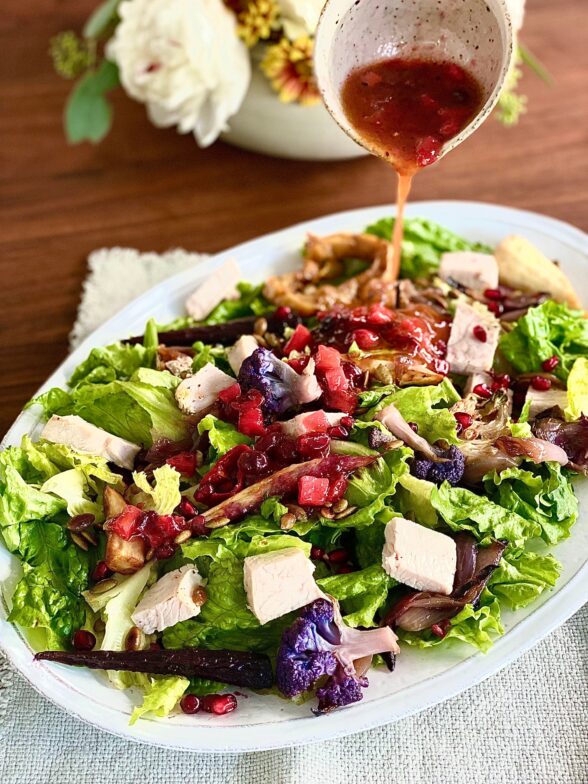 I hope you all have a joyful and delicious Thanksgiving!  My favorite part of the next day is seeing all your creations so please tag me on Instagram @pamelasalzman #pamelasalzman!!  I am grateful for you!  XOXO

Thanksgiving Leftovers Salad with Cranberry Sauce Vinaigrette Recipe
The measurements are just guidelines. This is less a recipe for the salad in as much as it's a vinaigrette recipe. Use what you've got for salad add-ins!
Ingredients
Cranberry Sauce Vinaigrette
¼ cup leftover cranberry sauce
2 Tablespoons white balsamic vinegar (or white wine vinegar with a little maple syrup or honey to taste)
¼ teaspoon sea salt
a few grinds of black pepper
6 Tablespoons olive oil
10 cups of salad greens (I love peppery lettuces with a dressing like this - arugula, endive, chicory, radicchio, but obviously use what you like)
Leftover roasted vegetables (e.g. fennel, carrots, parsnips, onions, beets, rutabaga, cauliflower, winter squash are all great)
Leftover roasted turkey, cubed into bite size pieces
¼ cup toasted and salted pumpkin seeds or your favorite nut (walnuts would be great)
⅓ cup pomegranate seeds
Instructions
Prepare the vinaigrette: EITHER shake everything in a jar OR blend in a blender until smooth. Up to you. If I am not discouraged from washing a blender, I'll blend!
Arrange the salad greens on a platter and arrange the vegetables and turkey on top. Drizzle with enough vinaigrette to coat lightly.
Vinaigrette will stay good in the fridge for up to 1 week.