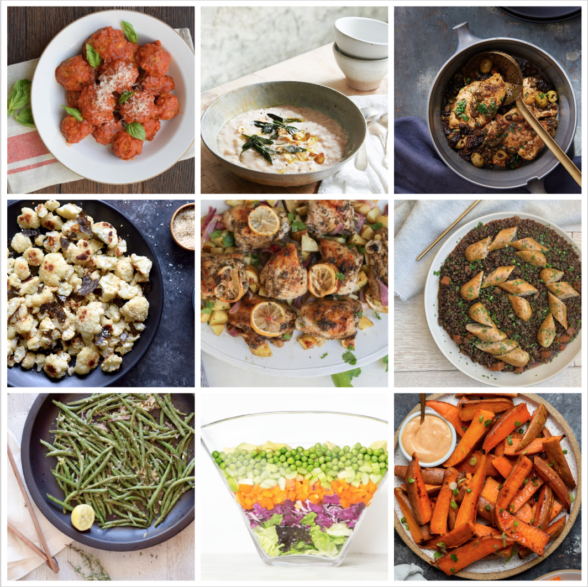 Check out last week's dinner planner to see some easy ideas for Mother's Day brunch or breakfast!  Or make the simple French Strawberry Cake I just posted.  Couldn't be easier and everyone loves it.  Last year my kids made me the Apple-Blackberry Breakfast Crisp from "Kitchen Matters" and a savory Dutch Baby.  Make something for the mom in your life! Here's your dinner planner for the week:
Meatless Monday: Eggplant meatballs on roasted spaghetti squash (see this recipe for how to roast spaghetti squash)
Tuesday: Quicker Chicken Marbella p. 212 with white bean puree with garlic and sage p. 189 from Quicker than Quick, sauteed spinach
Wednesday: stir-fried soba noodles with tofu, sesame roasted cauliflower with nori
Thursday: Greek sheet pan chicken, sauteed spinach or roasted broccoli
Friday: smoky braised lentils with (or without) turkey sausage, roasted green beans with shallots and lemon
Saturday brunch: 7 layer salad with blue cheese dressing (this is such a fun entertaining salad, but even if you don't do a layered salad, the dressing is fabulous!!)
Sunday: slow roasted Copper River Salmon (if you see this salmon, splurge!  It's only in season for a very short time and it's amazing!), grilled asparagus, and sweet and spicy sweet potatoes 
Here's what you can do ahead if it helps you:
Sunday:
Make eggplant meatball mixture
Roast spaghetti squash
Cook white beans if making from scratch
Break cauliflower into florets
Wednesday:
Marinate chicken
Cut onions and potatoes (store potatoes in water to prevent oxidation)
Thursday:
Trim green beans
Friday:
Make blue cheese dressing
I have LOVED seeing all your creations of my recipes on Instagram. If you make any of my recipes, please tag me @pamelasalzman #pamelasalzman so I can check them out!
My cookbook, Quicker Than Quick, is discounted for the first time on Amazon!  If you have 1 minute, would you mind leaving a review on amazon?  I would be so grateful, thank you!
Take a peek at my first cookbook "Kitchen Matters"!