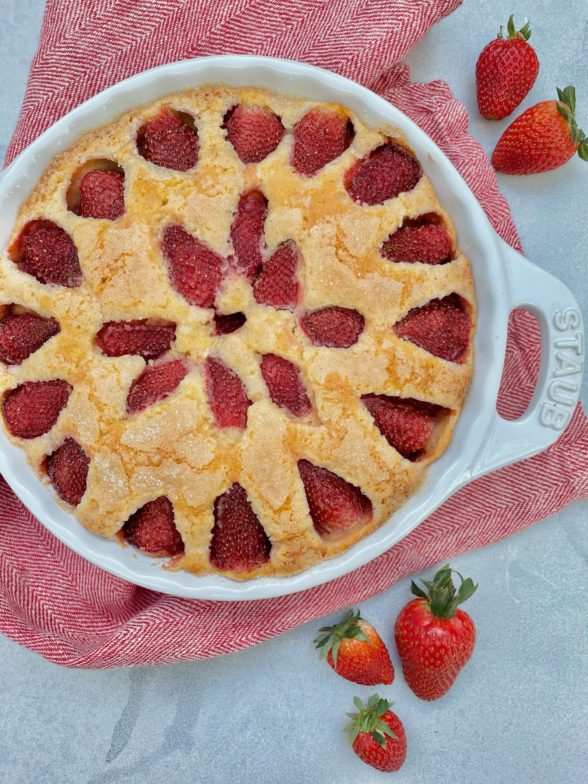 I have been on a quest to simplify as many things in my life as possible.  I don't want unnecessary stuff that collects dust, nor do I need to make or eat complicated recipes when I will be perfectly happy with simple foods.  Just because I can make something challenging and over-the-top, doesn't mean I want to.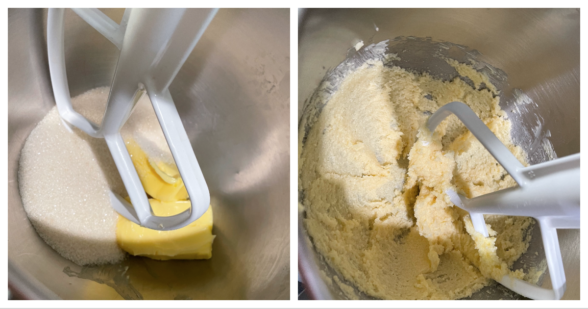 I have been editing my recipe binder where I keep all my "greatest hits."  I found a few recipes that I used to make on the regular and, for whatever reason, fell out of favor with me.  I went through a period where I didn't use white flour or white sugar, so any recipe that didn't adapt well to other flours and sweeteners, I just put out of mind.  Well, my attitude has changed and I am back to using (organic) white flour and (unbleached and organic) cane sugar because sometimes it makes the dessert better.  And desserts should be enjoyed.  I don't eat them every day, but when I do, I want it to be perfectly delicious!
This simple cake is originally from Martha Stewart Living Magazine many, many years ago.  It is called "Strawberry Cake."  That's it.  There's no frosting or sauce or cream.  There are no unusual or secret ingredients or techniques.  But the return on investment is very high.  For very little effort and some everyday ingredients, it is an exceptionally delicious cake that everyone goes crazy for.  It's the kind of dessert I am drawn to now again because of those very reasons and also it's not a total sugar bomb.  I call it French Strawberry Cake because it reminds me of something I had in France many years ago.  Plus the French are experts in making the simplest things perfect.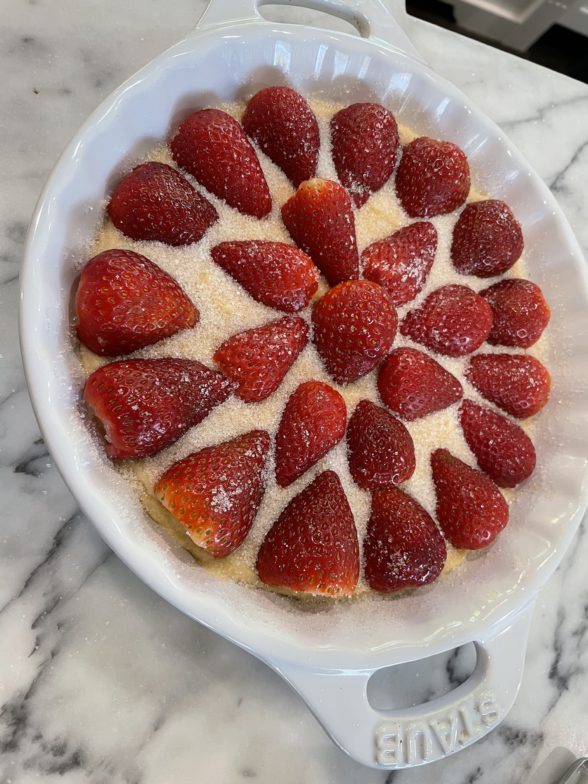 I have adapted the recipe very slightly, including knocking down the sugar in the cake.  But I still included the smidge of sugar that is sprinkled over the top of the cake before baking.  THAT is the best part.  I thought this would be a perfect cake for Mother's Day brunch or a dessert for a luncheon because it's seasonal, light, and a total crowd-pleaser.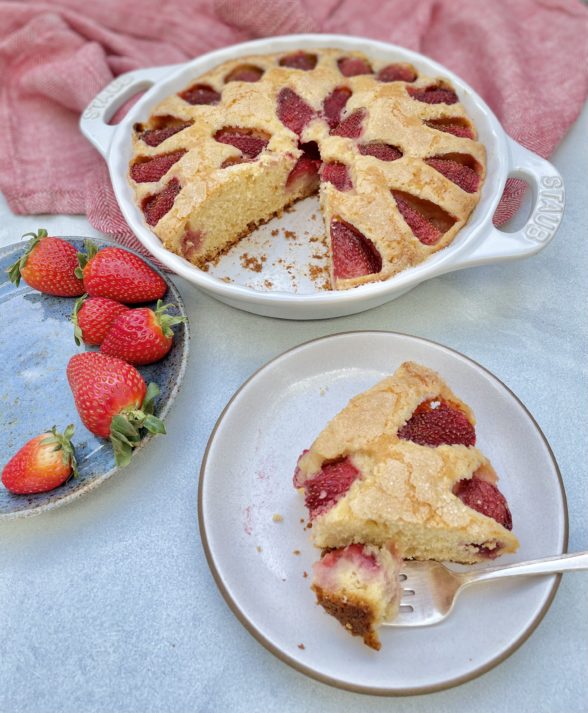 I do like this best the day it's made, but leftovers held up pretty well at room temperature for up to 2 days.  I also had some success freezing the baked and cooled cake in the pie plate.  Just wrap the whole plate well with foil and freeze for up to 2 months.  Defrost on the counter.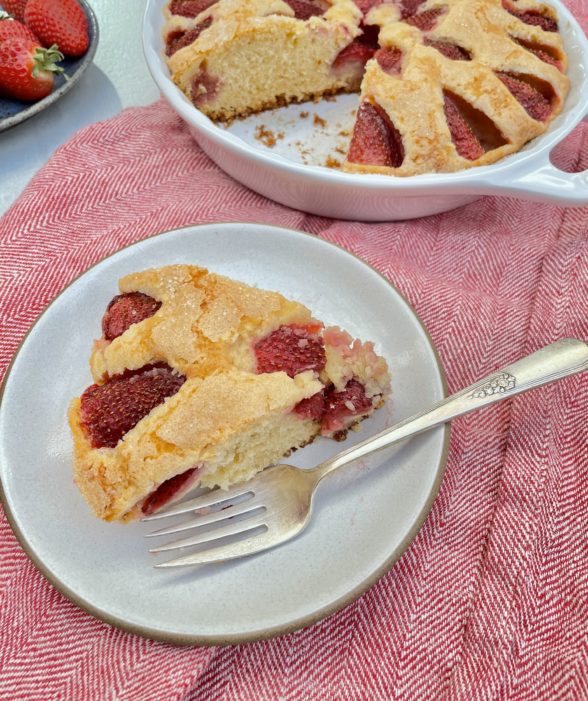 I have always served this cake as is, but I know that no one would ask for their money back if you served lightly sweetened whipped cream, Greek yogurt, or vanilla ice cream on the side.  I do hope you have a lovely Mother's Day and that you don't work too hard.  I will have an extra-special Mother's Day this year because my mom is coming to visit!
If you make this lovely cake (and I think you should!) or any of my recipes, please tag me on Instagram so I can see your beautiful creations @pamelasalzman #pamelasalzman.
You can shop the tools I used for this recipe by clicking on the images below:

French Strawberry Cake
Serves:
1 9-inch round or 8-inch square cake
Ingredients
6 Tablespoons unsalted butter or vegan butter, softened + more for greasing the pan
⅔ cup organic unbleached cane sugar or maple sugar + 1 Tablespoon cane sugar for the top
1 large egg, at room temperature or 1 flax egg
1 teaspoon pure vanilla extract
1 ½ cups organic all-purpose flour, white spelt flour or white einkorn flour (OR 1 ½ c GF flour blend + ¾ t xanthan gum)
1 ½ teaspoons aluminum-free baking powder
½ teaspoon sea salt
½ cup milk or unsweetened non-dairy milk like oat milk
¾ pound fresh strawberries*, washed and dried, hulled and cut in half
Instructions
Preheat oven to 350 degrees.
Grease a 9-inch round pan (like a pie plate or springform pan) or an 8 x 8 pan with butter.
In the bowl of an electric mixer, beat the butter and ⅔ cup sugar until light and fluffy, about 4 minutes on medium-high. (4 minutes is my go-to time for beating butter and sugar.) It's always a good idea to scrape down the sides of the bowl. Add the egg and vanilla and beat on medium speed until well combined.
In a medium bowl, whisk the flour, baking powder and salt. Over low speed, gradually add half the dry ingredients into the wet ingredients until just combined. Add the milk and combine. Stir in remaining dry mix and stir until just combined.
Transfer batter into the prepared pan and smooth the top. Arrange the strawberry halves on top of the batter, cut side down, as close together as possible, but do not push down into the batter otherwise they will get swallowed up by the cake as it bakes. I like to start from the perimeter and work my way to the center. Sprinkle remaining 1 Tablespoon sugar over berries.
Bake for 10 minutes, then lower oven temp to 325 degrees. Bake until the cake is golden brown and firm to the touch, about 60-70 minutes. Let cool in baking dish set on a wire rack. The cake can be stored at room temperature for 2 days, covered loosely. Cake can be frozen once cooled completely and wrapped very well with aluminum foil.
Notes
*Fresh raspberries work well, too.