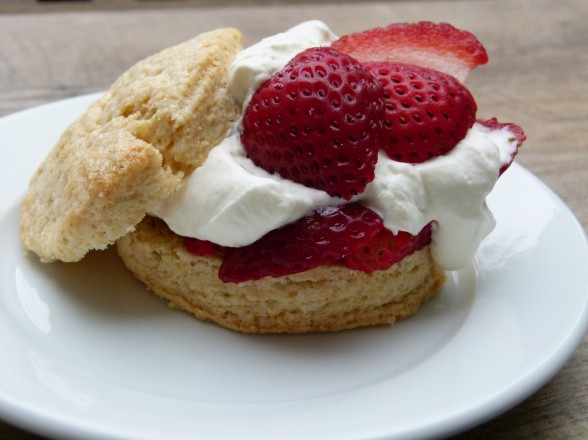 Have you ever eaten a piece of fruit and said, "this is the best darn [insert name of fruit here] I ever had"?  I've been saying that daily with strawberries and every time I do, my kids roll their eyes with that look like, "here we go again."  It's just that when strawberries are so deep red, fragrant, juicy and sweet as they have been, I get emotional.  I also want to take a minute to enjoy them since their season doesn't last forever.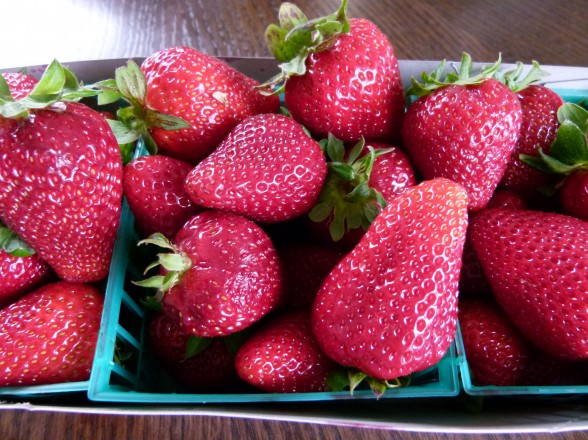 I hadn't made dessert for the kids in a while.  So I thought it would be fun to surprise them with something special after dinner on Sunday, and I wanted to incorporate strawberries.  One of the easiest and quickest desserts to make is fruit shortcakes.  The classic is strawberry shortcake, but I have used blueberries, raspberries, blackberries, nectarines and (my favorite) peaches.  I do not exaggerate when I say that you will have your biscuits on the pan ready to be baked before your oven is preheated.   For that reason, it's an especially fun dessert to make with your kids.  They can knead the dough, cut out the biscuits, brush the tops with cream and sprinkle them with sugar.  I had a great time baking these with Mr. Picky, who was very proud when he announced to everyone that he made dessert.  The kids love strawberry shortcake because they can assemble their own and pile on as much fruit and whipped cream as they want.  I like it because it is a very low sugar dessert, maybe 1 1/2 teaspoons per person which doesn't even get a sugar nazi like me worked up.  So many fruit desserts call for silly amounts of sugar which is unnecessary if the fruit tastes good to start.  I want the dessert to taste like the fruit I am using and not just sweet.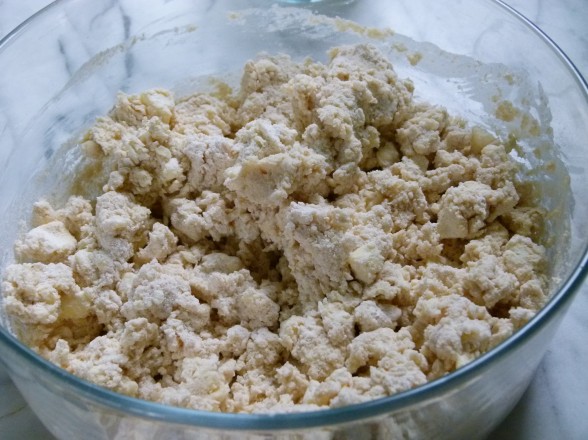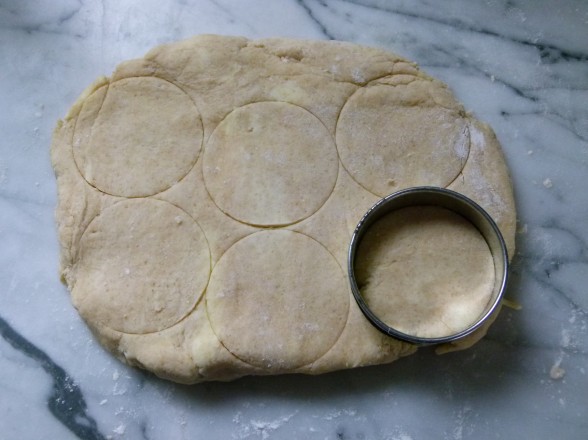 Traditionally strawberry shortcake is just a barely sweetened biscuit split with whipped cream and fresh fruit piled onto the bottom half of the biscuit.   But who wants to stick with tradition all the time?  Besides mixing it up with different fruits, we have also had fun using toppings other than whipped cream.  Have you tried my favorite way?  A biscuit with yogurt, strawberries and sliced almonds?  Freakin' delicious.  When the kids were much younger, I used to do mini-shortcakes which are great for little ones or for a party .  You can add mini-chocolate chips to the dough or shave some dark chocolate on top of your berries and cream.   If whipped cream and yogurt aren't your thing, try putting a can of coconut milk in the fridge for a few hours and scoop the top out and use that instead.  However you slice it, strawberry shortcake is a classic dessert that is always welcome!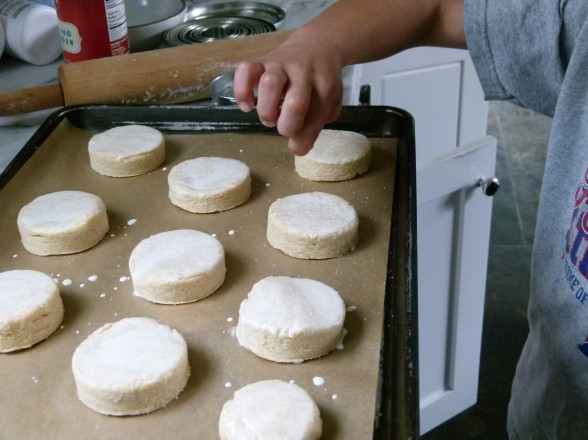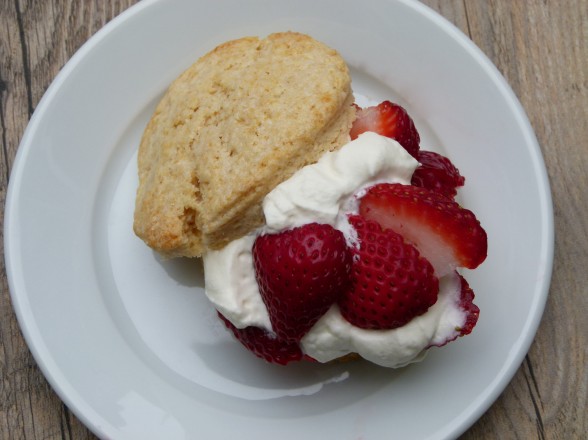 Low-Sugar Strawberry Shortcake
Serves:
makes 8-9 shortcakes
Ingredients
Shortcakes:
2 cups flour (I like 1 cup whole wheat pastry and 1 cup all-purpose)
¾ teaspoon fine sea salt
1 Tablespoon aluminum-free baking powder
3 Tablespoons granulated sugar + additional for sprinkling on top
½ cup (1 stick) unsalted butter, cut into 8 pieces
1 cup heavy cream, half and half or whole milk
Whipped cream, whole yogurt or coconut milk cream
Fresh sliced strawberries or other seasonal fruit
Whipped Cream:
1 cup heavy cream
1 Tablespoon granulated sugar
1 teaspoon pure vanilla extract, optional
Instructions
Preheat oven to 400 degrees. Line a baking sheet with parchment paper.
Place the flour(s), salt, baking powder and sugar in the bowl of a food processor fitted with the steel blade. Pulse a couple times to blend. Add the butter and pulse until the mixture resembles small peas or pebbles. Transfer mixture to a large bowl.
Add the cream and blend with a fork until just combined.
Turn the dough onto a lightly floured surface and knead a couple times to bring the dough together. Roll out to a ¾-inch thick disc and cut into 2 ½ -inch circles with a round cookie cutter or small glass dipped in flour. Gather the scraps, roll again and cut more rounds until you have used up all the dough. Transfer the dough pieces to the prepared pan and space evenly apart.
This is optional, but it creates a light golden color: remove 1 Tablespoon of cream from the cup for whipped cream and use that to brush the tops of the shortcakes. Sprinkle with granulated sugar. Bake 17 minutes, or until puffed and lightly browned.
Cool the shortcakes slightly on a wire rack.
Whip the heavy cream with sugar until soft peaks form. Dollop on a split shortcake and serve with fresh berries.