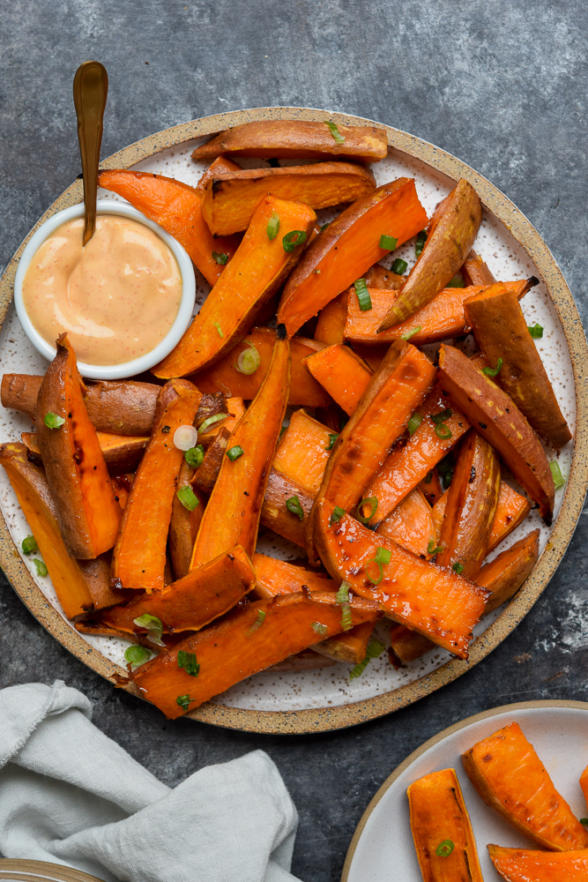 You know that friend that you can invite to any party, be your companion at any event, who can get along with anyone and everyone, even with people who are polar opposites?  Sweet potatoes are that friend.  I mean obviously if you look hard enough, you'll find someone (ahem, Hubby) who doesn't appreciate how cool and nice and smart your friend is, but they're just shallow and not open-minded. Ok, just kidding!  But the fact is that with all the "diets" in current circulation, e.g. Paleo, grain-free, Whole30, vegan, plant-based, lectin-avoidance, to name a few, I think sweet potatoes are one of the only foods that are considered "approved."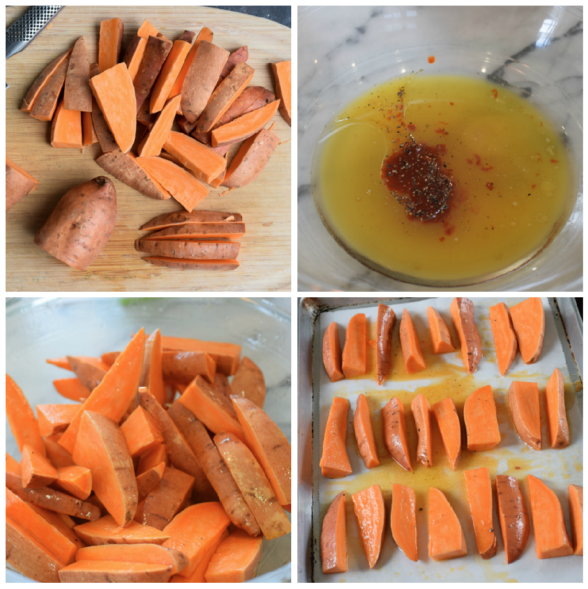 They're on my favorite list because they taste amazing, are super nutrient-dense, and loaded with fiber.  I have sweet potatoes represented in every category in my cookbook, including breakfast and dessert!  This is my new favorite way to eat them – thick wedges roasted with a slightly sweet and spicy glaze until super tender and sticky. The combo of coconut oil, maple, orange juice and a little spicy heat from sriracha is heavenly. I have a hard time not eating too many!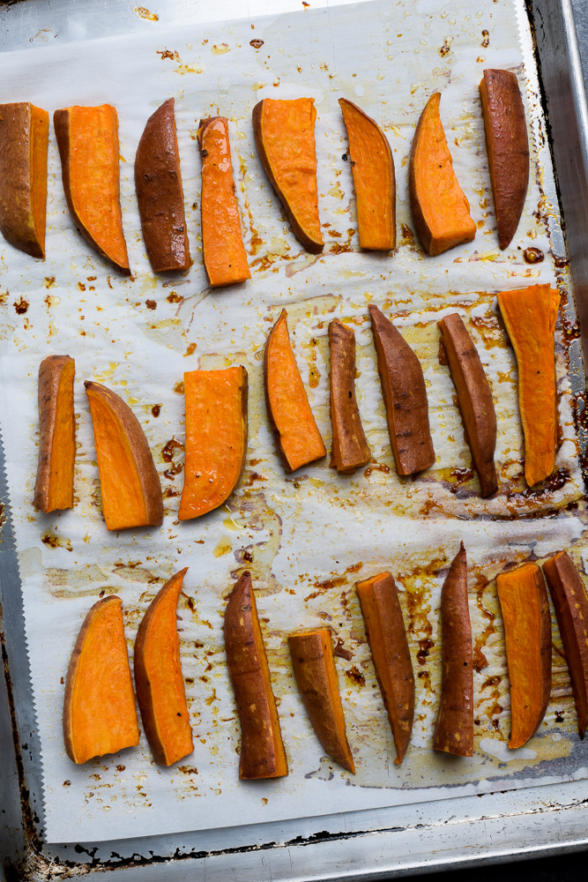 I love these for breakfast with a drizzle of nut butter, in a grain bowl with veggies, or as a simple side dish with roasted salmon and some sautéed greens.  These also reheat well in the toaster oven (wake up, pop them in at 350, take a shower and get dressed, eat.)  My son shocked me when he ate several for dinner last night.  Not shocking that he dipped them in mustard, but I have always been very flexible with him in that way. I made a little "sriracha aioli" to with these, but it wasn't necessary.  I just squirt a little sriracha into some Vegenaise and voila!
In other news, I am SUPER excited to have so many of you join me for my first cooking class ONLINE! Click here for details. I have done a "soft" launch to make sure there were no glitches (seems to be pretty smooth so far!) and that's why I am offering the first class for only $7.  If you haven't been able to attend one of my classes for whatever reason, I am making them available to anyone and everyone.  You can also join a private Facebook page where I will personally answer whatever questions you have and I will be scheduling a Facebook LIVE for this private Facebook group in the next two weeks where we can interact about the recipes and whatever else is on your mind.  Excited to share a new class with you every month!
I love seeing your creations!  If you make this recipe, leave a comment below and tag me on Instagram @pamelasalzman #pamelasalzman.  XOXO
You can shop the tools I used for this recipe by clicking on the images below!

Sweet and Spicy Glazed Sweet Potatoes
Ingredients
4 Tablespoons unrefined virgin coconut oil, melted
3 Tablespoons pure maple syrup, Grade A or Grade B or a neutral-flavored honey
¼ cup fresh orange juice
2 teaspoons Sriracha or your favorite hot sauce (or reduce for less heat)
¾ teaspoon sea salt
freshly ground black pepper to taste
2-2 ¼ pounds sweet potatoes (about 3 medium), scrubbed clean and cut into wedges
Instructions
Preheat the oven to 400 degrees. Line 2 baking sheets with parchment paper.
Whisk all ingredients except potatoes in a large bowl. Add in sweet potato wedges and toss to coat.
Arrange sweet potatoes on the 2 baking sheets and drizzle with any remaining mixture in bowl. Roast for 35 minutes, or until tender and slightly caramelized.