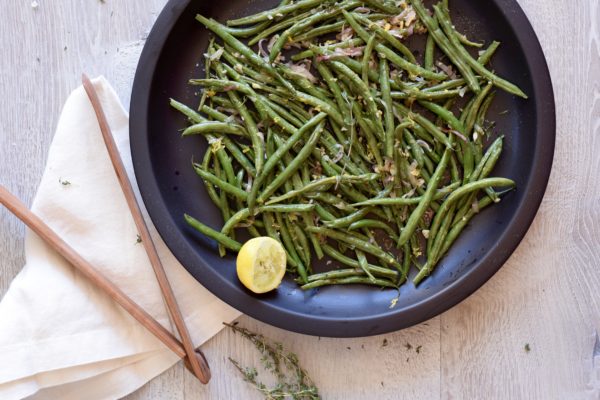 You know what I always say about Thanksgiving — that there aren't enough veggies and green foods on the table to balance out all the starch, protein and BEIGE. If it were up to me, I would just make dishes called "harvest salad" and a sweet potato casserole and be a happy camper.  There is such an abundance of produce right now, the options are exciting and endless.  Am I the only person who finds mashed potatoes to be boring?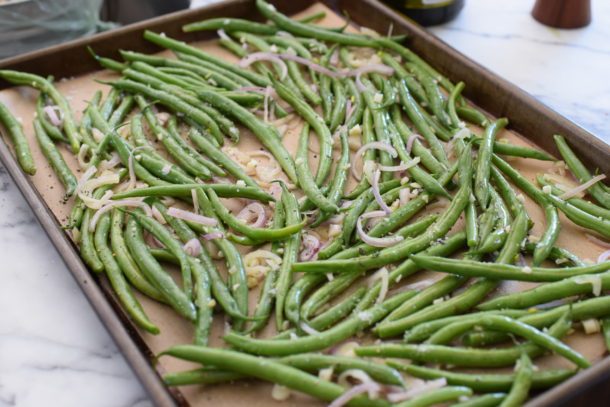 The answer in my house is "yes."  My people cannot have a Thanksgiving without mashed potatoes and turkey and two different kinds of stuffing.  Well, that's all fine.  But since I am doing the cooking and I am CEO of Thanksgiving, there will be salads (notice the plural) and there will be green vegetables.  Like these delicious roasted green beans with lemon and thyme.  And ironically although no one says they're excited about the vegetables, I never have a green bean left.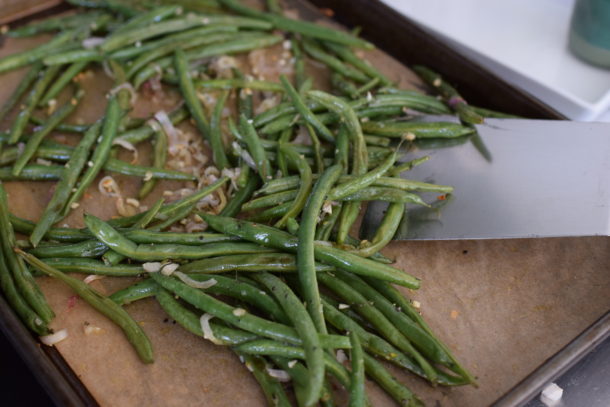 This is a pretty perfect Thanksgiving side dish.  Green beans and lemon go beautifully with turkey.  It's light, healthful and not from a can (please say no to canned green beans – they're just not good in so many ways.)  The flavors are clean and simple.  And it's a snap to prepare.  The only tricky part is that this recipe needs an oven, but check the notes at the bottom for how you can prep ahead.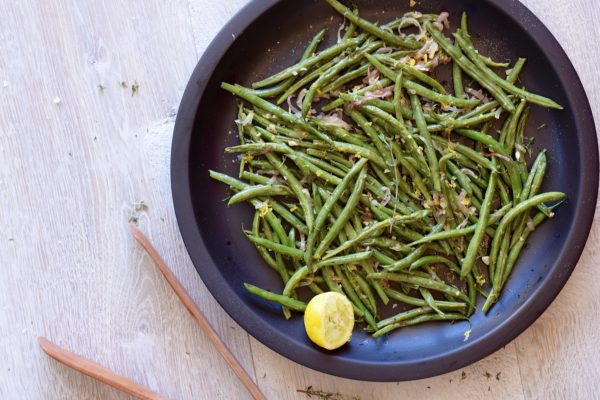 If you really can't use your oven, then feel free to blanche the beans the day before in boiling salted water for 4-5 minutes.  Then drain them and shock them in an ice water bath.  Drain and pat dry.  The next day, saute the beans and shallots until hot.
And you might be thinking, "I can't decide between this promising recipe and the perfectly awesome and healthified green bean casserole you posted last year."  And I would say, I like how you think.  We should be friends.  Keep checking in regularly because I have SO many fantastic Thanksgiving recipes and videos to share with you, AND my weekly Thursday tips to keep you ahead of the game.  XO

Roasted Green Beans and Shallots with Lemon and Thyme Recipe
Ingredients
1 pound green beans, trimmed
2 shallots, thinly sliced
3 cloves garlic, chopped
1 teaspoon fresh thyme leaves
2 Tablespoons cold-pressed extra virgin olive oil
Sea salt and freshly ground pepper
Zest and juice from 1 lemon
Instructions
Preheat oven to 400 degrees.
Combine green beans, shallots, garlic and thyme in a large bowl. Coat with olive oil. Spread evenly on a baking sheet (you can line it with parchment, if necessary.) Sprinkle generously with sea salt and a few grinds of black pepper.
Roast for 20 minutes, stirring after 10 minutes.
Transfer the beans and shallots to a serving bowl and add lemon zest and juice. Toss to coat and season with additional sea salt and pepper to taste.
Notes
Other suggestions: use chopped rosemary instead of thyme;
Roast cherry tomatoes with the beans in the summer and add fresh, slivered basil at the end;
Add chopped, toasted nuts such as almonds, hazelnuts, pine nuts or walnuts.

You can roast the vegetables an hour or two in advance. Leave at room temp on the sheet pan and pop back in the oven to warm through. Add lemon on top just before serving.