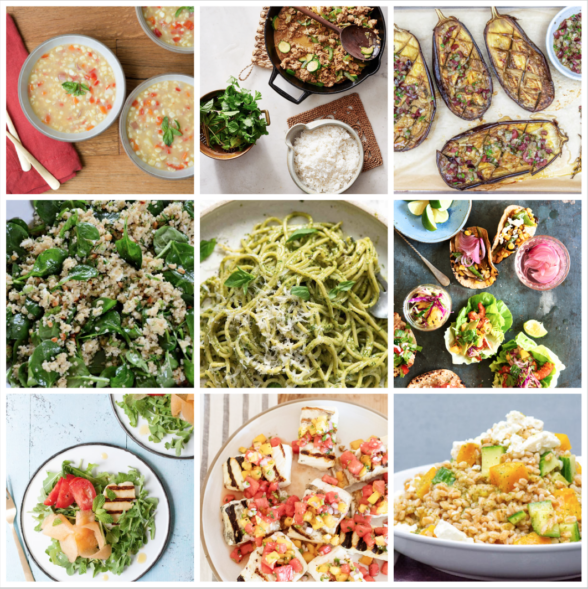 When I taught in-person classes, I normally took July off since so many people would travel during that time. I did the same last year and this year with my bootcamps, but the monthly online class is up!  And, it's time to get back to bootcamps!  Beginning the week of July 26, I will be repeating
Meal Plan / Meal Prep / Batch Cooking
I had incredibly positive feedback from everyone who took these bootcamps and I'd love to have you join them so I can change your cooking life!  Please join the waitlist here to be the first to know when they are open for registration. Here's your dinner planner for the week:
Meatless Monday: Corn and vegetable chowder, tomato toasts (grilled bread with raw tomato, olive oil, basil)
Tuesday: Curried turkey and vegetable stir-fry p. 235  from QTQ served with rice or cauliflower rice
Wednesday: oven baked eggplant with olives, capers, and basil, spinach and quinoa salad with feta and dill
Thursday: Pasta or a pasta alternative with pesto, served with a grilled vegetable platter (method here)
Friday: Chipotle Shrimp Tacos with Pineapple Slaw from Kitchen Matters, Mexican or Cuban black beans
Saturday brunch: Arugula and cantaloupe salad with grilled halloumi 
Sunday: grilled halibut with watermelon pico de gallo, farro with golden beets, cucumber, feta and mint vinaigrette
Here's what you can do in advance if it helps you:
Sunday:
Make corn and vegetable chowder
Cook quinoa
Make pesto
Wednesday:
Cut veggies for grilled platter
Thursday:
Cook beans
Make pineapple slaw
Saturday:
Cook farro
Steam beets (or buy precooked beets at the supermarket)
I have LOVED seeing all your creations of my recipes on Instagram. If you make any of my recipes, please tag me @pamelasalzman #pamelasalzman so I can check them out!
My cookbook, Quicker Than Quick, is discounted for the first time on Amazon!  If you have 1 minute, would you mind leaving a review on amazon?  I would be so grateful, thank you!
Take a peek at my first cookbook "Kitchen Matters"!