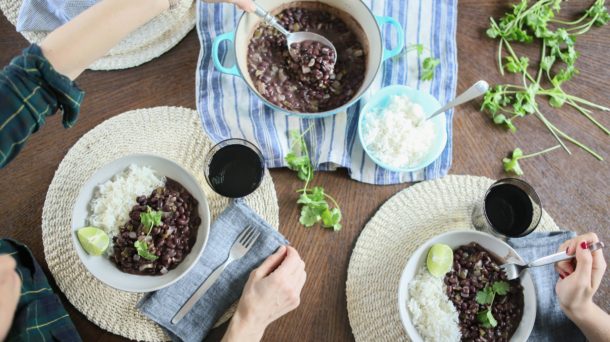 Give me all the peasant food.  I need nothing fancy to make me happy and satisfied.  A good bean soup or bowl of braised lentils or refried beans is what I crave. I basically could never go Paleo because I can't give up legumes!  There are many different cultures which use legumes in their cooking – from the Mediterranean and the Middle East to India and Caribbean.  Let's not forget Latin America, South America and North America!  Legumes are a nutritious, inexpensive and versatile staple in many kitchens around the globe.  Did you also know beans with black or red color have crazy high amounts of antioxidants?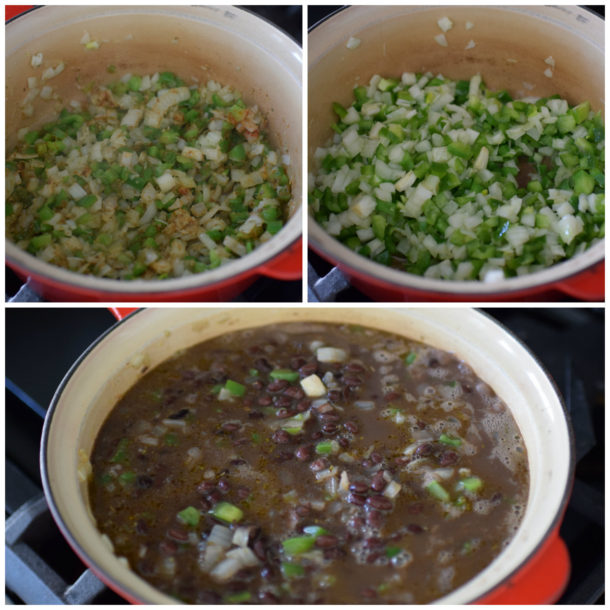 Beans and lentils in soups and salads made regular appearances at our table when I was a child and I have kept up the tradition.  Thank heavens my family, especially Mr. Picky, is a bunch of bean-eaters.  Although I tend to make beans from scratch, I always have (BPA-free) canned beans in the pantry so I can whip up any number of recipes quickly.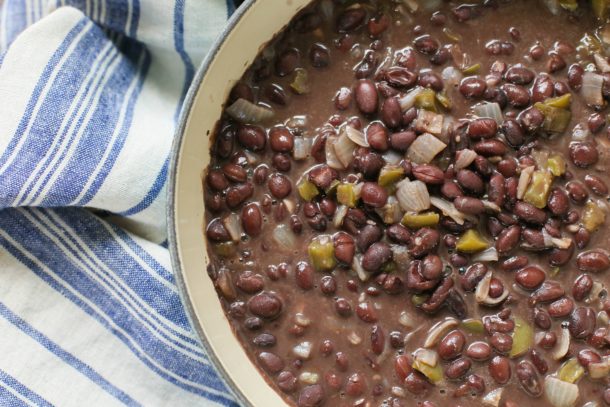 My son's favorite meal is quite possibly rice and beans.  He loves Mexican refried (which you know isn't fried) pinto or black beans, as well as drunken beans.  He also loves Cuban black beans, which many people assume will taste like Mexican beans, but the flavors of the Caribbean are definitely different from the flavors of Mexico.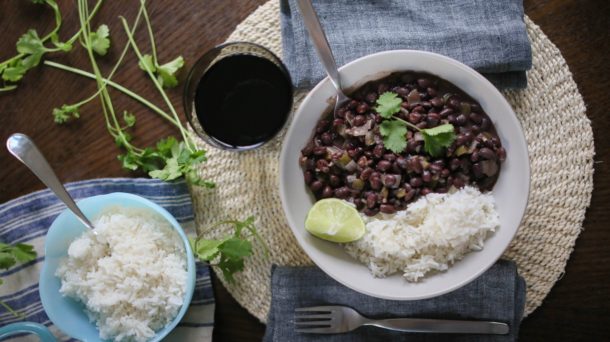 I visited Cuba about 15 years ago and absolutely fell in love with the culture, the people and the food.  I certainly ate a lot of rice and beans, which was fine with me, but challenging for Cubans who at the time were rationed beef maybe once a year, chicken a few times per year and given very strict limits on cooking oil and fresh foods. I don't know, but I imagine the situation hasn't changed much.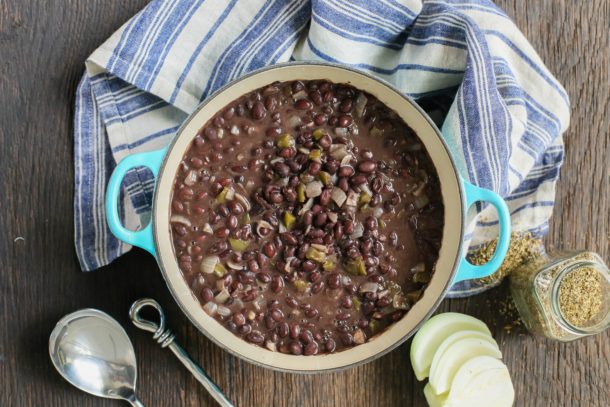 I'm sure this basic dish of black beans is made slightly differently in every home, but the addition of vinegar, green bell pepper and a pinch of sugar is very common and what makes this different from what you'd find at a Mexican or Tex-Mex restaurant.  I love the bit tang and sweet mixed with these beans.  Serve this over hot rice or cauli-rice to keep the carbohydrates lower.  You can make this up to a few days before and reheat for an easy weeknight dinner, especially Meatless Monday or Lenten Friday!

Cuban Black Beans Recipe
Ingredients
1 pound dried black beans* (see bottom of page for how to make with precooked beans)
1 green bell pepper, diced, divided
5 cloves garlic, minced, divided
2 Tablespoons unrefined, cold-pressed extra-virgin olive oil
1 onion, diced
1 ½ teaspoons dried oregano
1 ½ teaspoons sea salt
1 teaspoon ground cumin
¾ teaspoon ground coriander
freshly ground black pepper to taste
pinch of smoked paprika
2-3 Tablespoons apple cider vinegar or red wine vinegar
½ Tablespoon cane sugar, brown sugar or coconut sugar
Instructions
Soak beans with lots of cold water at room temperature for at least 8 hours or up to 24 hours. Drain and rinse well.
Place drained beans in a pot with half the green pepper and 1 clove of garlic. Add 6 cups of water and bring to a boil over high heat. Once the water comes to a boil, lower heat to a simmer and cook beans partially covered until tender, about 1-1 ½ hours. While beans are cooking, there should be enough water to just cover the beans. Add a little more if necessary. Maintain a simmer and not a boil so the beans cook evenly and maintain their shape.
Warm the olive oil in a medium skillet. Add the remaining bell pepper, 4 cloves minced garlic and onion. Cook over medium heat until tender. Stir in the spices, salt and pepper and cook until fragrant, another minute or two.
Add the pepper-onion mixture to the cooked beans and simmer for 5-10 minutes. If broth is too liquidy, cook until desired consistency is reached. Add the vinegar to taste and the sugar. Taste for salt and season accordingly.
Cover and refrigerate overnight (reheat the next day) or serve immediately.
Notes
*To make using canned black beans: Saute garlic, pepper and onion in oil in a medium pot until tender. Add spices, salt and pepper and sauté until fragrant. Add 3 15-ounce cans of black beans PLUS the liquid in the can. Simmer for 20-30 minutes, partially covered. Finish with vinegar and sugar. Taste for seasonings.