I have been on Long Island only for a couple days and I have turned into a lazy bones.  Something happens to my motivation when I get here, and I just need to decompress and chill out.  So I have nothing to report, because I have done nothing except go to my high school reunion on Saturday night which I'll admit was super fun.   My takeaway from that evening was that although I may have lived in LA for the last 26 years, I'm really just the same nice Italian girl from a small town on Long Island.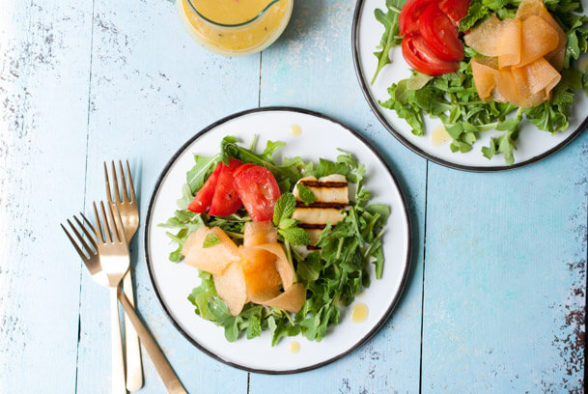 This week I have a bunch of meetings about my cookbook, a cooking demo/book signing, a cooking class and the best part of my week is picking up my son from the summer program he has been attending in Connecticut for the last month.  I cannot wait to see him!!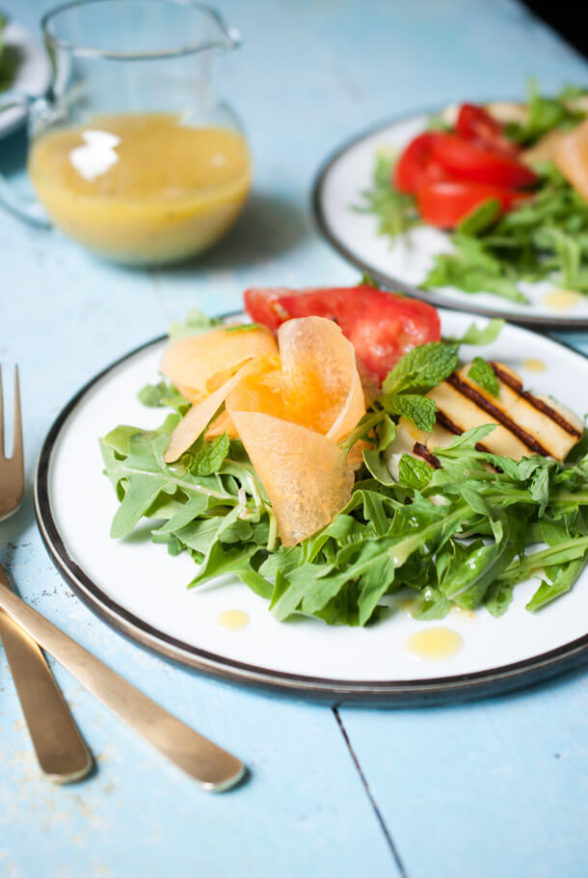 Until then, I am staying with my mom for a few days and then I am headed to my sister's in Westchester for a few days.  I plan to eat really simply, pulling things from the garden and supplementing with cooked legumes, herbs and whatever else is available.  Next week, my parents' house will have 15-16 people in it, so I'll be doing some serious meal planning in the meantime.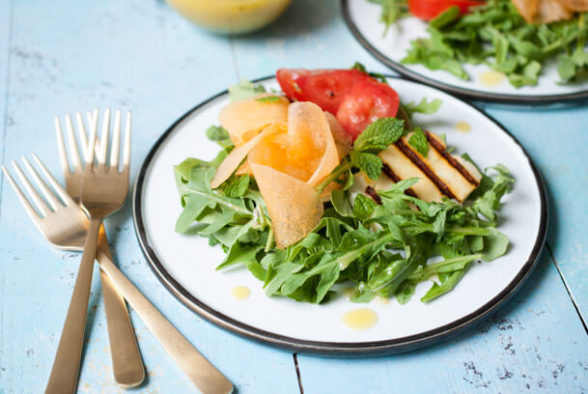 This salad is the type of meal I'm into right now and one my husband and kids have really enjoyed.  The interesting ingredient here is the halloumi, a very tasty, salty sheep's milk cheese that can actually be cooked — seared, grilled, baked — and it softens, but doesn't completely melt.  It's SO good!  Remember that sheep and goat's milk is much more digestible than cow's milk, so I prefer it every time over cow's milk cheeses.  I buy halloumi at Trader Joe's and Whole Foods, so it's readily available.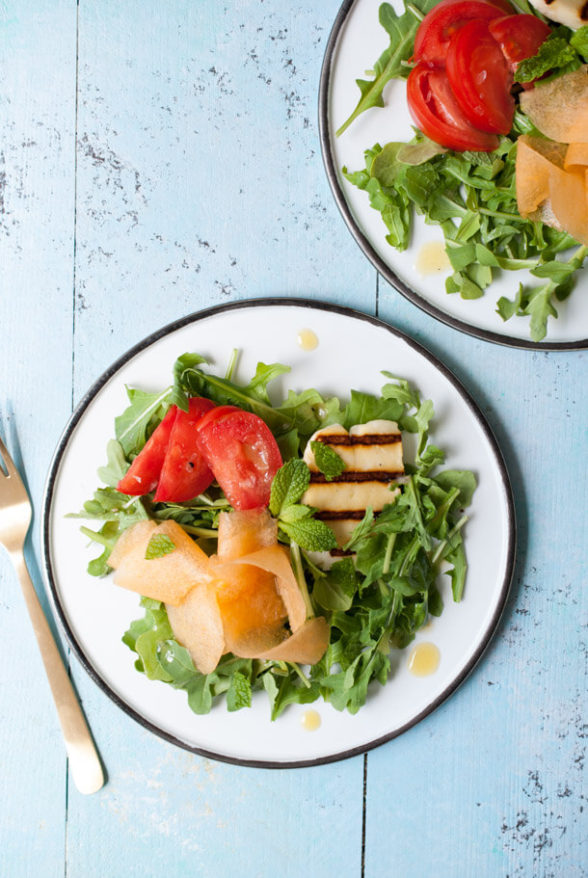 Halloumi is perfect with tomatoes, which love anything salty, and sweet and juicy melon of any kind.  Here I paired it with cantaloupe, but watermelon is often served with halloumi.  I have also done this salad with fresh figs and sliced stone fruit.  My go-to lettuce with fruit is arugula because the peppery flavor contrasts nicely with sweet fruit, but you should always swap in a different lettuce if arugula is not your thing.  See my notes about the best way to grill/sear the halloumi.  It's really easy, but a cast iron pan was definitely the best method I tried.
Remember that foods which grown in the summertime are naturally hydrating and cooling to the body, so now's the time to load up on melons, tomatoes, cucumbers, summer squash, and salads!

Arugula and Cantaloupe Salad with Grilled Halloumi Recipe
Ingredients
Dressing:
1 ½ Tablespoons freshly squeezed lime juice
1 ½ Tablespoons unseasoned rice vinegar
1 small shallot, finely chopped
1 ½ teaspoons Dijon mustard
1 ½ teaspoons pure Grade A maple syrup
¾ teaspoon sea salt
freshly ground pepper to taste
6 Tablespoons unrefined, cold-pressed extra-virgin olive oil or to taste
10 ounces arugula
½ cantaloupe, cut into thin wedges, bite-sized cubes or shaved with a vegetable peeler
1 large tomato, cut into wedges or chunks
handful mint leaves, torn into bite-sized pieces
8 ounces halloumi cheese, cut into (8) ¼"-thick strips
Instructions
Preheat griddle or grill pan/grill* to medium.
To make the dressing, whisk all ingredients together in a small bowl or shake in a glass jar with a screw-top lid.
Place arugula in a bowl or on a platter. Toss to coat lightly with dressing. Top with cantaloupe, tomatoes, and mint leaves.
Sear halloumi on griddle or grill pan/grill until all the liquid has been released and has evaporated. Cheese should be springy, golden and crisp after about 3 minutes. Flip and sear the other side, about 1 minute. Place on top of salad and drizzle with dressing. Serve immediately or keep halloumi warm in a preheated 200-degree oven for up to 30 minutes (maybe longer, but I didn't test it for longer.)
Notes
If you don't want to add fruit, sub in grilled zucchini.
*The best pan to use is cast iron. Stainless can be a bit of a mess and non-stick doesn't get the best sear. You won't need to use any oil with cast iron or nonstick, but you will with a stainless pan or a cast iron pan that is not well-seasoned.