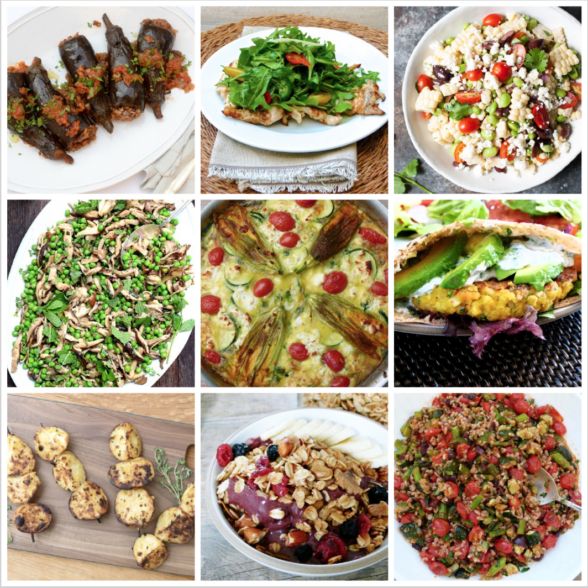 Well, we had a great trip in Boston and New York, and although it was an ordeal to get back home, we eventually made it!  My monthly online cooking class students, forgive me, but our class will be uploaded a wee bit after the usual 10th of the month.  But I promise, it will be worth it!!  IG lives will be back this Monday at 5 pm PT and Hubs will join!  Here's your dinner planner for the week:
Meatless Monday: Lentil and rice stuffed eggplant, green salad (click here for my favorite everyday salad dressings)
Tuesday: Grilled chicken paillard with arugula and lemon vinaigrette, solterito 
Wednesday: Pea and Mushroom Sauté with Mint, Summer garden frittata
Thursday: Chickpea burgers, grated carrot salad
Friday: Poached salmon, zesty potato skewers, sauteed green beans (I like to blanch the beans in salted water for 3 minutes, drain, shock in ice water, drain, pat dry and saute with shallots, salt and pepper and a squeeze of lemon or lemon zest.)
Saturday brunch: DIY acai bowl bar (I put out shredded coconut, nuts and seeds, granola, fresh fruit.)
Sunday: Farro with roasted vegetables and roasted tomato dressing, basic protein
Here's what you can do ahead if it helps you:
Sunday:
Cook lentils
Make stuffed eggplant
Make salad dressing
Pound chicken
Tuesday:
Wipe mushrooms clean and slice
Wednesday:
Assemble chickpea burgers
Make yogurt-tahini sauce if using
Grate carrots
Thursday:
Boil potatoes
Poach salmon
I have LOVED seeing all your creations of my recipes on Instagram. If you make any of my recipes, please tag me @pamelasalzman #pamelasalzman so I can check them out!
My cookbook, Quicker Than Quick, is discounted for the first time on Amazon!  If you have 1 minute, would you mind leaving a review on amazon?  I would be so grateful, thank you!
Take a peek at my first cookbook "Kitchen Matters"!