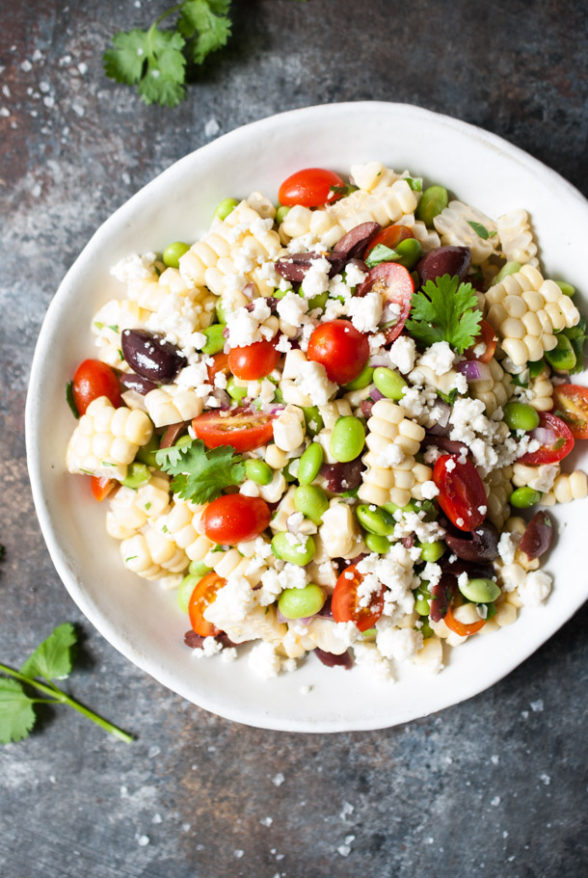 You all know how I love a good salad, especially the chopped variety.  Having all the flavors in each bite is salad heaven.  And as my mother-in-law says, chopped salads "don't require me to do too much work when I'm eating."  Well put.  I came across Solterito, a Peruvian chopped salad, many years ago and thought it was a refreshing change from my typical lettuce-based salads.  Traditionally, Solterito contains fava or lima beans, fresh cheese, chili pepper, tomatoes and large kernel corn native to the Andes.  Clearly I have taken MANY liberties with this salad based on what I have readily available to me.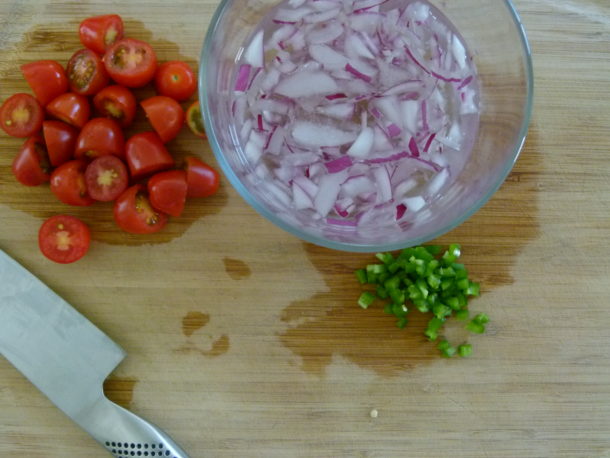 It is still a fresh, satisfying, easy and nutritious salad which can work well as a vegetarian meal on its own or the base for a nice piece of grilled fish or chicken.  This salad has tons of protein, so no need to worry about that.  I used shelled edamame in place of the fava/lima beans merely because I always have them in the freezer and Mr. Picky is a fan.  And if Mr. Picky is a fan of something, I need to take advantage of that!  Edamame are young soybeans which are typically found in the freezer section at the market either shelled or in the pod.  They are a great staple to have on hand to add a protein boost to fried rice, lunch boxes, grain salads and grain bowls.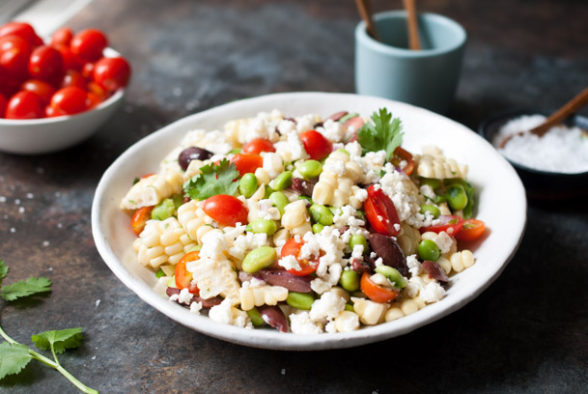 I have shown the salad two different ways.  One with cheese and the other with avocado in place of the cheese. One with olives and one without.  Like every salad in the universe, this one is also very adaptable.  Maybe it won't be mistaken for Solterito, but who needs to get technical?  As long as it's tasty and nutritious, that's all we care about.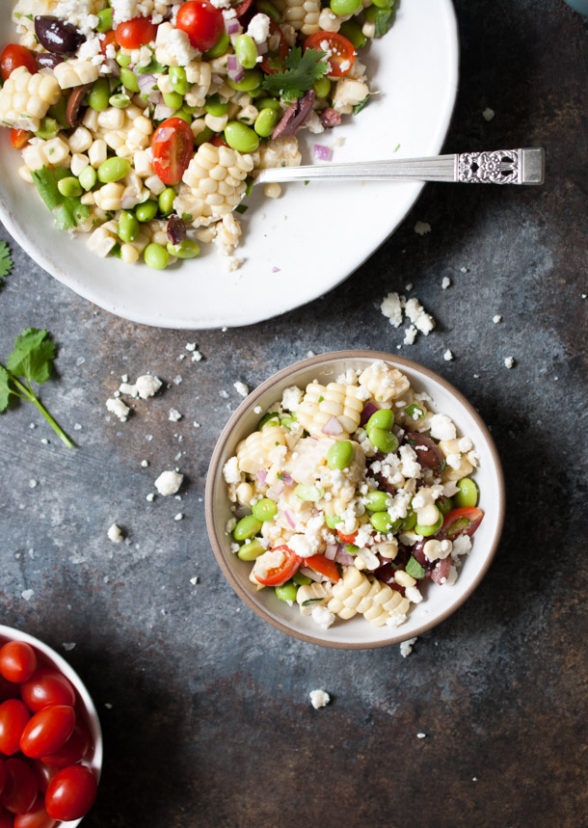 You can see I've been pushing the corn and tomatoes lately and for good reason — they're amazing right now, but they're peaking.  Soon they will be gone, along with summer. Sniff, sniff.  On that note, I'm off to Dallas today to move my girls into college.  Gasp.  Junior year for the older one and freshman year for the younger.  Wish me luck!!
 

 

 

View this post on Instagram

 

 
Solterito (Peruvian Chopped Salad) Recipe
Ingredients
3 large ears of corn, shucked or use boiled, diced potatoes if corn is unavailable
10 ounces shelled frozen edamame*
½ cup diced red onion (soaked in ice water for 10 minutes to cut the harsh raw onion flavor, if desired, and drained)
1 cup cherry tomatoes, halved
1 cup diced feta, queso fresco (traditional) or avocado
½ jalapeno, diced (optional) or ½ sweet bell pepper, diced
2 Tablespoons red, white or sherry wine vinegar
6 Tablespoons unrefined, cold pressed, extra virgin olive oil
½ teaspoon sea salt
freshly ground black pepper to taste
¼ cup black olives, sliced (I use kalalmata) - optional
2 Tablespoons finely chopped parsley or cilantro
Instructions
If the corn is super fresh, cut off the cob and add to a serving bowl. Otherwise to cook the corn: Bring a medium pot of water to a boil and cook the corn for 4 minutes. Pull the corn out with tongs and allow to drain in a colander. Bring the water back up to a boil and add the edamame. Cook edamame for 5 minutes. Drain and rinse under cold water to stop the cooking process.
Cut the corn off the cob. And place in a large serving bowl.
Add the bowl the edamame, onion, tomatoes, cheese and jalapeno.
Add the vinegar, olive oil, salt and pepper and toss gently to combine.
Add the olives and parsley and serve.
Notes
*lima beans are traditionally used