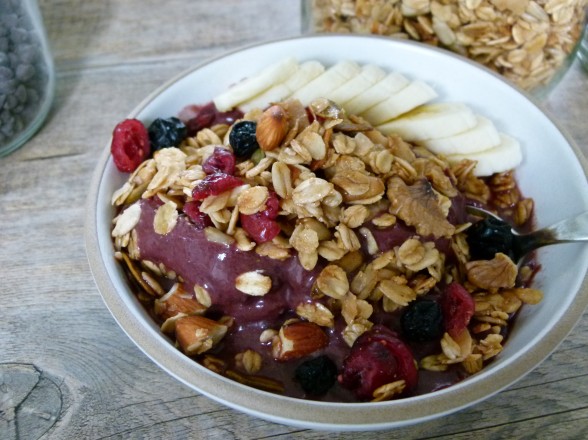 I am a little bit of a skeptic, I'll admit.  When a new food comes onto the scene claiming to save your life, I have to raise an eyebrow.  One food can't do it all.  If you've noticed, I try not to beat anyone over the head with nutrition facts but rather emphasize a diet of a wide variety of mostly plant-based whole foods.  Eating seasonally, locally and organically helps too, but first things first.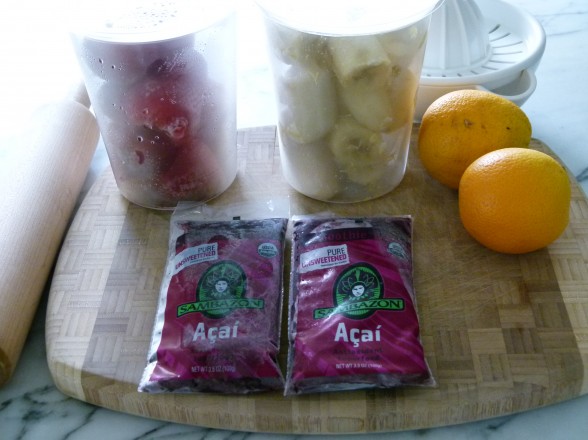 Many years ago I started hearing the praises of acai (prononced ah-sigh-EE), a berry native to the Amazon (the rainforest, not the online shopping site).  Acai's claims to fame are its insane antioxidant levels (more than blueberries!), healthful fats and a good smattering of iron, calcium and beta-carotene.  It also happens to be very low in carbs and sugar.  What I love is acai's deep berry, almost chocolatey flavor.  Delicious, I promise you.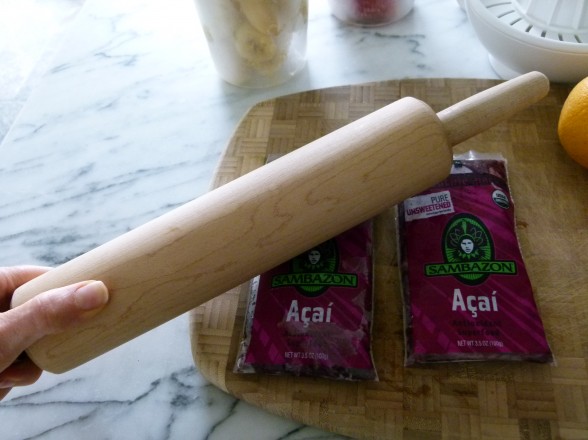 "Acai bowls" are popular in Brazil, but have found a loyal following in the US in areas with year-round warm weather, such as Hawaii and Baja California.  They're kind of like a super thick smoothie/soft serve sorbet that you eat with a spoon.  Beacause acai bowls are so soft and creamy, they beg for toppings with a little texture.  The most traditional way they are eaten is with a scoop of granola, sliced fresh bananas and a drizzle of honey.  I was at a hotel in San Diego a few years ago when I saw an acai bowl on the menu and I very enthusiastically ordered it.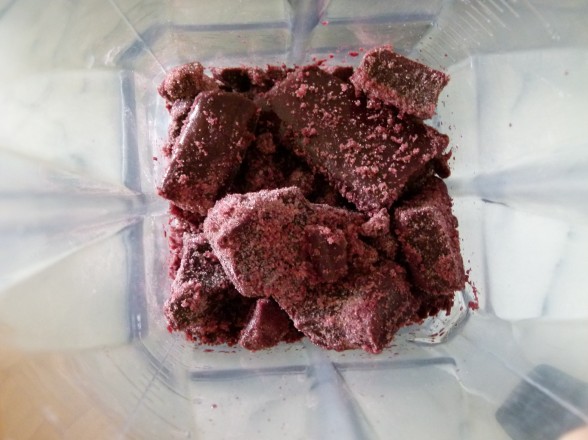 Let's cut to the chase here — my family and I have been addicted to these since that day.  Not only that, but I have taught all three of my kids how to make them so when their friends come over they can throw together a nutritious and tasty snack in minutes, and one which their friends probably haven't had anywhere else.  Cool!  One day, the mom of one of Mr. Picky's friends came over holding a packet of frozen acai with a look of desperation and said, "Just tell me what to do with this."  Many of my kids' friends are hooked, too!  I let everyone choose their own toppings, which can include granola, flaked coconut, walnuts, cacao nibs, sliced almonds and cut up fresh fruit like bananas, strawberries or blueberries.  Mr. Picky always adds a small handful of mini chocolate chips and I'm okay with that since there's no other added sugar here.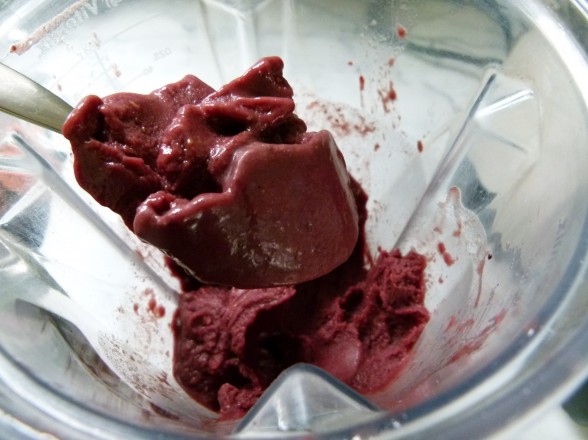 Now that the weather is becoming warmer, I wanted to share this recipe so you could enjoy it for the whole summer (I love that word!).  Since my version isn't super sweet, I think with the right toppings an acai bowl makes a great breakfast, post-workout snack or even dessert.  You can see from the recipe that there isn't anything too suspect or worrisome, just a bit of fruit sugar.  Wouldn't you prefer these ingredients which are paired with vitamins, minerals, fiber, good fats and antioxidants over artificially-colored and flavored popsicles?  Thought so.  But just so we're clear, I'm not trying to convince you that acai bowls are a magic cure for anything other than a craving for something cool, creamy and very delicious!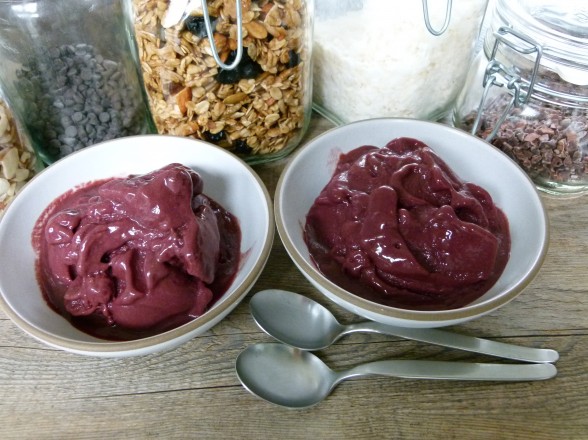 Acai Bowls
Ingredients
2 packets frozen acai puree (break it into pieces first to make it easier on your blender)
1 frozen or fresh* ripe banana (cut into pieces) or a heaping cup of frozen mango chunks
1 large handful frozen or fresh* blueberries, strawberries, mango or peaches
½ cup freshly squeezed orange juice or apple juice or almond milk*
Topping suggestions: granola, sliced bananas, fresh berries, coconut, chopped nuts, cacao nibs
Instructions
Add acai, fruit and juice to a blender and puree until smooth, but thick. A Vitamix does this very easily, but if you have a standard blender you'll just have to scrape down the sides every so often. Divide between two individual bowls and add toppings of choice. Serve immediately.
Notes
*Frozen fruit will give you a better texture and make it more like soft serve ice cream.

**fruit juice will make the acai bowl a little sweeter than almond milk but the almond milk makes it taste a little creamier. If you use almond milk, taste it before serving and if necessary, sweeten with a little raw honey or add a pitted date or two to the blender and puree.

**You can add your favorite protein powder to make it a more complete breakfast.