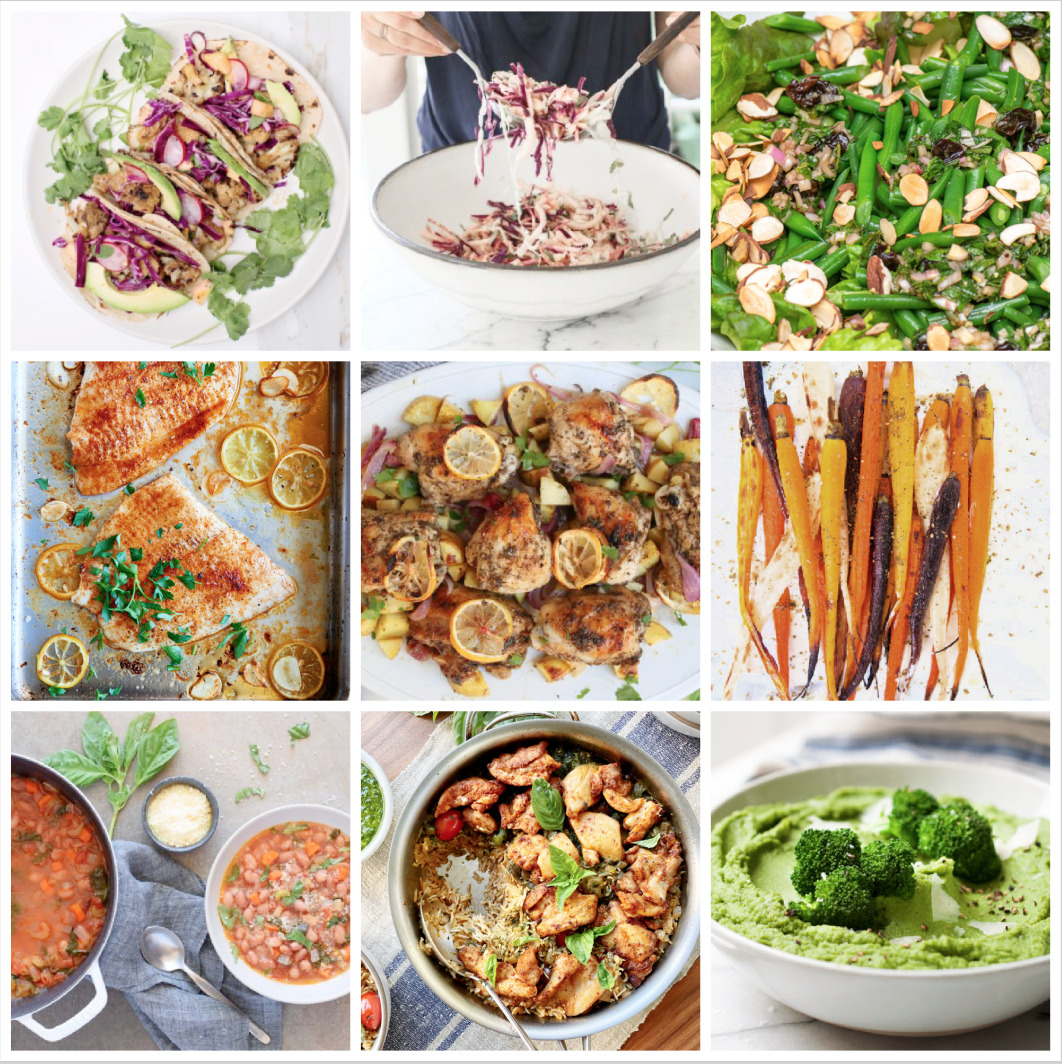 Monthly Cooking Class Students, the new February class will be uploaded this week! It's fabulous! I also had "office hours" this past week on Tuesday at noon PT and it proved to be an excellent time. Check your email for the recording if you want to have a listen to what we chatted about.
Also, I am hosting a very exciting event in March at Pages Bookstore in Manhattan Beach. The best-selling author Rebecca Serle will be in the house with me on Tuesday, March 6th at 6:30 pm for the paperback launch of her book, One Italian Summer, which is such a fun read and a great escape to Positano if you wish you could be there right now LOL. I'll be having a discussion with Rebecca about the book while we sip Prosecco! Tickets can be purchased here and I hope you can make it! Here's your dinner planner for the week:
Meatless Monday: Chipotle cauliflower tacos (My husband likes these with some warm chickpeas or black beans mixed with the cauliflower) with jicama slaw, or you can serve a side of drunken beans
Tuesday: Mixed green salad with green beans, almonds and dried cherry vinaigrette, simple broiled fillet of sole or flounder (there's a recipe in KM p. 198)
Wednesday: Greek sheet pan chicken with lemons and potatoes and roasted carrots with garlic yogurt (or skip the yogurt sauce, but it's delish)
Thursday: Borlotti bean soup If a big bowl of soup is not a meal for you, you can add a quick sheet pan dinner of chicken with zucchini, artichokes and tomatoes or do a sheet pan of roasted veggies and crumble feta on top in the last 5 minutes or toss the hot roasted veggies with grated parmesan before serving. ANOTHER IDEA: make extra of the Greek sheet pan dinner and cut everything into bite size pieces, supplement with some frozen mixed vegetables and cover with a little chicken stock for a Greek Chicken and Vegetable Soup! Buy some frozen mini spanakopita and serve those as a little "extra" or hummus with crudites.
Friday: Skillet pesto chicken and rice + some extra veggies – what do you have? Sauteed cabbage or spinach? Roasted cauliflower or broccoli? Sauteed mushrooms?
Saturday brunch: Boosted pancakes – watch my latest Instagram video for how I like to add extra fiber and protein (or veggies) to any pancake batter. Hint: ground flax, cooked quinoa, hemp seeds, spinach. Another twist is to make a "pancake taco": hold the pancake in your hand and dollop down the middle with Greek yogurt and sprinkle with fresh berries. Delish!
Sunday: whole roast chicken (I add potatoes, onions and carrots to the roasting pan), puree of broccoli
Here's what you can do ahead of time if it helps you:
Sunday:
Make spice mix for tacos
Break cauliflower into florets
Wash greens
Monday:
Blanch green beans
Make dried cherry vinaigrette
Tuesday:
Marinate chicken for Greek sheet pan
Wednesday:
Make borlotti bean soup
Thursday:
Make pesto or use store-bought
Friday:
Make pancake batter
Saturday:
Season whole chicken or use a rotisserie chicken
I have LOVED seeing all your creations of my recipes on Instagram. If you make any of my recipes, please tag me @pamelasalzman #pamelasalzman so I can check them out! I have a free Monday newsletter with my thoughts, new recipes, and things I'm loving lately. Subscribe here! Did you know I teach cooking classes? A new one comes out every month!
Order my cookbook, Quicker Than Quick! If you have 1 minute, would you mind leaving a review on amazon? I would be so grateful, thank you! Take a peek at my first cookbook "Kitchen Matters"!