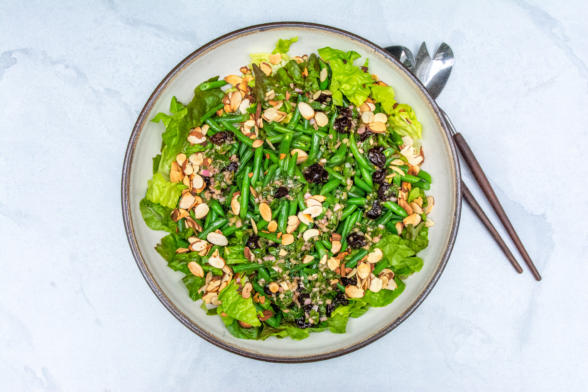 I almost saved this recipe to post in November for Thanksgiving.  You can certainly print it and file it away in your Thanksgiving binder, but I find that recipes bookmarked for Thanksgiving never see the light of day outside of the holiday.  I never make stuffing, mashed potatoes, pumpkin pie, corn pudding, and many other recipes other than one day of the year.  This is not that recipe. Part of me likes having one hit wonder recipes on Thanksgiving.  It makes the holiday feel special.  But I make this salad all summer long and into early fall.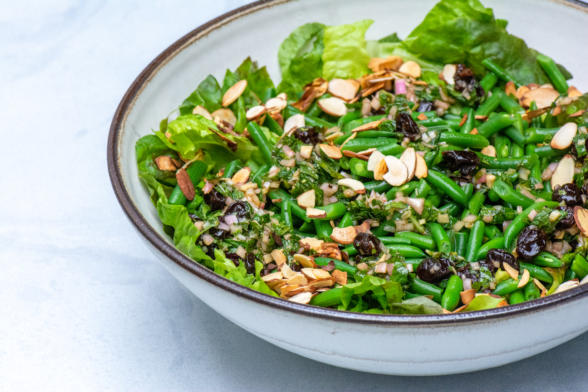 I originally spotted a recipe for green beans with toasted walnuts and dried cherry vinaigrette in Bon Appetit in November 2010 and made it enough times with enough tweaks to settle on this salad which I like better than the original recipe.  I struggle making green beans crave-worthy.  Although that will change in my upcoming cookbook!  I have included the most amazing green bean recipe in there I call Chinese Restaurant-style Green Beans and it's my favorite way to eat green beans ever.  But you'll have to wait until April for my new book. In the meantime, we can nosh on this salad which is fresh and seasonal and, I'll argue, crave-worthy!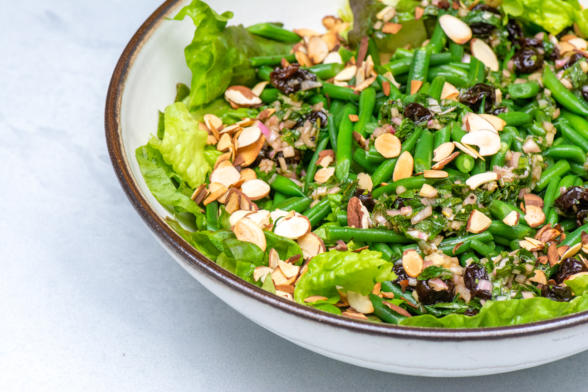 Green beans need a little help with either salt or acid or both.  I like to blanch them first in generously salted water before either using them in a salad or a saute.  Don't forget to shock them in ice after they become crisp-tender in the boiling water.  "Shocking" is a super important step which not only stops the cooking process, but also "shocks" the color.  That's how we keep that vibrant green color.  But like many salads, the dressing is a make-or-break component.  Many vinaigrettes are very similar with a ratio of acid (like vinegar) to oil (like olive oil) around 3 to 1 and then you add in some salt and pepper.  Sometimes we add Dijon or shallot or maybe even a little honey.  This dressing is so unique with the addition of dried cherries (tart, if you can find them) and mint (omit if you hate it.)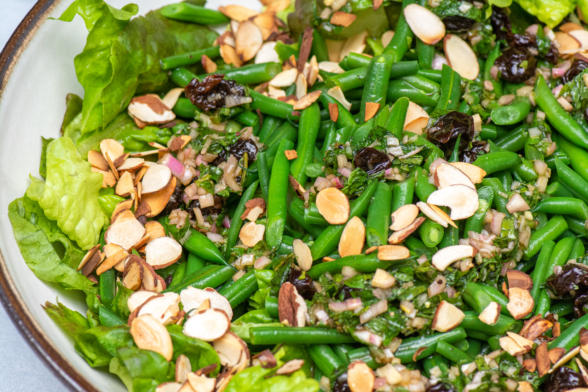 September is a new year of sorts and after my cooking class today, everyone was motivated to get out of their summer cooking ruts and try some new recipes on their families.  I promise this is easy enough to make on a weeknight, but cool enough to make for your friends.  I serve it with poultry (roast or grilled chicken), fish (lime-soy salmon or poached salmon), or lamb (souvlaki).  Or if you're vegetarian, top the salad with some feta and make some herbed quinoa on the side.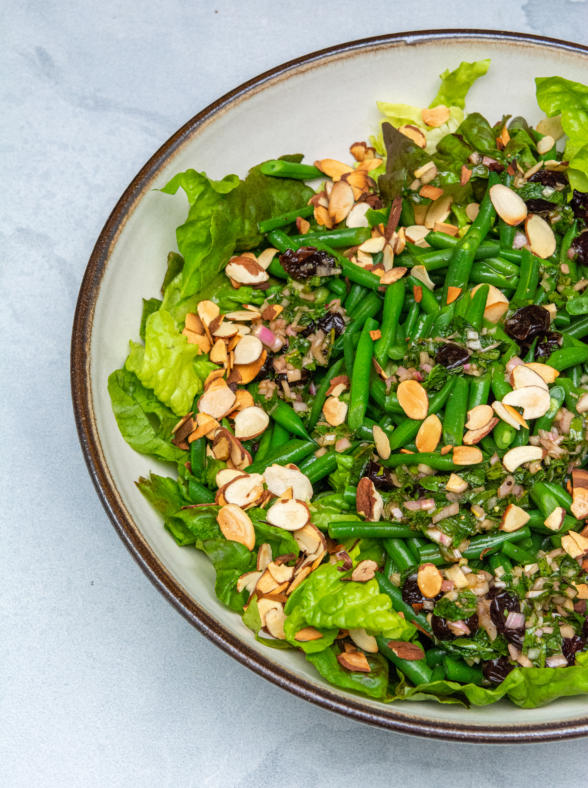 I do hope you'll make this!  If you give this a try or any other recipe on my site, my cooking classes, or from my book(still on temporary mega sale on amazon,) I would love for you to tag me on Instagram @pamelasalzman #pamelasalzman so I can see your creations!  Here's hoping your fall is off to a good start.  Wishing all of you a happy and healthy year ahead!

Mixed Greens With Green Beans, Almonds and Dried Cherry Vinaigrette
Author:
Pamela, adapted from Bon Appetit
Ingredients
Dressing:
⅓ cup minced shallots
3½ Tablespoons Sherry wine vinegar
⅓ cup fresh mint leaves, chopped
1½ teaspoons sea salt
1 teaspoon pure maple syrup
½ teaspoon freshly ground black pepper
⅓ cup unrefined, cold-pressed extra-virgin olive oil
⅓ cup dried tart cherries
Kosher salt
1 pound trimmed green beans
1 large head of red or green leaf lettuce, cleaned and torn into bite size pieces, about 13 cups
½ cup slivered or sliced almonds or walnuts, toasted, chopped
Instructions
In a screw-top jar, combine the shallots, vinegar, mint, salt, maple syrup, pepper, and olive oil. Add dried cherries and set aside.
Prepare a large bowl with ice water and set aside. Bring a large pot of water to a boil and add a couple of tablespoons of kosher salt. Submerge the green beans in the boiling water and cook 3-4 minutes or until they are crisp tender. Drain and immediately plunge into the ice water bath. After a few minutes, drain and set aside to dry a bit. Cut into bite size pieces.
In a large serving bowl toss salad greens and green beans with the vinaigrette when you are ready to serve. Scatter almonds on top and serve immediately.
Notes
Not to complicate the recipe, but goat cheese or feta are both great additions.