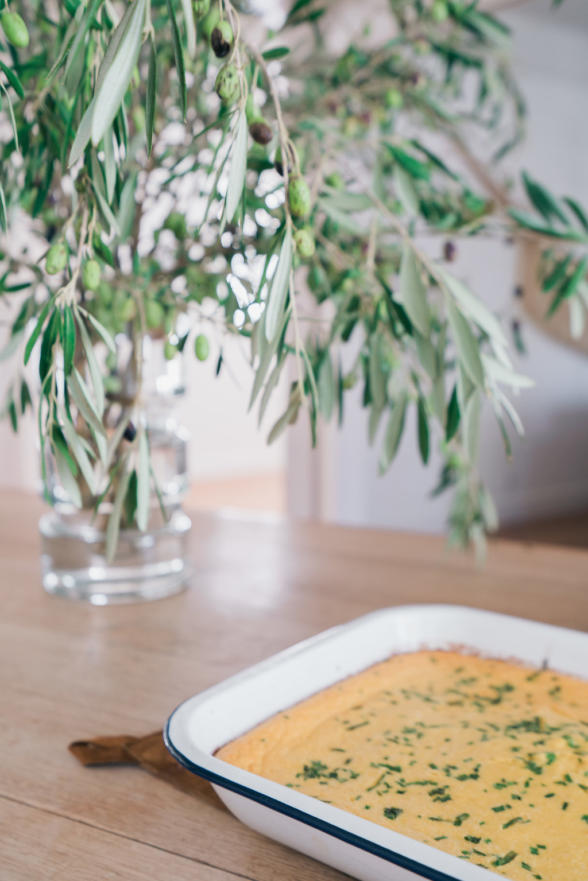 This creamy corn pudding is the LAST recipe I ever thought I would fall for.   Whenever I load up my plate on Thanksgiving (or any meal for that matter), I go for color, freshness, non-starchy vegetables.  If I eat something creamy, it's likely risotto, or a cashew-based dressing, or ice cream LOL.  But I can't teach salads and vegetables every Thanksgiving because that's not what my peeps want.  I know most of you are looking for comfort food, traditional ingredients, and starch.  Yes, starch.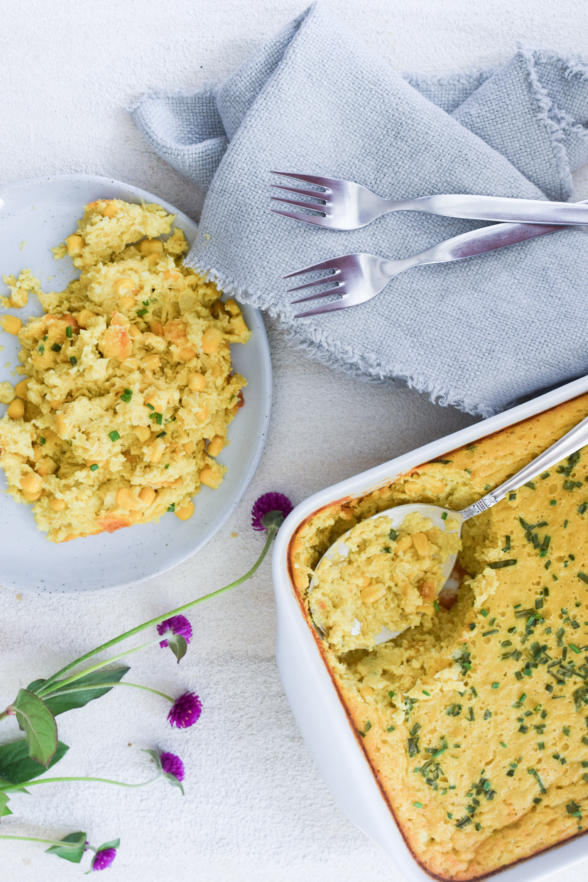 I asked my friends and family recently what their favorite Thanksgiving recipe is and no one said salad (except me.)  Stuffing, mashed potatoes, sweet potato casserole, Parker House rolls, mac and cheese… How about you?  Well I knew this corn pudding would be a huge crowd pleaser.  It's rich, sweet from corn, light and fluffy, and positively addictive.  Think of spoon bread meets custard, but it's not smooth.  The first time I made it, I could not stop eating it, especially the well-done edges.  And then to put a dollop on top of a piece of turkey – so good!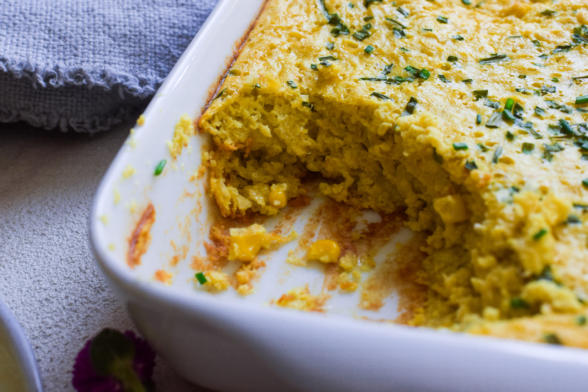 But what makes this a Thanksgiving cook's dream is how ridiculously easy this recipe is.  It's so perfect because you basically throw everything into a blender, pour it into a baking dish and bake.  And you can make it a day ahead and reheat it.  Perfect, I know.  I even made this successfully dairy-free and it was just as good as if it had cream.  What I also love about this pudding is that it can really be eaten at room temperature which is helpful if you find serving 10 dishes piping hot on Thanksgiving.   And other than the chives, you can buy all the ingredients today!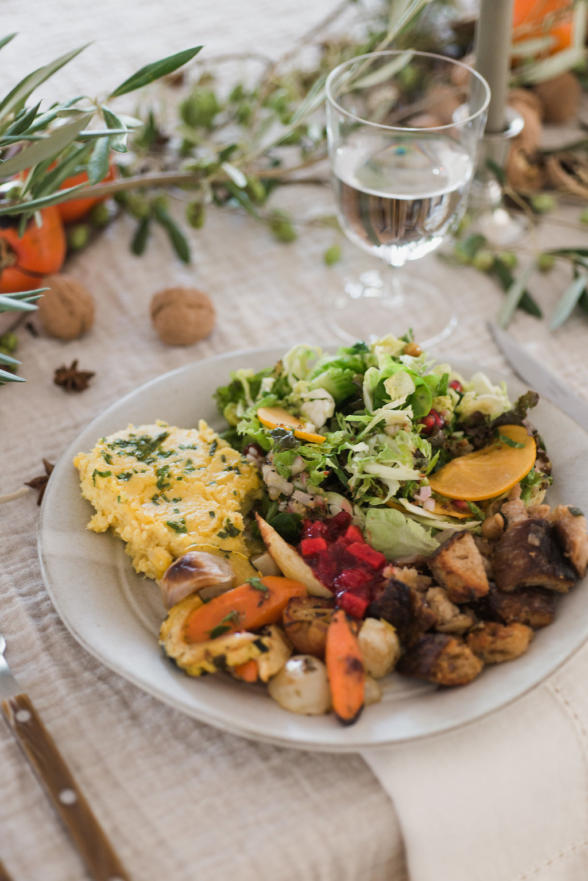 Thanksgiving newsflash:  My holiday ebook has landed!  Click here to access the Thanksgiving bible I created just for you.  All my Thanksgiving recipes in one place + prep-ahead tips, strategies, turkey know-how, resources and more – all for $15.  For the price of a latte, you'll have everything you need to pull off the most effortless Thanksgiving ever!  Click here to access the ebook.
My Thanksgiving segment with Rachael Ray is on this Friday, November 2nd, so set your DVR's! I will continue to do Instagram Lives on Mondays at 5:00 pm PST/8:00 pm PST.  I'm excited to plan with you all!
As always, I love seeing your creations on Instagram, so tag me @pamelasalzman #pamelasalzman if you make any of my recipes!
Shop the tools for this recipe by clicking on the images below:

Creamy Corn Pudding
Ingredients
2 pounds (about 6 cups) plus 1 cup ORGANIC frozen yellow corn, defrosted, divided
3 tablespoons pure maple syrup
6 large eggs, at room temperature
½ cup whole milk or plain, unsweetened hemp milk
3 teaspoons sea salt
⅛ teaspoon cayenne
¼ cup corn meal
1 Tablespoon arrowroot powder
1 teaspoon aluminum-free baking powder
5 Tablespoons melted unsalted butter or unrefined coconut oil, plus additional for greasing baking dish
1½ cups heavy cream or full-fat coconut milk
¼ cup chopped chives
Instructions
Preheat the oven to 350 degrees and grease a 13 x 9-inch baking dish with butter or coconut oil.
Place all but 1 cup of the corn kernels in a large blender and add the maple syrup, eggs, milk, salt, cayenne, corn meal, arrowroot and baking powder. Blend until smooth and pour into a large bowl (unless your blender can fit it all, then blend everything in the blender and skip the bowl.)
Stir the melted butter and cream into the corn mixture along with the remaining 1-cup whole corn kernels.
Pour into your prepared baking dish and sprinkle with chopped chives.
Place your baking dish on top of a baking sheet (to ensure even, slow baking) and bake for approximately 60-70 minutes, or until the pudding is golden brown and has a slight wiggle to it but there is no liquid under the surface.
Allow to cool slightly before serving. This can be made a day ahead and kept covered and refrigerated. The next day, remove from the fridge an hour before placing in the oven. Reheat covered at 350 for 20 minutes or until warmed through.