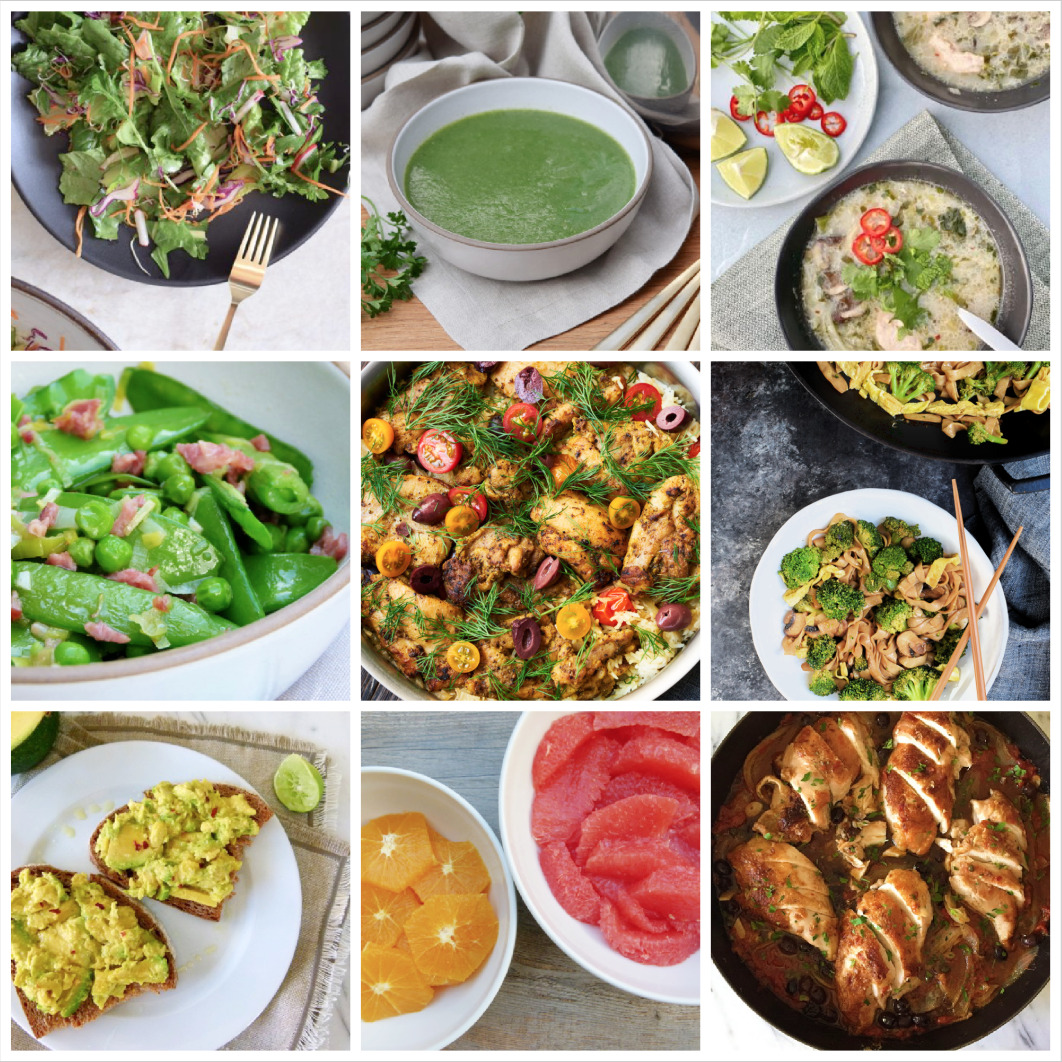 Happy New Year! I hope your new year is off to a good start! My January class will be up soon. The last couple years I have done a "Dry January" theme, ie NO dessert recipe! It's not a punishment, but instead I try to get back to eating desserts in moderation and not twice a day like I may have done in the last week (or two.) The menu for this month's class is Blistered Green Beans, Firecracker Tofu, Hot and Sour Soup, Shrimp Lo Mein, and Spicy Salmon Sushi Bake. Here's your dinner planner for the week:
Meatless Monday: Big green detox salad with Bieler's Broth or Super Greens soup
Tuesday: Thai Coconut Chicken Soup (you can use seafood instead of chicken, just cook for less time)
Wednesday: Three pea saute with or without turkey bacon. You don't have to use three types of peas – use all frozen peas if you want. Plus wild salmon roasted on a sheet pan with carrots. Start the carrots first at 400 degrees and try to guess about 10 minutes before they're done. Then add the salmon, brushed with olive oil and sprinkled with salt and pepper.
Thursday: Mediterranean skillet chicken and rice, add a salad or a sauteed vegetable on the side, like kale or spinach OR Weeknight cassoulet, roasted cabbage
Friday: Shirataki noodle stir fry – try this recipe. You can treat them like pasta and add whatever you want.
Saturday brunch: avocado toast served with sliced oranges
Sunday: Braised chicken with tomatoes, olives and capers (video here), polenta or pasta, sautéed garlic broccoli
Here's what you can do ahead if it helps you:
Sunday:
Wash greens
Make dressing
Trim green beans
Monday:
Make stock
Wednesday:
Season chicken for skillet chicken and rice
Saturday:
Salt chicken for baked chicken with tomatoes
I have LOVED seeing all your creations of my recipes on Instagram. If you make any of my recipes, please tag me @pamelasalzman #pamelasalzman so I can check them out! I have a free Monday newsletter with my thoughts, new recipes, and things I'm loving lately. Subscribe here!
Order my cookbook, Quicker Than Quick! If you have 1 minute, would you mind leaving a review on amazon? I would be so grateful, thank you! Take a peek at my first cookbook "Kitchen Matters"!