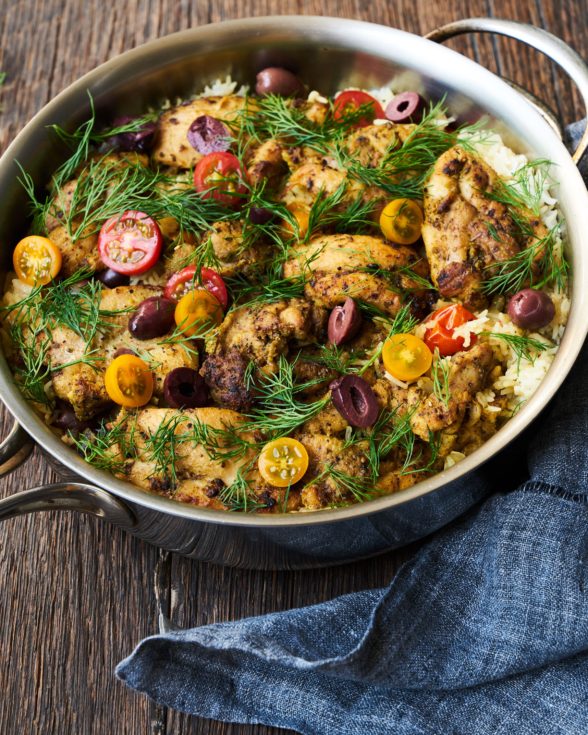 This is probably my favorite weeknight chicken dish.  I love rice.  I love Mediterranean flavors. Sometimes I eat a couple bites of the chicken, sometimes I do chickpeas instead.  It's fast, easy and super tasty.  I recently taught this recipe live on a zoom class and I cooked it in real time with all the participants.  It was a huge hit!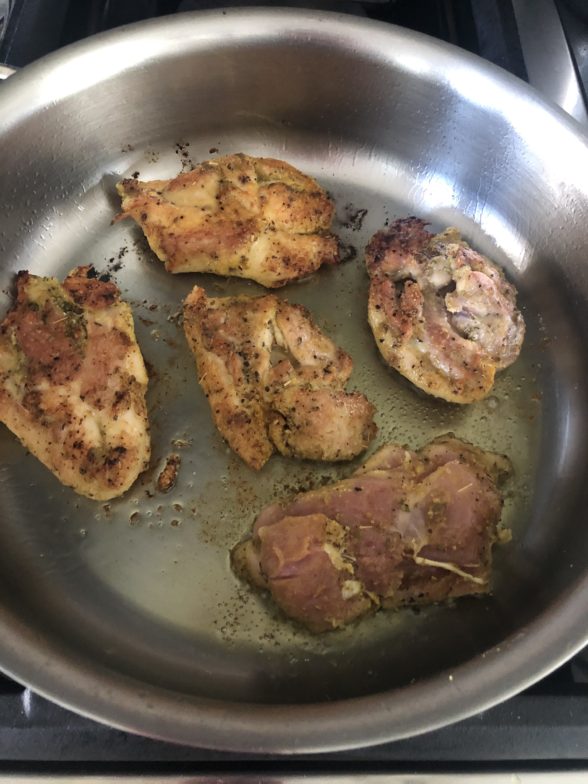 You can even prep many of the components in advance.  You can season the chicken in the morning if you want.  Dice the vegetables early, as well.  In fact, and I don't say this often, this dish reheats really well and even freezes well if you have too much.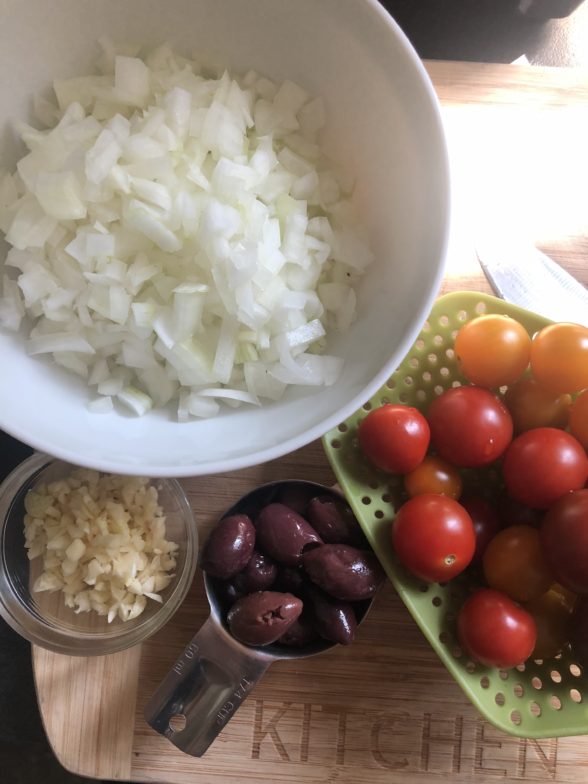 Another option if you happen to be following my "no grocery shopping January" is to stretch out leftovers by cutting everything into bite size pieces and adding enough stock to create a soup.  Warm through and you have an easy, delicious meal!  I do this all the time with casseroles and leftover grains, legumes, poultry and vegetables.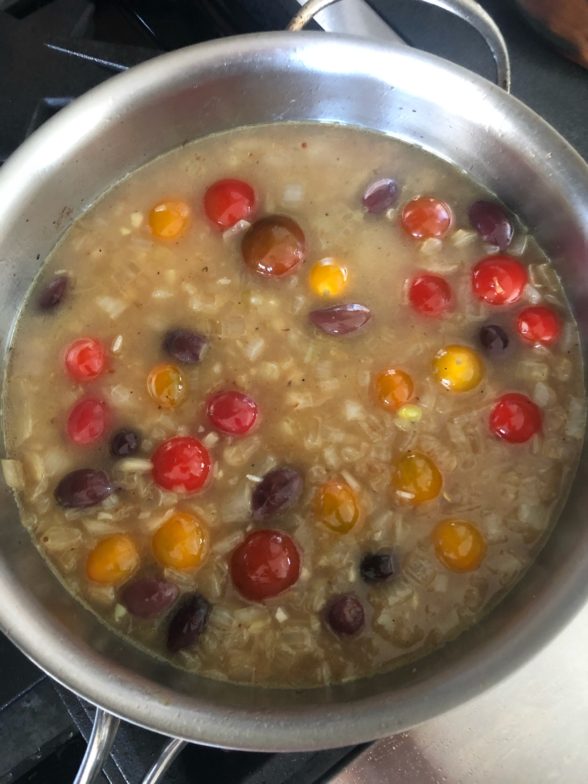 If you have my book Quicker Than Quick, you might recognize the "formula" here, which I used in the Weeknight Arroz con Pollo recipe.  I point that out in case some of you feel comfortable going off script.  You can take a formula recipe and adjust the seasonings and veggies to create something totally different!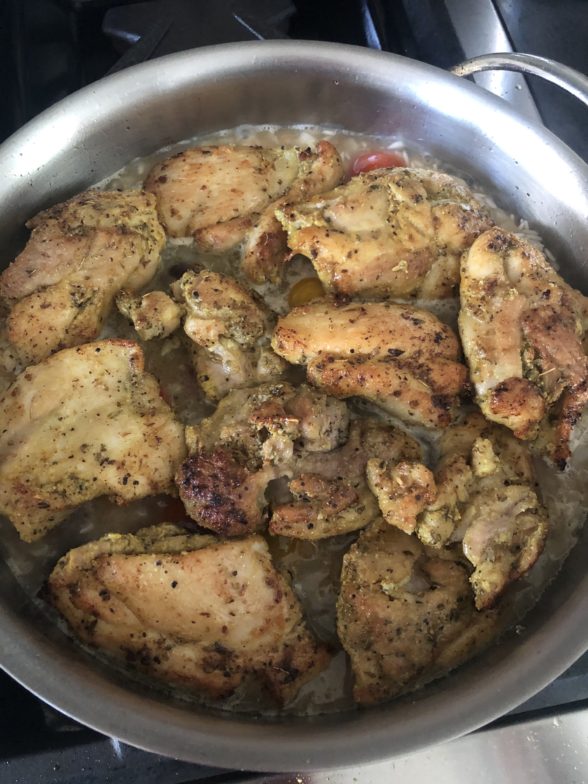 And of course, you can take this recipe and make it vegan (check the notes at the bottom of the recipe); make it with seafood (you would add shrimp or cubes of fish in the last minutes instead of at the beginning); sprinkle feta or toasted pine nuts over the whole thing; use a different grain with the same/similar cook time like quinoa.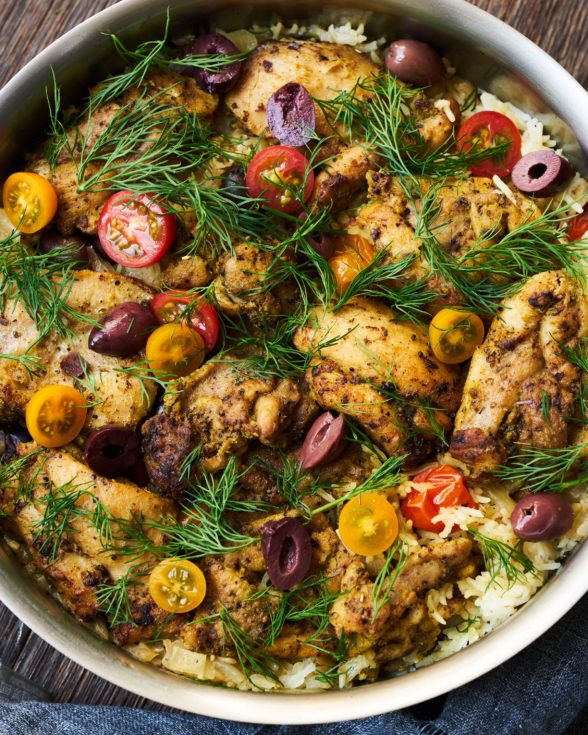 The best part about this is that it's a one-pan meal.  Sure, extra veggies on the side are ideal.  I'd serve sauteed greens, a fresh salad, garlicky broccolini, or grilled eggplant, depending on what's in season.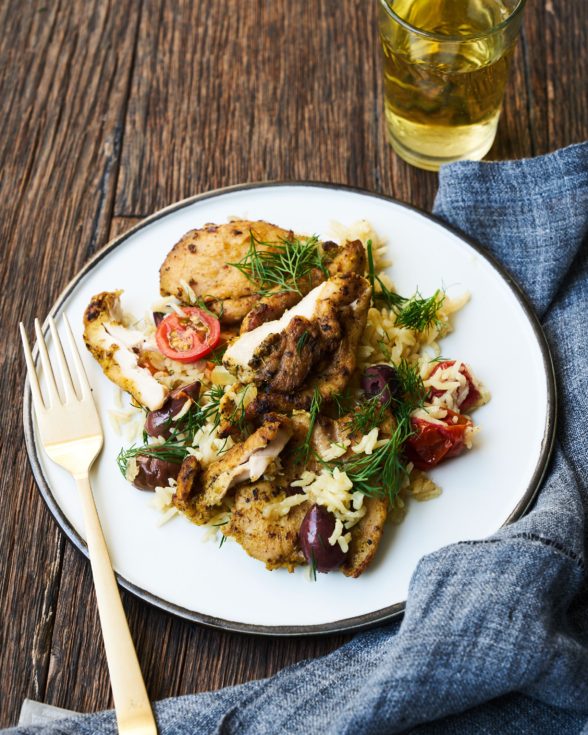 Let me know if you make this or any of my recipes by tagging me @pamelasalzman #pamelasalzman.  Every time I see your beautiful creations, it just makes my day!  Sending you peace, love and all good things!  xo

Mediterranean Skillet Chicken and Rice
Ingredients
1 ½ teaspoons garlic powder or granulated garlic
1 ½ teaspoons dried oregano or za'atar
½ teaspoon ground cumin
½ teaspoon ground sumac or finely grated zest of 1 lemon
¼ teaspoon ground coriander
¼ teaspoon ground turmeric
2 teaspoons sea salt, divided
freshly ground black pepper to taste
1 ½ pounds boneless, skinless chicken pieces (breasts and/or thighs), patted dry and cut into 2-inch pieces (thighs can be cut in half or left whole if small)
3 Tablespoons unrefined oil of choice – olive or avocado
1 onion, chopped
3 garlic cloves, chopped
1 large fresh tomato, diced or 1 cup of whole cherry tomatoes, or ¾ cup chopped jarred tomatoes
1 ½ cups long-grain white rice (Trader Joe's organic white basmati rice is my favorite)
2 cups low-sodium chicken stock, vegetable stock or water*
¼ cup Kalamata olives, pitted
(optional) chopped fresh parsley and/or dill (I prefer dill)
Instructions
In a medium bowl, mix together the garlic powder, oregano, cumin, sumac, coriander, turmeric, 1 teaspoon of salt (if using unsalted stock), and a few grinds of black pepper. Add the chicken and toss to coat well. (This can be done a day in advance, if desired.)
In a 10-inch straight-sided saute pan, warm the oil over medium heat. Add the chicken pieces in one layer and brown on two sides, about 2-3 minutes each side. Do not cook through and do not brown too much. Transfer the chicken back to the bowl (it doesn't matter that this had raw chicken in it since the chicken still has to be cooked again.)
Add the onion to the pan and sauté until slightly tender, about 5 minutes. Add the garlic and 1 teaspoon salt and cook until fragrant, about 1 minute.
Add the tomatoes to the pan and raise the heat, scraping the bottom of the pan to deglaze and remove the bits stuck to the bottom. (If using cherry tomatoes, add with the next ingredients.)
Add the rice, stock, and olives and bring the liquid up to a boil. Arrange the chicken pieces on top. Lower the heat to a simmer, cover and cook for 20 minutes. Most of the liquid should have been absorbed. Garnish with herbs (if using) and serve immediately or allow the dish to sit off the heat, covered, for 10 minutes.
Notes
*If using unsalted stock or water, use 1 teaspoon salt in step 1 and 1 ½ teaspoons salt in step 3.
If you don't eat chicken, swap a pound (or so) of COOKED chickpeas or white beans. Start the recipe with sauteing the onion and add the spices with the garlic. Add the beans with the rice. Same cook time.
If you need more chicken, multiply chicken and spices times 1.5. Same cook time.
Do not use a skillet that is too large or the rice will not cook properly.
I have found that some white rice brands take longer to cook - like Whole Foods. You may need to cook for an extra five minutes and allow to sit off the heat COVERED until the tenderness is perfect. Trader Joe's organic white basmati rice is my preferred rice. You can also use quinoa. Reduce water by a little.