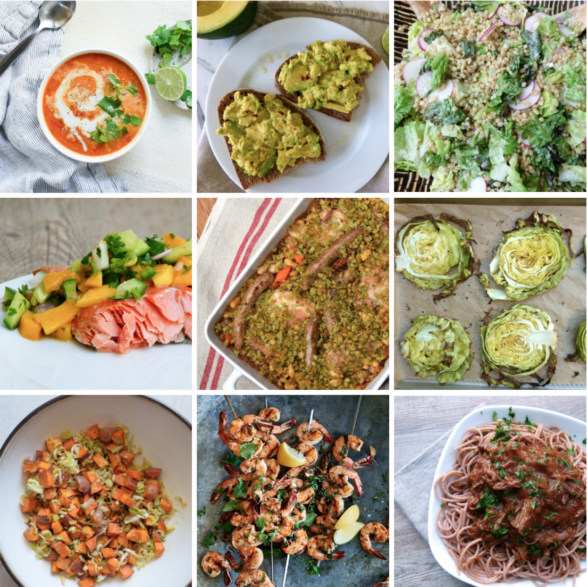 Brrrrrr!!!! I've heard from many of you recently that you are having quite the winter.  Even LA has been unseasonably chilly (and wet.)  I don't know why 50 degrees here feels much colder than 50 degrees in NY.  Is there a logical explanation for this?  I have retreated to Palm Springs for the long weekend as I always do for President's Weekend to participate in Modernism Week.  Mr. Salzman is a home builder and Modernism afficionado, so I go to keep him company and basically have a little change of scenery.  Alas, even in Palm Springs the weather isn't too groovy and won't be above 60 degrees.  Sad face.
Let's talk about food for a minute.  I have been talking a lot more in my classes, both in person and online, about how to become more confident in the kitchen, see formulas in recipes, make substitutions more comfortably, and ultimately be able to cook without a recipe.  If I didn't have to develop as many actual recipes as I do, I would really just cook more from what I had in my pantry (see Saturday's lunch idea.)  This week I made one of the most satisfying meals in minutes without a plan or a recipe.  I riced a bunch of leftover cauliflower cores and half a raw sweet potato to make cauliflower rice and sweet potato rice which I sauteed with garlic, salt and some Countertop Foods kitchari spice blend + some leftover cubed chicken.  I topped it with cubed avocado, some leftover turmeric yogurt (greek yogurt + turmerice), and fermented hot sauce.  Unbelievably good.  Any LA restaurant would charge $18 for that bowl.  Try this method out and let me know what you come up with.
Here's your dinner planner for the week:
Meatless Monday (President's Day): Curried Lentil, Tomato and Coconut Soup, avocado toast (if you need more, try adding a hard boiled or fried egg to either the soup or toast.  My son has eaten the soup with cooked rice to make it heartier.)
Tuesday: Wheat Berry Salad with Lemon and Tahini Dressing, slow roasted salmon (omit mango salsa) (I made slow roasted salmon recently with a little avocado oil and a sprinkling of Countertop Foods Grilling Seasoning Blend + lemon on the side.)
Wednesday: Weeknight cassoulet, roasted cabbage
Thursday: Roasted Sweet Potatoes with Leeks and Garlic Dressing + add some reheated cooked white beans or lentils for protein, sautéed spinach or chard
Friday: Chipotle shrimp tacos using the grilled shrimp recipe from my book. The shrimp can be sauteed in a skillet if you don't live in an area where you can grill in the middle of February ;).  You can substitute lettuce leaves/wraps for the tortillas and use your favorite taco toppings. I personally love organic avocado, micro-greens and pickled onions (p. 109 in my cookbook.) + Mexican or Cuban black beans
Saturday lunch: "When In Doubt, Saute It Out!"  This is my mantra.  Empty the crisper drawer and chop everything up or pulse it in the food processor.  Saute garlic and a pinch of crushed red pepper, first add in raw veg (saute until tender), then frozen veg (saute until tender), then leftovers (saute until warmed through.)  Add spices like curry or turmeric or Italian seasoning and salt and pepper to taste.  What else do you have that would taste good here?  Nuts or seeds?  Avocado or a cooked egg?  Canned tuna or salmon?  Leftover tahini sauce?  Hot sauce?  It will be delicious.  
Sunday: Shredded Beef Brisket Sauce on pasta or spaghetti squash or polenta or shirataki noodles; roasted cauliflower and carrots, use this method. 
Here's what you can do ahead if it helps you:
Sunday: 
make all marinades, sauces and dressings
cook all grains and legumes
wash and prep any veggies
Saturday
Make brisket sauce
You can also make spaghetti squash a few days ahead and reheat.
Here's a link to my previous dinner planners.
I have LOVED seeing all your creations of my recipes on Instagram.  If you make any of my recipes, please tag me @pamelasalzman #pamelasalzman so I can check them out!
Click here to learn more about my online cooking classes!
If you like my recipes, you'll LOVE my cookbook!