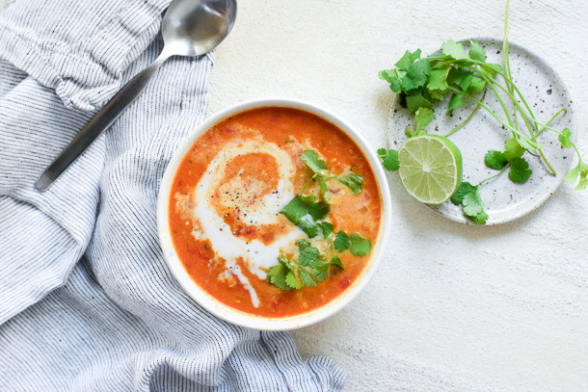 I've become soft.  That's what my East Coast family and friends tell me.  LA has had an unusally cold and rainy winter and I can't get warm.  By "cold," I mean below 60 degrees, but above 40 degrees.  I know my friends in the midwest have NO sympathy for me.  I wouldn't either.  But what to do if you feel cold?  Make a warming soup.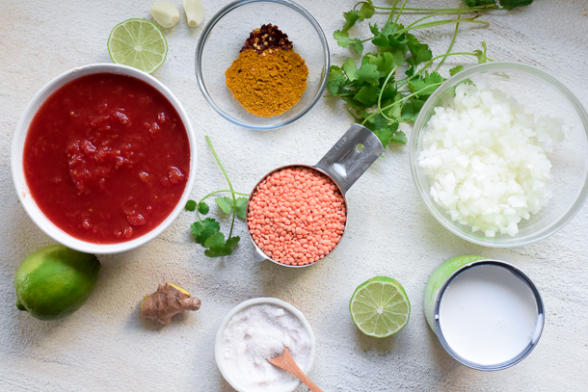 I can't stop making this winner from Bon Appetit and I thought it would be easier for all of us if the recipe had a permanent place on my website.  If I didn't have to recipe-test all the time, I would make this soup more often!  It is everything I love:  comforting, easy, flavorful, nutritious, inexpensive and makes use of pantry staples.  I mean, what more could you ask for?  The dominant flavor here is the curry powder, but it's not overwhelming.  My family liked it the way it's written, I would not have minded a little more or even a little more heat because I really like spicy food.  Red lentils have become a regular ingredient around here and they're easy to find.  I love the way they turn into mush when they're cooked – pure comfort!  Plus they have loads of fiber and protein making this an excellent meatless meal or weekend lunch.  My son takes leftovers in his thermos with a few whole grain crackers!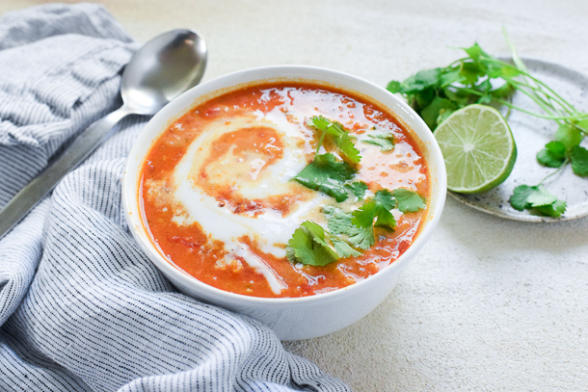 Back to warming foods for a minute.  If you are trying to stay warm, please do not drink cold drinks, smoothies, and raw foods/salads.  These all have a cooling thermal nature and will work against your desire to feel warm.  Warm soups and cooked foods, ginger and spices, black pepper and broths are where it's at.  I hope you all have a wonderful President's Weekend!  Check back for my dinner planner which I always post on Friday nights.  If you are participating in my online cooking classes, the February class is UP!
Please tag me on Instagram @pamelasalzman #pamelasalzman so I can see all your creations. I love seeing what you are cooking up!!
You can shop the tools I used for this recipe by clicking on the images below:

Curried Lentil, Tomato and Coconut Soup
Ingredients
2 tablespoons virgin coconut oil or extra-virgin olive oil
1 medium onion, finely chopped
2 garlic cloves, finely chopped
1 2½-inch piece ginger, peeled, finely grated
1 tablespoon medium curry powder (such as S&B)
¼ teaspoon crushed red pepper flakes
¾ cup red lentils
1 14.5-ounce can crushed tomatoes
½ cup finely chopped cilantro, plus leaves with tender stems for serving
Kosher salt, freshly ground pepper
1 13.5-ounce can unsweetened coconut milk, shaken well
Lime wedges (for serving)
Instructions
Heat oil in a medium saucepan over medium. Cook onion, stirring often, until softened and golden brown, 8–10 minutes.
Add garlic, ginger, curry powder, and red pepper flakes and cook, stirring, until fragrant, about 2 minutes.
Add lentils and cook, stirring, 1 minute.
Add tomatoes, ½ cup cilantro, a generous pinch of salt, and 2½ cups water; season with pepper. Set aside ¼ cup coconut milk for serving and add remaining coconut milk to saucepan.
Bring mixture to a boil; reduce heat and simmer gently, stirring occasionally, until lentils are soft but not mushy, 20–25 minutes. Season soup with more salt and pepper if needed.
To serve, divide soup among bowls. Drizzle with reserved coconut milk and top with more cilantro. Serve with lime wedges.
Notes
Do Ahead: Soup (without toppings) can be made 3 days ahead. Let cool; cover and chill.