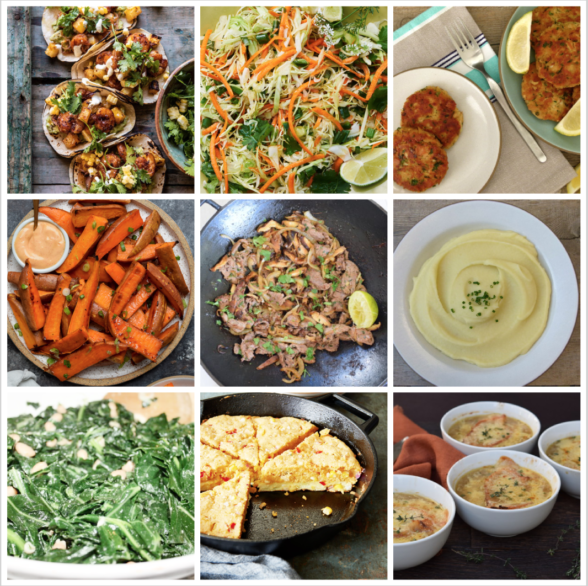 The holiday weekend is upon us, but it doesn't have the same excitement as usual.  Hubs is a bit grumpy because we always go to Palm Springs for Modernism Week during President's Weekend and, of course, it was canceled.  Le sigh.  I'll make some pink pancakes on Sunday and cut fruit and vegetables and tortillas into heart shapes and have some fun.
Many people have asked me to repeat the free webinar I did last April and I think I may be able to do it again next Friday, February 19th.  If you subscribe to my website, you'll get an email notification to sign up.  For my monthly online cooking class students, I uploaded your new class a few days ago!  The recipes and info in the class are great!
For those of you interested in my next bootcamp, I am probably repeating my original which I have only taught once – Healthy Cooking Made Quick and Easy.  My plan is to start that course the first week in March and open sign-ups 7-10 days before.  Website subscribers will get an email!  Here's your dinner planner for the week:
Meatless Monday: chicken pot pie soup (or leftovers soup) – take your leftovers and cut into bite size pieces, if necessary. Put in a pot and add enough chicken or vegetable stock to create a soup consistency. Heat and serve!
Tuesday: sheet pan hawaiian pineapple shrimp tacos from Half Baked Harvest, cilantro-lime slaw
Wednesday (Lent begins): tuna patties, green salad (I'll probably add red cabbage, radishes and carrots), everyday salad dressing #2 and sweet and spicy sweet potato wedges
Thursday: stir-fried ginger beef with shiitake mushrooms served with black rice or cauliflower rice
Friday: Braised greens and beans (this is such an underrated recipe – I absolutely love it!), cauliflower mashed potatoes
Saturday brunch: Tex-mex frittata corn bread from Kitchen Matters
Sunday: French onion soup
Here's what you can do ahead if it helps you:
Sunday:
Wash greens
Make salad dressing
Make sauce for shrimp
Wipe mushrooms clean
Tuesday:
Assemble tuna patties
Wednesday:
Cook beans, if making from scratch
Break cauliflower into florets
Thursday:
Make stock
My new-ish cookbook, Quicker Than Quick, is here!  I have LOVED seeing all your creations of my recipes on Instagram. If you make any of my recipes, please tag me @pamelasalzman #pamelasalzman so I can check them out!  If you have 1 minute, would you mind leaving a review on amazon?  I would be so grateful, thank you!
Take a peek at my first cookbook "Kitchen Matters"!