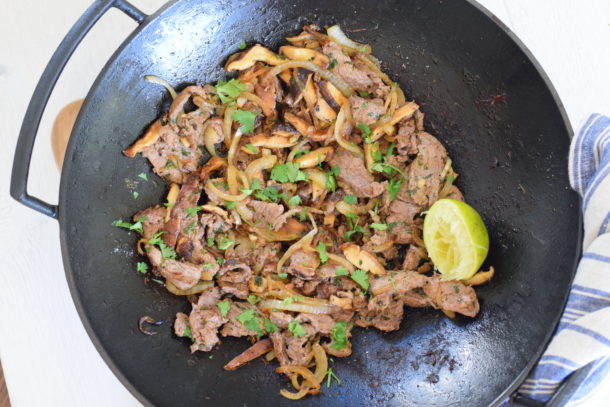 Admittedly, these images aren't the best, because I took these after the sun set and everyone was rushing me to eat.  "OMG.  Can you puh-leeease take the picture already?  I'm starving!"
"Puh-lease yourself.  You just ate 2 hours ago and 4 hours before that.  Fine, I'm almost done.  Can you just get out of my light a little?"
"Ugh!"  Sorta happens a lot around here.  😉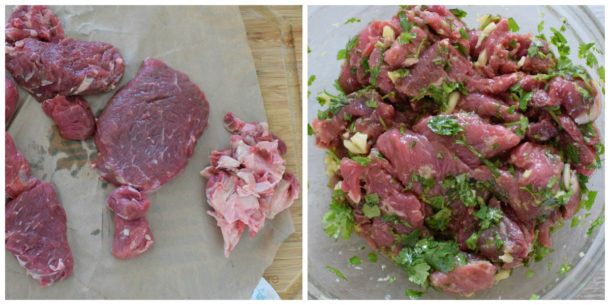 Because I believe so much in the tastiness and simplicity of this recipe, I figured you would trust me and look past the fact that it doesn't look Insta-worthy!  There are so many things I love about this recipe, despite the fact that I personally do not like or eat beef.  My family loves meat of every kind, though.  And this is a stir-fry with a different, fresher flavor.  I used to think of stir-fries as having a heavy, soy-based sauce.  Not that there's anything wrong with that.  I have several recipes on the blog like that.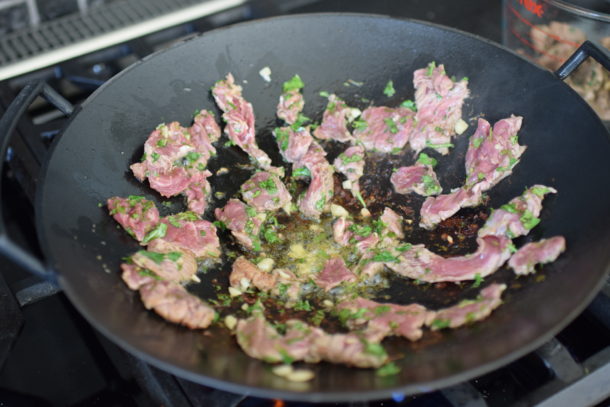 But I like to mix it up a little, and I love the cleaner flavor of this dish with lots of cilantro, ginger, garlic and a nice squeeze of lime at the end.  This recipe is really easy and doesn't require any unusual bottles of Asian ingredients you may or may not use again. Plus, many of my students are playing around with a Paleo diet or certain elimination diets, and these ingredients fit in perfectly.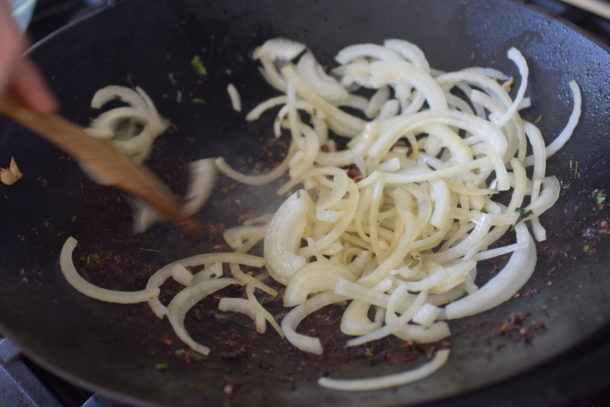 I always, always opt for grass-fed beef and have written about it many times on the blog.  I will literally not buy beef at all and change my menu if I cannot buy grass-fed.  But I don't make that much red meat for my family regardless.  Maybe I make it three times a month, and even then I am serving few ounces per person (e.g. meatballs, kabobs, stew.)  Meat can be pro-inflammatory and I try to limit those foods.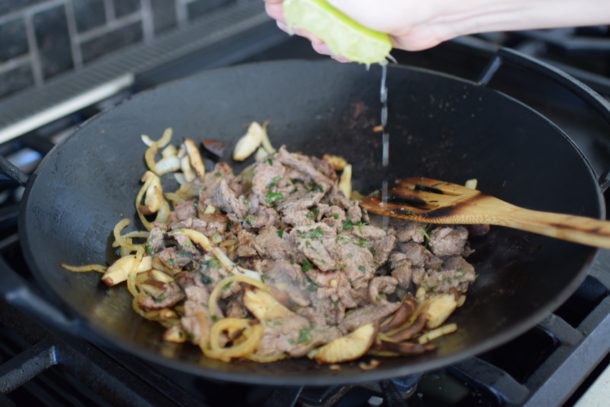 My family likes this stir-fry with plain or cilantro-lime rice.  You can also go with cauli-rice for a grain-free/Paleo meal.  Or serve it with Mexican-style sautéed greens or grilled broccolini.  Why not??  Or skip the extra veg side since there are plenty of nutrient-rich shiitake mushrooms here — always a favorite of mine and so, so good for you!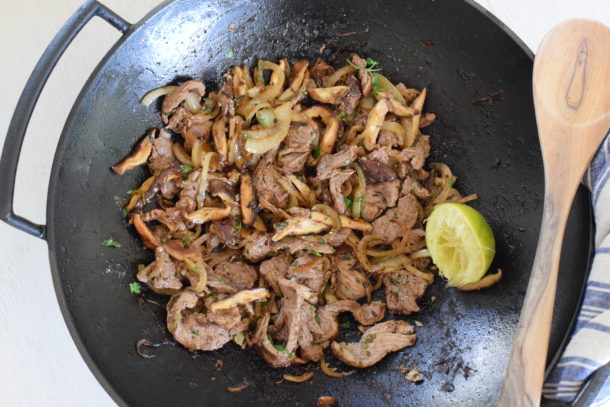 This is one of my last recipes the non-Thanksgiving type.  Since this Thursday is exactly 4 weeks from Thanksgiving, look out for my posts on how to organize yourself for the holiday which I consider to be the Olympics of cooking, as well as lots of great Thanksgiving recipes to give your menu a makeover!

Stir-Fried Ginger Beef with Shiitake Mushrooms Recipe
Author:
Pamela, adapted from The Produce Bible
Ingredients
1 pound grass-fed beef, such as rib-eye, sliced thinly against the grain
2 tablespoons finely chopped fresh ginger
4 cloves of garlic, chopped
¼ cup cold-pressed extra-virgin olive oil
1 cup fresh cilantro leaves, chopped (can have some stems, too)
Sea salt and freshly ground pepper
1-2 tablespoons coconut oil
½ pound shiitake mushrooms, sliced ¼-inch thick
½ large onion, sliced thinly
Juice of half a lime
Instructions
Combine beef with ginger, garlic, olive oil and cilantro in a bowl. Cover and refrigerate for 1-2 hours. Bring beef out of refrigerator at least 45 minutes before cooking. (If you are pressed for time, marinate at room temperature for 1 hour.)
Heat a wok or a large (12-13 inch pan) over medium heat and add half of the meat mixture. Season with sea salt and pepper. Stir fry 2 to 3 minutes, just until cooked. Remove the meat and stir fry the next batch, seasoning first with sea salt and pepper.
Heat the coconut oil in the pan over medium-high heat and cook the onion until softened, 3-4 minutes. Add the shiitake mushrooms and season with sea salt. Stir fry the onions and mushrooms until the mushrooms have softened and are cooked through, about 4-5 minutes.
Return the meat to the pan and squeeze the lime over the meat and vegetables. Toss to coat and season with sea salt and pepper to taste.