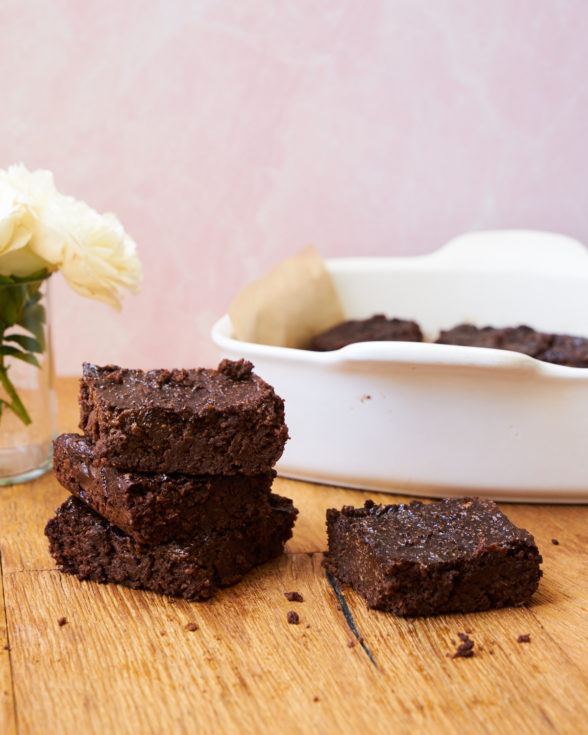 Oh, I have been waiting with such excitement to post this Sweet Potato Brownie recipe.  After I taught it in my classes, my students were making it like crazy, posting it, and everyone was messaging me for the recipe.  The wait is over and just in time for Valentine's Day.  Never say I don't love you. 😉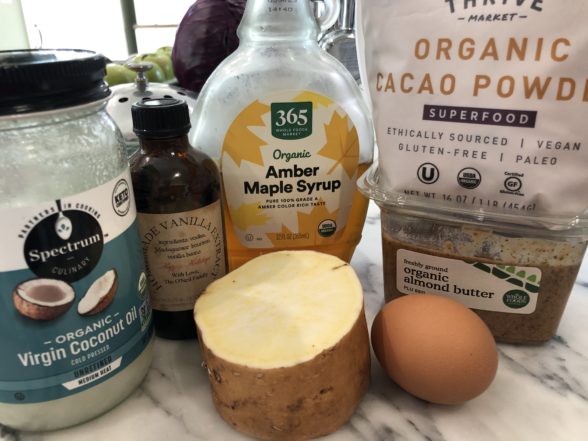 The recipe is a twist on my chocolate zucchini cake, arguably one of my most popular recipes ever.  If you haven't made it, you absolutely must!  If you can't eat almonds, swap in another nut butter.  If you can't eats nuts, swap in tahini (sesame seed paste.) Back to these sweet potato brownies.  What's the difference between the two?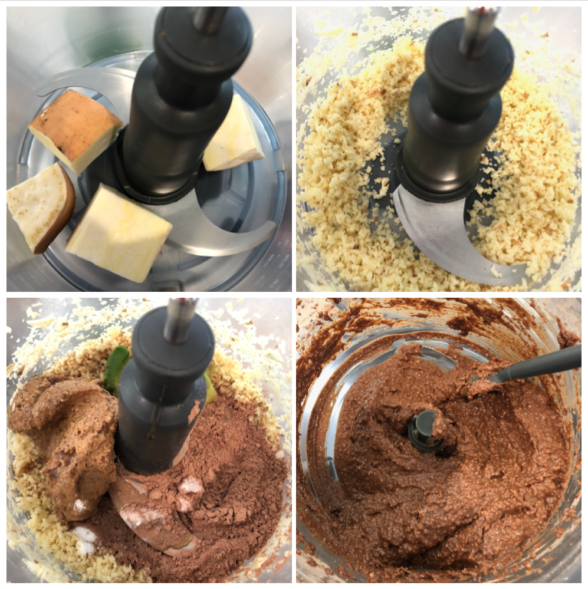 The chocolate zucchini cake is more like cake and this recipe is more dense and fudgy. They're both fabulous and they're both grain-free.  The sweet potato brownie recipe can use avocado instead of oil.  I actually prefer them with avocado and it's a great way to use avocado that's less than gorgeous.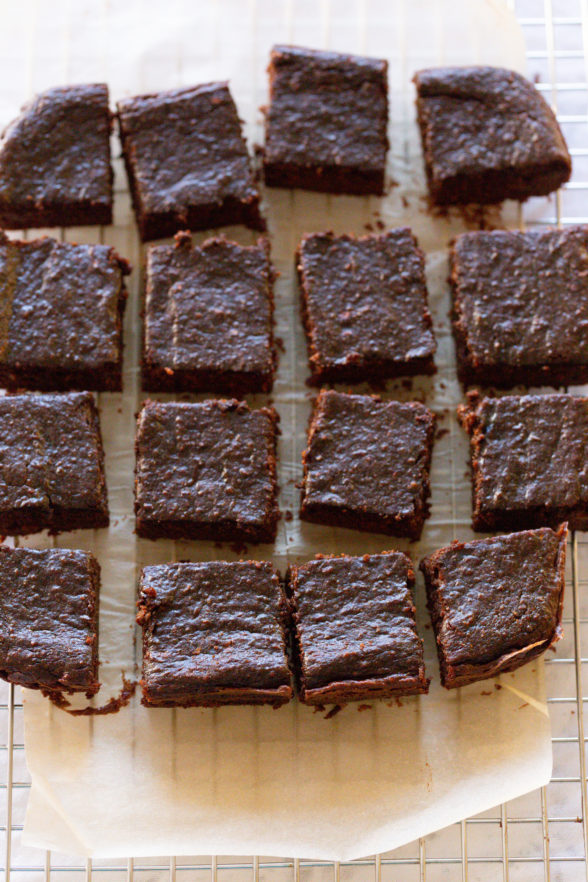 Because this is also grain-free, it holds up beautifully in the fridge.  Even up to 10 days without compromising texture.  I didn't feel the need to add chocolate chips here, but you could if you love chocolate overload.  You could also add fresh raspberries on top if you were going to eat them all in a day or two.  After that, fresh raspberries become mushy.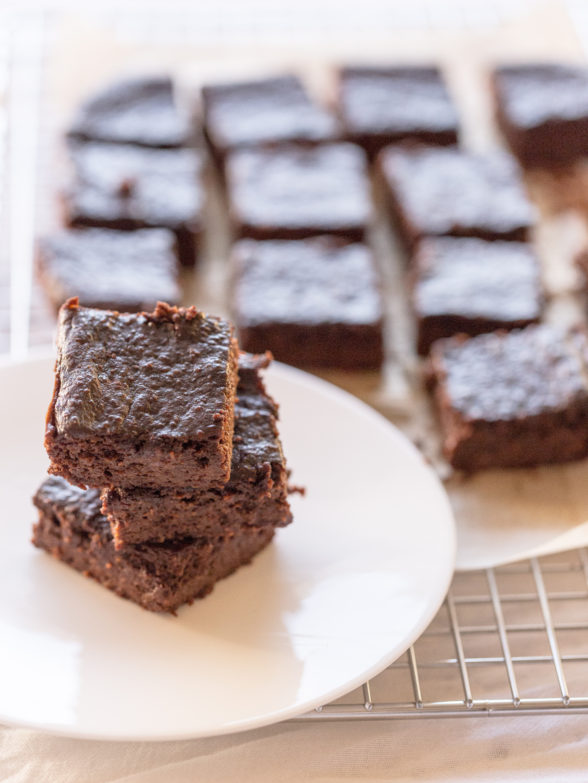 What's life without a little sweet something now and again?  I really avoid things that I know will make me feel physically awful after eating them.  Not because I feel "guilty" (I'm older and wiser and guilt is silly when it comes to eating food) or afraid (also a little silly – there are many more things to fear in this world.). But I genuinely dislike feeling physically yucky.  These sweet potato brownies taste delicious and do not make me feel yucky!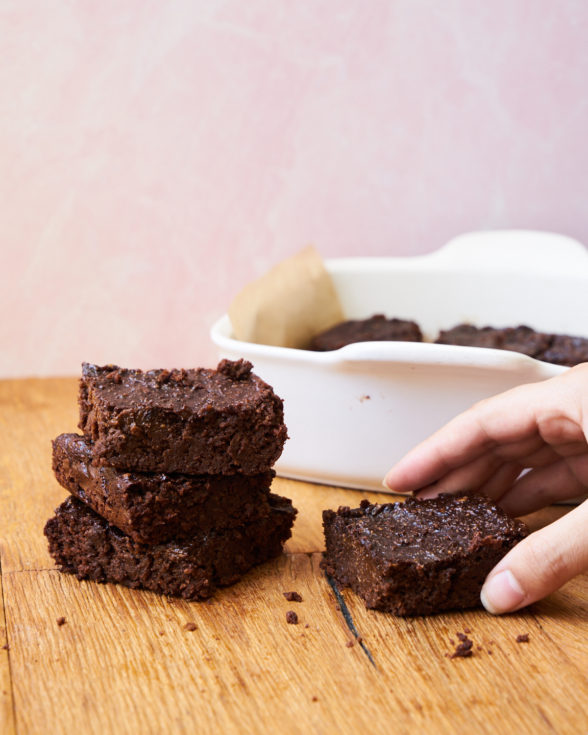 You can indeed have your cake and ENJOY it, too!  And if you get a few extra benefits from almonds, sweet potatoes and avocado, so be it.  Happy Valentine's Day, my lovelies!  Don't forget to tag me when you post anything you make from my site, my classes or my cookbooks.  I love sharing all your creations with my community!
You can shop the tools I used for this recipe by clicking on the images below:

Sweet Potato Brownies
Serves:
8 x 8-inch pan, about 16 small squares
Ingredients
5-6 ounces unpeeled RAW sweet potato, any variety, cut into large chunks
¾ cup raw or roasted creamy almond butter or cashew butter (tahini would probably work here)
1 large egg ( a flax or chia egg would probably work here)
⅓ cup unsweetened cocoa powder
½ cup pure maple syrup or date syrup
¼ cup avocado (about ½ of a small avocado) or ¼ cup melted unrefined coconut oil or avocado oil
1 ½ Tablespoons pure vanilla extract
¾ teaspoon baking soda
½ teaspoon sea salt
Instructions
Preheat oven to 325 degrees. Grease an 8 x 8 inch pan with coconut oil and line with unbleached parchment paper, leaving a tab on either side for easy removal.
In the bowl of a food processor fitted with the metal blade, process sweet potato until very small, like rice. You want to press "on" or "start," not just pulse it. The smaller, the better. You should have 1 cup of riced sweet potato. If you have a smidge more, that's ok. Add in all remaining ingredients and process until smooth.
Pour batter into prepared pan and bake for 30 minutes or until set, but still soft in the center. Leftovers can be stored at room temperature for 1-2 days and then stored covered in the refrigerator for up to a week.
Notes
If you'd like to add ½ cup chocolate chips, stir them into the batter before pouring into the pan. Or you can sprinkle some on top of the batter before it goes into the oven. Very optional!
I prefer these brownies with fresh avocado over oil, but both work great.