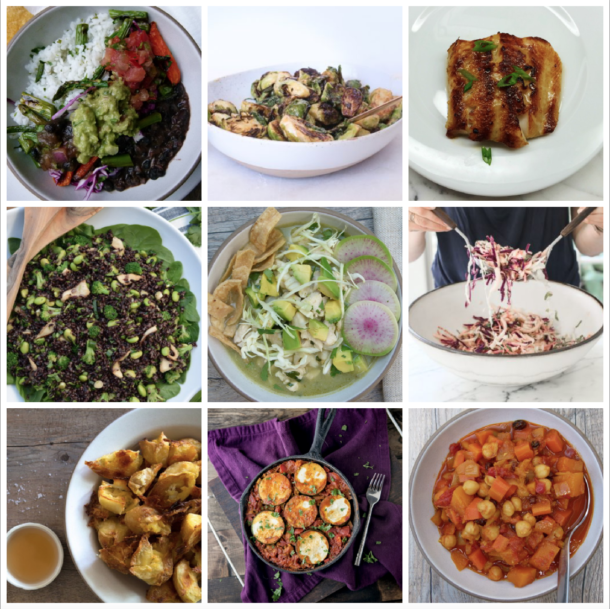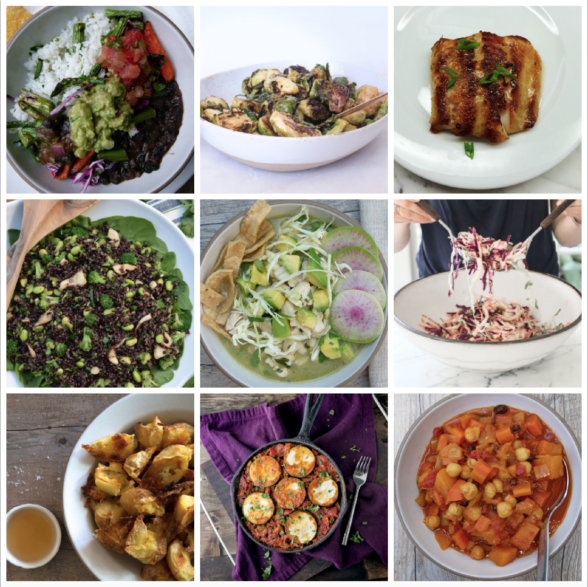 I saw a quote on Hoda Kotb's Instagram feed, "Friday the 13th is still better than Monday the whatever."  Love that. 🙂  This felt like a looooong week.  Lots of great stuff coming up this week like a book signing at Salutations Home in Pasadena on Monday, October 16th from 9:45 am to 11:45 am.  Then I am taping a segment on Hallmark's "Home & Family" on Thursday which will air Friday, October 20th.  Annnnnd, I'm teaching 4 classes!  Hope you guys have a great weekend!
Here's your dinner planner for the week:
Meatless Monday: rice and bean burrito bowls, guacamole, chipotle brussels sprouts and any other roasted veg you want to add (carrots, zucchini, peppers, onions, sweet potato etc.)
Tuesday: miso glazed cod, black rice and edamame salad
Wednesday: chicken posole verde, jicama slaw
Thursday: cabbage and fennel sauté with turkey sausages, add salt and vinegar potatoes if you want a starch
Friday: zucchini paella from naturally ella
Saturday lunch: butternut squash and chickpea stew
Sunday: South American roast chicken with green sauce from my cookbook, baked sweet potato fries (use this recipe for chipotle fries, but just season with coconut oil, salt and pepper), green salad
Here's what you can do ahead if you need:
Sunday
Make chicken or vegetable stock
Wash your greens and herbs
Soak your white rice or even make the cilantro rice and refrigerate for Monday night dinner
You can also blanch and refrigerate your brussels sprouts and refrigerate them until Monday night, but be sure to shock them in ice water to stop the cooking process and drain and dry them before putting them in a container in the fridge.
Blanch edamame
Cook the black rice
Make the salad dressing for the black rice salad and the jicama slaw
Cook the hominy for the posole if you can't find already cooked hominy
Cook chickpeas unless using canned.  Freeze until Friday and defrost.
Wash cilantro, allow to dry and bag.
Monday
Marinate the miso cod for Tuesday night
Saturday
Prepare/marinate the South American roast chicken and refrigerate
Make the green sauce for the South American roast chicken
Here's a link to my previous dinner planners.
If you like my recipes, you'll LOVE my new cookbook!