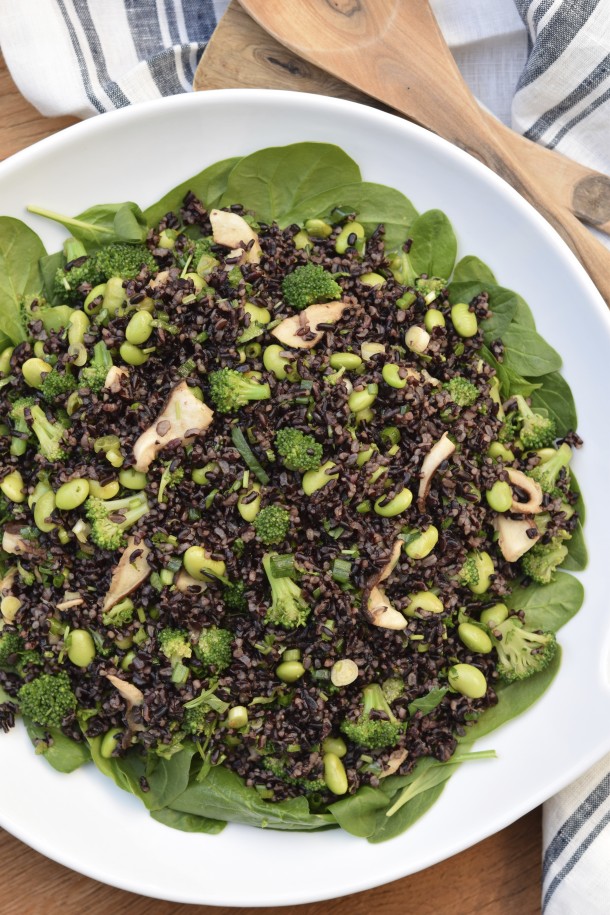 What is UP with the weather??  It has been crazy hot in LA, even at the beach where I live.  And then I speak with my parents and my sisters in NY, and they're freeeeeezing.  The reason this matters to me is that you, my dear readers, are a diverse group from not only all over the US, but all over the world.  And when I create my dinner planners for the week or decide what to post on my blog, it's a hard decision!  Cold food versus warm food, hearty or light?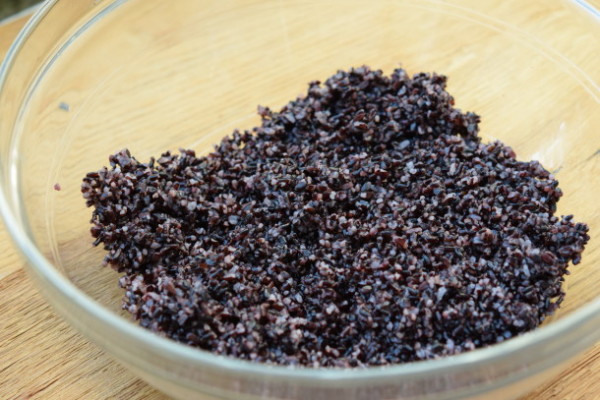 I spent the weekend in Palm Springs, where we always go to partake in the Modernism Week events. My husband, who is a builder, is really into design and checking out the mid-century homes.  I go to have a little quality time with my family, some R&R, and to check out the food scene.  Speaking of which, I had an absolutely delicious and satisfying black rice and salmon bowl with perfectly cooked vegetables for dinner one night and I can't stop thinking about it.  I love meals in a bowl!  Two of my kids used to hate if any of their food touched other food. But I like have it all mixed in one bite.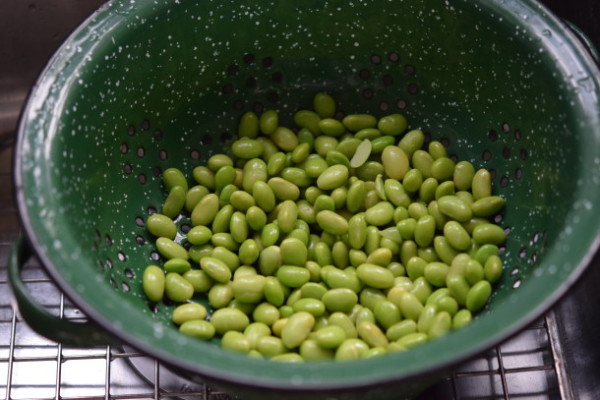 After eating that rice bowl, I was reminded about this black rice salad I taught in a class a few years ago. This is the kind of recipe I love – eat it warm or room temp, mix up the vegetables according to the season, adjust the ratio of rice and vegetables to favor more veggies and less rice, change the grain to something else. And just like that one recipe becomes dozens.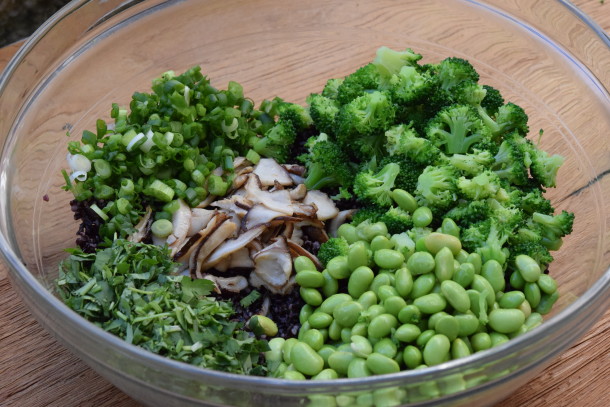 Unfortunately, black rice is a grain that doesn't get a lot of attention. There are so many different varieties of rice, with different shapes, flavors and starch levels, but also different nutrients.   Black rice, also known as forbidden rice, is very unique and I think the least common, but still easy to come by. The color is a color not easily found in nature and is due to the presence of anthocyanins, a powerful antioxidant associated with health benefits such as memory improvement and decreased risk of heart disease and cancer.  One spoonful of black rice bran provides the same amount or more anthocyanins in a spoonful of blueberries. Black rice also contains more protein, fiber and iron than brown rice.  The flavor is slightly sweeter than regular rice and the grain is rather small and chewy. I love it.  Black rice makes a delicious rice pudding and "unfried" rice.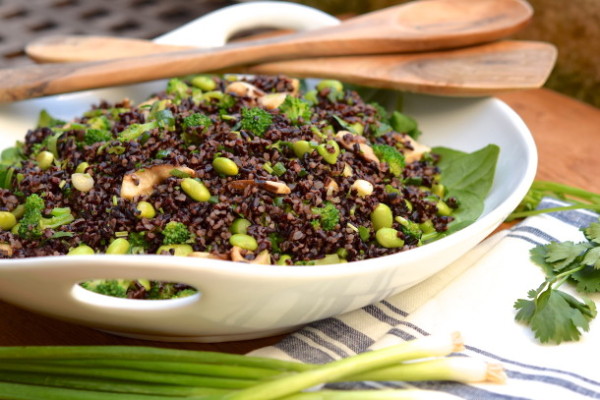 This dish has a bit of an Asian flavor and would be amazing topped with a piece of salmon, shrimp or chicken, or with an egg (poached or fried.)  Seared tofu would be great, too.   Although you don't need any additional protein given the presence of edamame, if you choose to use them.  In this version I used a little less rice and added blanched broccoli florets and put it all on a bed of spinach. The good news is that this recipe is great wherever you live, whatever the weather and it's easy-peasy.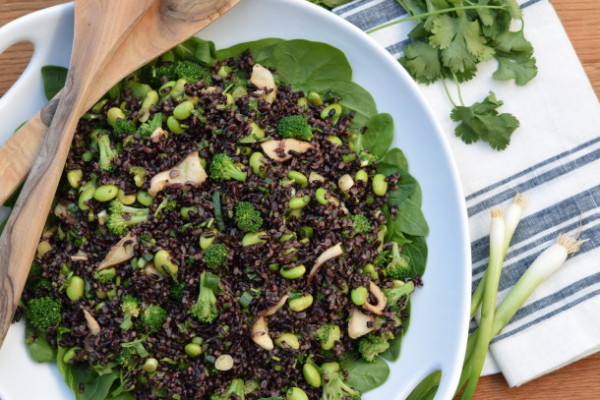 Black Rice Salad with Edamame Recipe
Ingredients
2 cups black rice (or you can make less rice and more veggies)
a pinch of kosher salt (like Diamond Crystal)
1 Tablespoon unrefined coconut oil (or olive oil, if you prefer)
1 cup thinly sliced shiitake mushrooms, or mushroom of choice
1 cup edamame (frozen or fresh), blanched in boiling water for 5-6 minutes and then rinsed under cold water to stop the cooking process
½ cup chopped fresh cilantro leaves and tender stems
½ cup thinly sliced green onions (green tops are milder than the white bottoms)
3 Tablespoons shoyu + 1 Tablespoon water or ¼ cup high-quality soy sauce (use gluten-free tamari for a GF option)
2 Tablespoons unseasoned rice vinegar
1 Tablespoon liquid sweetener such as coconut nectar, raw honey or pure maple syrup
1 ½ teaspoons unrefined toasted sesame oil (dark)
Instructions
Place the rice and a pinch of kosher salt in a medium to large pot and cover with water by about 3 inches. Bring to a boil over high heat, cover, lower the heat to a simmer and cook until the rice achieves desired tenderness. (If you like it a little crunchy, 20 minutes. For softer rice, cook up to 45 minutes.) Drain in a sieve and rinse under cold water to stop the cooking process. Drain really well and then transfer to a serving bowl.
Heat a medium skillet over medium-high heat, and warm the oil. Saute the mushrooms until tender, about 4 minutes. Add to the rice along with the edamame, cilantro and green onions.
Make the dressing: in a small bowl, whisk together the shoyu, rice vinegar, coconut nectar and sesame oil.
Pour the dressing over the rice and vegetables and stir well to combine. Serve.
Notes
There are unlimited ways to change the ingredients according to the seasons – blanched asparagus and peas or mango, avocado and peanuts in the spring, cucumbers and sweet bell pepper or carrots and sprouts in the summer, blanched broccoli or cauliflower and almonds in the fall. You can also add some rehydrated seaweed like arame or hijiki or even some pieces of toasted nori.