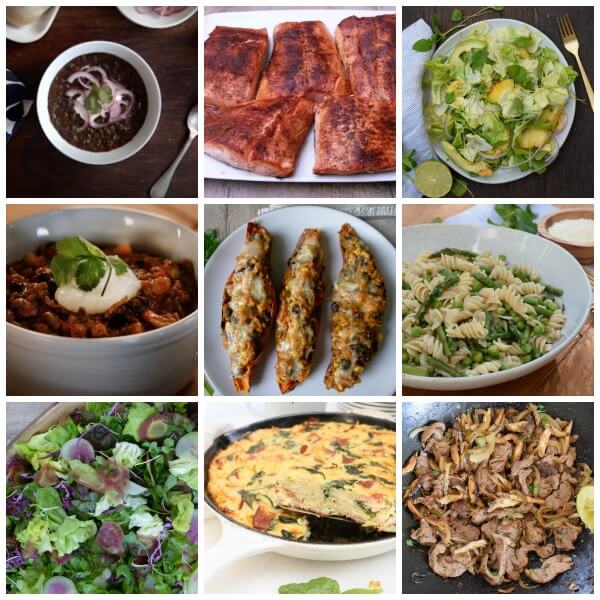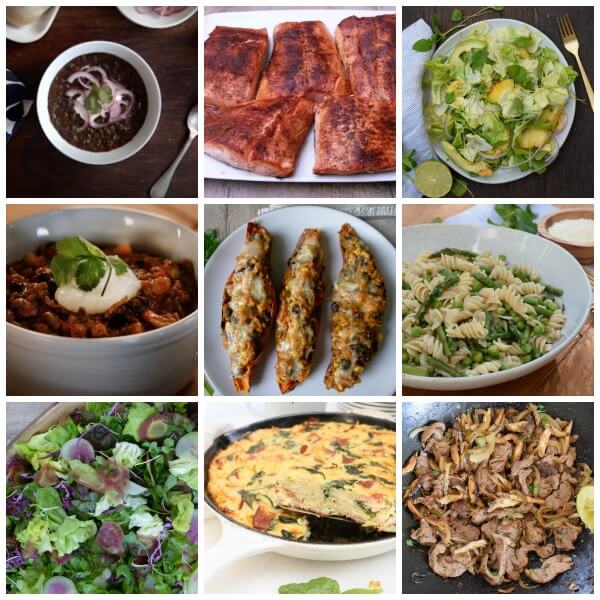 Lent is upon us, so I will make sure all the Friday dinners in the next few dinner planners are fish or vegetarian.  When I was growing up, my mom used to make fish every Friday even outside of Lent.  I still think of Fridays as "Fish Fridays."  My mother had a very methodical way of doing her dinner planners for the week, and I didn't understand the beauty of it until I started doing my own.  But she would do Meatless Monday (usually a hearty soup), Baked Ziti on Thursdays because she taught a class on Thursday nights and she would make the casserole in the morning and all we had to do was stick it in the oven, Fish Fridays, pancakes on Saturday mornings and hot dogs for lunch (no one's saying she was perfect), and big pasta dinner in the middle of the day on Sundays, usually with my extended family.  She really only had to fill in Tuesdays and Wednesdays.  Most of the time she did a version of roasted chicken and potatoes one night and pork chops or veal cutlets with pasta the other night. She worked full-time and she was still able to put a homemade meal on the table every night.  It's all about having a system and planning ahead.
I have cooking classes Monday – Thursday this week.  Check my Insta stories to see what I'm teaching.  And then Friday I'll be at Expo West for the whole day checking out all the new natural foods products.  That's always a fun (calorie-filled) day.  My daughters are coming home for spring break on Friday night and I am BEYOND excited!
Here's your dinner planner for the week!
Meatless Monday: Best black bean soup from the NY Times, some corn muffins or avocado toast might be nice.
Tuesday: spice-rubbed wild salmon, grilled pineapple salad with avocado and mojito dressing (this is so good, trust me!)
Wednesday: Panera Bread's turkey chili (I'm going to make sure there's leftovers for the next night); I'm using olive oil instead of canola and I'm using half black beans and half pinto. The recipe also calls for some turkey already roasted.  I'm going to buy this from the deli counter at Whole Foods.  They have fresh, in-house roasted turkey.
Thursday: baked potato bar or roasted sweet potatoes with leftover chili (the image in the collage is actually my Tex-Mex Sweet Potato Skins)
Friday:  spring green pasta with asparagus and peas, perfect spring salad
Saturday lunch: hash brown casserole
Sunday: stir-fried ginger beef with shiitake mushrooms, rice or cauli-rice
Here's what you can do ahead if you need to:
Sunday
Soak black beans overnight for soup.  Not a step in the recipe, but I'm going to do it because it makes the beans more digestible.
Make vegetable or chicken stock for black bean soup.
Wash lettuce for Tuesday's salad
Roast poblano peppers and refrigerate for Wednesday's chili
Wednesday
Wash greens for Friday's salad
Make dressing
Saturday
Pulse cauliflower in food processor for cauli-rice or soak brown rice overnight
Here's a link to all my previous dinner planners.
You can now pre-order my book, Kitchen Matters, on amazon or through my local bookstore, Pages!!