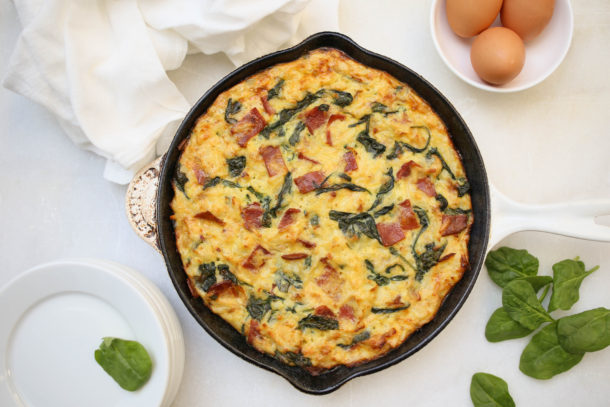 I do not want to open a restaurant, but if I did it would be called "He Said, She Said."  I would have a big chalkboard menu with two sides, one for dude food and one for lady food.  That way, my husband and I would always agree on a place where we could both get what we wanted.  French Dip sandwich for him and a kale salad with wild salmon or quinoa for moi.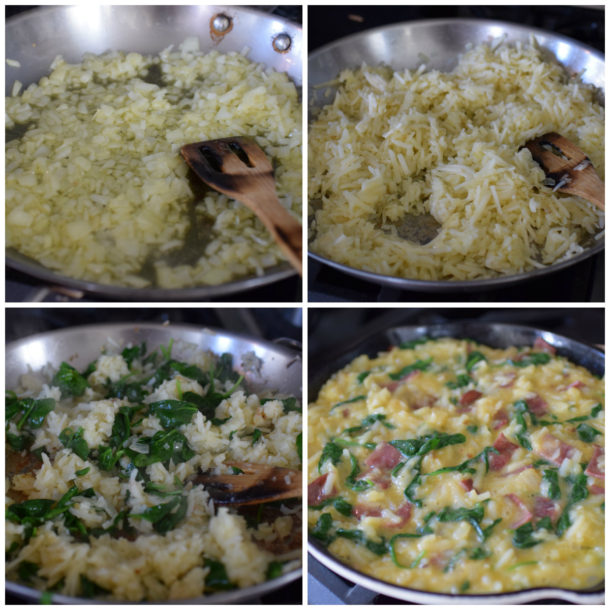 Just to be clear, I do give my husband credit for eating everything I make and appreciating how it makes him feel (i.e., good.)  But, the food he craves is more like chicken parmesan and cheeseburgers rather than millet and beet greens.  One of his favorite breakfasts is hash browns, eggs and turkey bacon.  Sure, I can make that at least with all organic ingredients, no nitrate bacon and pastured eggs.  That's not so bad, right?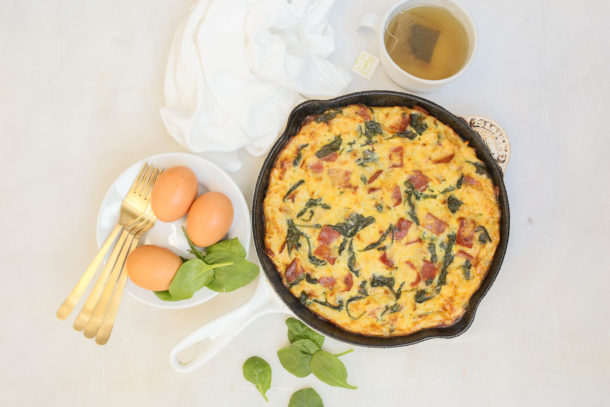 Right, but not exactly what I crave in the morning.  So I came up with this casserole with all the goods plus I added some spinach to boost the nutrition a little.  My husband said, "this is a winner."  And I had to agree.  I think a plate of eggs, hash browns and bacon is ho-hum, but mix them all together and that's got my name all over it.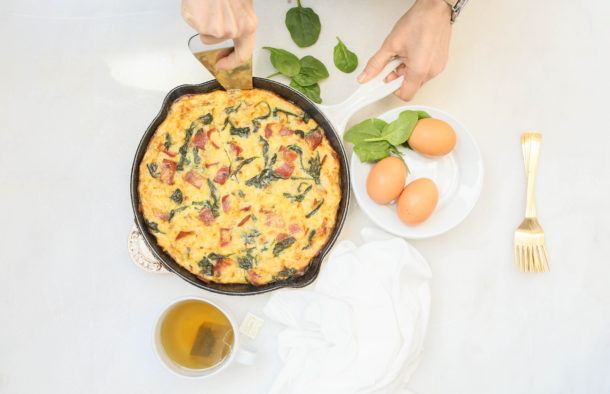 I taught this last December as a holiday morning breakfast idea, but then I also thought it could be a great weeknight dinner during Hanukkah if you just couldn't deal with making latkes.  It's not the holidays anymore, so why the casserole?  Because it's just a great recipe that you can make anytime of year for breakfast, lunch or dinner.  We all find this recipe to be tasty, satisfying, but not heavy.  With a little green salad on the side, it's a perfect meal.  FYI, I add lots of hot sauce to mine, plus some avocado.  🙂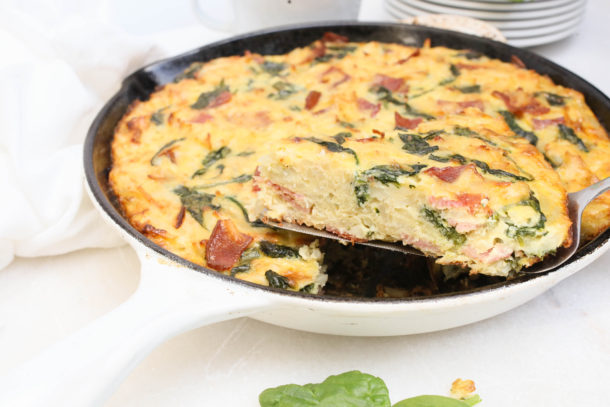 I found some great organic frozen hash browns by Cascadian Farms with nothing added.  They are basically shredded potatoes and that's it.  Those are my first choice.  Otherwise, Trader Joe's and Whole Foods both sell their store brand with a little dextrose added.  That's a sugar which helps promote browning.  If you want to change the recipe and add your own twist, make sure whatever you add is already cooked, e.g. sausage, peppers.  My husband also suggested cheese (like shredded cheddar or Monterey Jack) would be a top-notch addition either to the mixture or on top.  And that should surprise no one.  I'm telling you — He Said, She Said!

Hashbrown and Spinach Casserole Recipe
I will admit, sautéing the potatoes causes them to stick to your pan. You can skip this step and just add them straight from the bag to your egg mixture, but I like the flavor a smidge better the former way. Do what works for you.
Ingredients
½ pound turkey bacon*
2 Tablespoons unrefined, cold-pressed extra-virgin olive oil + extra for greasing
1 large onion, diced
24 ounces frozen hashbrown potatoes**
5 ounces fresh baby spinach
½ teaspoon sea salt + extra for seasoning
freshly ground black pepper to taste
6 large eggs, lightly beaten
¼ cup milk, unsweetened plain almond milk or unsweetened plain hemp milk
pinch of cayenne
Instructions
Preheat oven to 375 degrees. Line a large baking sheet with unbleached parchment paper. Arrange turkey bacon on prepared pan in one layer. Bake until dry on top side, about 15 minutes and turn over. Bake until crisp on both sides, another 8-10 minutes. Chop and set aside.
In a large skillet (12-14"), warm 2 Tablespoons of olive oil over medium heat. Add the onion and sauté until tender and translucent, about 5-6 minutes. Add the hashbrowns and sauté until cooked, about 10-15 minutes. Add the spinach, a pinch of salt and pepper, and sauté until wilted, about 3 minutes. Transfer to a large mixing bowl.
To the mixing bowl add the reserved chopped bacon, eggs, milk, ½ teaspoon salt, pepper to taste, and cayenne. Stir to combine well.
Grease a 10-inch baking dish or cast iron skillet, or an 11 x 7-inch baking dish. Transfer mixture to the baking dish and bake at 375° for 50-60 minutes or until set and browned on top. Or cover and refrigerate overnight. Do not make mixture the night before with fresh potatoes -- it will turn grey. That will not happen with frozen. Uncover before baking. You can also bake this in a 12-inch cast iron skillet or a 13 x 9-inch baking dish for less time (and more crispy surface area.)
Notes
*You can also use bulk sausage meat and brown it in a skillet in Step 1. For a vegetarian version, sub sliced shiitake mushrooms and sauté with onion in step 2.
**or 2 large russet potatoes (about 1 ¼ - 1 ½ pounds), scrubbed clean and shredded